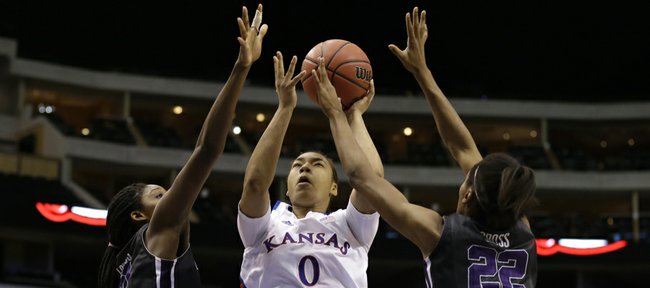 Dallas — This isn't the first time a Kansas University women's basketball player has been forced into playing time because of injuries and/or a defection and has responded in a way that made the world wonder what she was doing watching from the bench most of the year.
A year ago it was Chelsea Gardner after Carolyn Davis injured her knee. Aside from magnificent point guard Angel Goodrich, no player had a bigger role in Kansas reaching the Sweet 16 than Gardner.
Now it's Asia Boyd's turn. Sparking Kansas with strong drives to the hoop in both halves, Boyd came off the bench to help her team to an 83-61 victory against TCU inside the sparsely populated American Airlines Center in a Big 12 tournament first-round game played late Friday night.
No. 7 seed Kansas (18-12) faces No. 2 seed Iowa State (21-7) in a quarterfinal at 6 p.m. today.
Boyd should be armed with boosted confidence for the big game.
A highly rated recruit out of Detroit, Boyd has spent the past two years watching teammates, some not as talented, play ahead of her.
In the wake of Tania Jackson quitting the team and Natalie Knight suffering a season-ending knee injury, Kansas is down to nine scholarship players, one of whom does not play in games until the outcome is not in doubt.
Henrickson has no choice but to play Boyd, who now doesn't have to play with the stress of feeling as if her chance to play hinges on avoiding mistakes.
Boyd played aggressively and under control in her 12 minutes on the floor and totaled 12 points, four rebounds, two steals, an assist and a blocked shot and turned it over once.
She used her quickness and sharp handle to get past defenders and her strength and size to finish those drives with buckets.
Boyd was the best supporting actor on a night that stars Goodrich (16 points, eight assists, five rebounds, two blocked shots, two steals, no turnovers) and Gardner (11 points, 19 rebounds) dominated.
"I thought it was pretty nice," Gardner said of playing so well in her hometown. "I came out with a lot of energy, a lot of effort, started off with a great start and I just felt excited about being back at home."
Goodrich threw a scare into the Jayhawks when she crashed hard and loudly to the floor, face-first after executing a behind-the-back pass in transition. She shook it off and shortly after that threw a beauty of a wrap-around pass to Carolyn Davis (12 points, nine rebounds, five turnovers), one of her many exceptional passes.
Goodrich didn't hesitate when asked which of her statistics she liked the most.
"Zero turnovers," Goodrich said. "When Terry (Nooner, assistant coach) told me on the bench I put my hands up and was smiling so big."
It was the senior All-American candidate's first turnover-free game of the season. Her assist total could have been higher if everyone had finished with as much authority as Boyd did.
"She came in ready to play," Goodrich said of Boyd. "She attacked. And that's what we need for people to come off the bench, step up and be ready to play."
Nobody was more ready to play than Goodrich and Gardner, a sophomore. Henrickson pointed out that the two stars of last season's strong finish shot poorly in the first two games against TCU, both KU victories. In those two games they combined to shoot 8 for 40 and on Friday combined to make 11 of 19 shots.
"That matters," Henrickson said. "It was a good night, a much better night."
Kansas split against Iowa State (21-7) in the regular season, winning 78-75 in overtime Jan. 30 in Lawrence and losing, 83-68, on Feb. 27 in Ames.
"We talked in the locker room (after Friday's victory)," about what caused the recent loss to the Cyclones, Henrickson said. "It was 7 for 10 from three in the first half, then it was everything inside. Their three bigs had 62 points and 34 rebounds. They could talk you through exactly where we broke defensively in the locker room after this game. They're really excited to play."
And Henrickson is excited to see Boyd play with similar enthusiasm and energy as she brought to Friday's game.
"Her minutes were huge," Henrickson said. "We've had some really special kids be able to hang in there and go through the difficulties of not getting on the floor and then because they handle themselves well ... and impact the game. I thought she did a great job for us tonight."