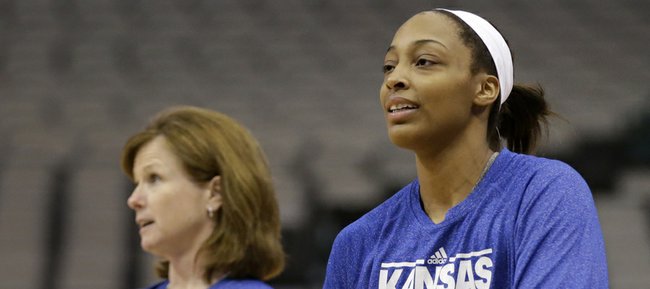 Big 12 glance
Friday's Games
No. 8 Kansas St. vs. No. 9 Texas, 6 p.m.
No. 7 Kansas vs. No. 10 TCU, 8:30 p.m.
Saturday, March 9 No. 4 Texas Tech v. No. 5 Oklahoma State, 11 a.m.
No. 1 Baylor vs. Kansas State-Texas winner, 1:30 p.m.
No. 2 Iowa State vs. Kansas-TCU winner, 6 p.m.
No. 3 Oklahoma v. No. 6 West Virginia, 8:30 p.m.
Beating a team three times in one season is no easy chore at any level of basketball. But if a Big 12 women's basketball team must play the same opponent thrice, it might as well be TCU.
Reeling Kansas University (17-12 overall, 8-10 in the Big 12), the No. 7 seed, will play a first-round Big 12 tournament game against the 10th-seeded Horned Frogs (9-20, 2-16) at 8:30 p.m. today at American Airlines Center in Dallas.
Kansas won the first two meetings, 76-75 in Fort Worth on Feb. 13, and 74-67 Tuesday in Allen Fieldhouse.
Tuesday's victory ended a four-game losing streak in which KU opponents averaged 83.3 points per game, calling attention to the ineffective, hands-at-their-sides style of defense played by the Jayhawks.
Kansas ranks last in the 10-team conference in scoring defense (67.1) and ninth, ahead of only Kansas State, in field-goal percentage defense (.412).
The winner will meet No. 2 seed Iowa State (21-7, 12-6) at 6 p.m. Saturday.
Kansas needs tonight's game to improve its sagging NCAA Tournament résumé. More than tourney bubble status was expected from a KU team that returned four starters from last season's squad, which gained national acclaim when point guard Angel Goodrich led the Jayhawks to the Sweet 16 and trended on Twitter.
Goodrich, guard Monica Engelman and center Carolyn Davis all are members of the 1,000-point club, but Davis has been slowed by the effects of ACL knee surgery, and the team lost for the season starting guard Natalie Knight to similar surgery after she injured her knee Jan. 30.
Kansas appeared headed to a second consecutive NCAA Tournament appearance, but the recent slide means the WNIT is back in play as a possibility. Ninth-year Kansas coach Bonnie Henrickson has made the NCAA field once at KU. Her contract runs through the 2013-14 season.
After Tuesday's victory against TCU, Engelman said, "We for sure needed to get this win. Now, heading into the Big 12 tournament, we need to go on a run."
Davis didn't view having to beat the same team a third time as a disadvantage.
"It gives us confidence going into the tournament to play them again," she said. "We have the confidence knowing that we've beaten them twice, and we know what we need to do to clean up a little bit to get another win."
More like this story on KUsports.com