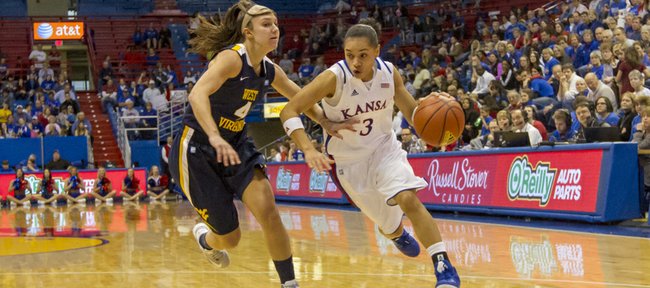 Kansas senior point guard Angel Goodrich was selected as one of 10 players for the all-Big 12 first team as voted on by the league's head coaches.
Goodrich, who earned first-team honors for the first time in her career, averaged 14.1 points, 6.9 assists and a league-leading 3.0 steals per game through the regular season for the Jayhawks.
KU senior forward Carolyn Davis was the only other KU player honored, as she was selected for the league's second team. Davis leads the Jayhawks in scoring with 15.8 points while also averaging 6.7 rebounds per game.
Baylor's Kim Mulkey won Big 12 coach of the year, while BU's Brittney Griner was the unanimous choice for Big 12 player of the year.
ALL-BIG 12 AWARDS
Coach of the Year: Kim Mulkey, Baylor
Player of the Year: Brittney Griner, Baylor%
Co-Newcomers of the Year: Portia Durrett, Oklahoma and Jackie Patterson, Texas Tech
Freshman of the Year: Imani McGee-Stafford, Texas
Defensive Player of the Year: Brittney Griner, Baylor%
Sixth Man Award: Destiny Williams, Baylor
Scholar-Athlete of the Year: Brittany Chambers, K-State
% — Denotes Unanimous
All-Big 12 First Team (all honors listed alphabetical by school)
Brittney Griner% Baylor C
Odyssey Sims% Baylor G
Hallie Christofferson% Iowa State F
Chelsea Poppens Iowa State F
Angel Goodrich Kansas G
Brittany Chambers K-State G
Aaryn Ellenberg% Oklahoma G
Toni Young% Oklahoma State F
Chynna Brown Texas Tech G
Christal Caldwell West Virginia G
% — Denotes Unanimous
All-Big 12 Second Team
Carolyn Davis Kansas F
Joanna McFarland Oklahoma F
Tiffany Bias Oklahoma State G
Casey Morris Texas Tech G
Monique Smalls Texas Tech G
All-Big 12 Honorable Mention — Jordan Madden (Baylor), Kimetria Hayden (Baylor), Brooklyn Pope (Baylor), Nikki Moody (Iowa State), Nneka Enempkali (Texas), Chassidy Fussell (Texas), Imani McGee-Stafford (Texas), Nicole Griffin (Oklahoma), Morgan Hook (Oklahoma), Liz Donohoe (Oklahoma State), Zahna Medley (TCU), Ayana Dunning (West Virginia).
Big 12 All-Defensive Team
Brittney Griner Baylor C 6-8
Odyssey Sims Baylor G 5-8
Imani McGee-Stafford Texas C
Monique Smalls Texas Tech G
Jess Harlee West Virginia F
Big 12 All-Freshman Team
Alexis Prince Baylor G
Brittney Martin Oklahoma State G
Imani McGee-Stafford Texas C
Zahna Medley TCU G

Bria Holmes West Virginia G
More like this story on KUsports.com