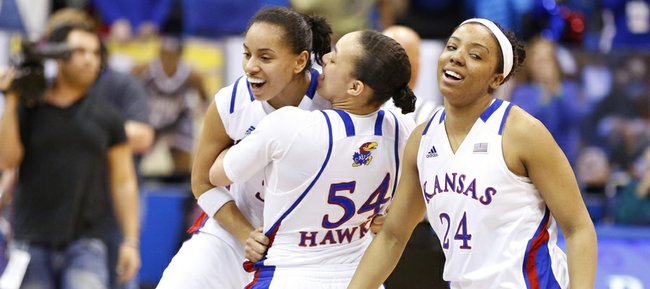 With under a minute left, Kansas University point guard Angel Goodrich took a few dribbles into the lane, glanced to her left and at the same time flipped a push pass back to her right.
Photo Gallery
Kansas women's basketball v. Texas Christian (Senior Night)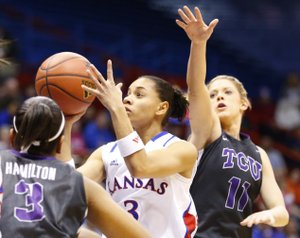 Images from Tuesday night's game against Texas Christian at Allen Fieldhouse.
Waiting for it was teammate Carolyn Davis, who put in the layup that left KU fans with one final highlight from their two star seniors in a 74-67 victory over TCU.
"When it happened, I was kind of like, 'There you go.' It kind of just sums up what we do best," Davis said with a smile. "It was exciting that we got this win. We didn't make it easy on ourselves, but it was a good win."
Though an eight-point KU lead with 54 seconds left was trimmed to 68-65 with 00:35 to go, the Jayhawks' Monica Engelman, CeCe Harper and Markisha Hawkins knocked down six straight free throws on one-and-one opportunities to secure the victory.
Davis scored 27 points — tying for her second-highest total this season — and Goodrich added 12 assists as the two seniors displayed for one more night what had made them so successful in their KU careers.
That included one final signature play in the final minute.
"I'm glad it went through and she finished it and everything," Goodrich said. "It's just about having fun. When I do that, I have fun."
KU's third senior Engelman also came through with clutch shooting when the Jayhawks needed it.
The 5-foot-11 guard, who started the season just 4-for-28 on three-pointers, swished two consecutive threes late in the second half to turn a 57-54 deficit into a 60-57 KU lead.
"I'm back to where I need to be," Engelman said. "Just knocking down threes — it's just all about playing basketball and doing what you know how to do."
The made shots also started an extended 14-3 run for KU, as the Jayhawks made a defensive change to trap TCU point guard Zahna Medley when she curled around ball screens.
"You have to just throw different things at her," Engleman said. " ... We started getting success from that, so we stuck with it."
KU received a boost from Hawkins in her first career start. The junior guard scored a career-high 14 points on 4-for-10 shooting with four rebounds and two assists in 33 minutes.
Before Tuesday, Hawkins had played just 36 combined minutes in the entire conference season.
The victory keeps KU's hopes alive for a potential NCAA Tournament berth. The Jayhawks (17-12, 8-10 Big 12) earned the No. 7 seed in the Big 12 tournament and will face TCU (9-20, 2-16) again at 8:30 p.m. Friday in Dallas.
"We knew we had to win this game," Davis said. "Now that we've won it, we're just going to keep it rolling and get some more wins."
Davis scored her 27 points on 9-for-12 shooting, while Engelman scored 13 of her 14 points in the second half.
Goodrich struggled with her shot, contributing just two points on 1-for-12 accuracy, but she added four steals to go with three turnovers.
The three seniors were honored at half-court during a postgame ceremony.
"They all came here and wanted to be program-changers and difference-makers," Henrickson said. "When they leave here, the program (will be) in better shape than when they got here. If all of us can say that about anything in our lives, that's pretty cool."