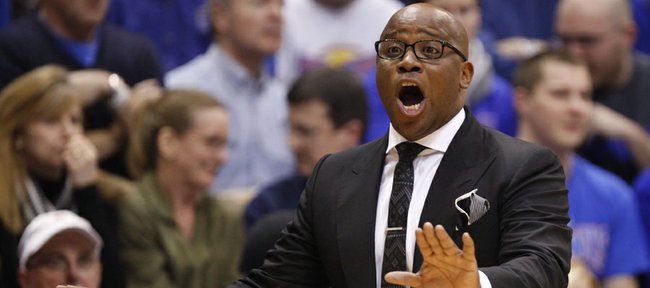 Photo Gallery
Kansas basketball v. Texas Tech (Senior Night)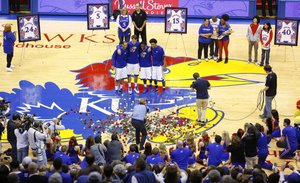 Images from Monday night's game against Texas Tech at Allen Fieldhouse.
Podcast episode
Kansas coach Bill Self talks after his team's 79-42 win over Texas Tech on March 4, 2013.
Podcast episode
Kansas coach Bill Self talks after his team's 79-42 win over Texas Tech on March 4, 2013.
Extras
Without a hint of disappointment in his voice and a smile on his face, Texas Tech men's basketball coach Chris Walker sat back and tried to explain the takeaway from a 79-42 loss to Kansas University Monday night at Allen Fieldhouse.
"It's the most difficult situation probably in all of college basketball to come to Kansas on Senior Night," Walker said. "But give Kansas all the credit in the world. Coach (Bill) Self's a great coach, and I just think they did a great job tonight."
Despite keeping the game close for the first nine minutes, Walker's Red Raiders (10-18 overall, 3-14 Big 12) quickly found themselves on the wrong end of an old-fashioned run-away.
After cutting KU's lead to 13-10 with 10:54 to play in the first half, Tech was outscored 32-10 the rest of the half and 66-32 the rest of the game, with many of KU's points coming on plays that more resembled what you'd see in some sort of all-star exhibition. Elijah Johnson threw six first-half alley-oops and Kevin Young, Jeff Withey and Ben McLemore made sure each one was more than just a pretty pass.
The stylish onslaught not only helped the Jayhawks light up the scoreboard, but also put stars in the eyes of the Texas Tech players.
"The moment was a little tough for our guys," Walker said. "I thought we had some chances early, but we didn't capitalize, and then it snowballed after that. It was just open season."
Tech, which shot just 26 percent for the game, tallied nine baskets and nine turnovers in the first half and added five field goals and five throwaways in the second. The Red Raiders' ineffectiveness only aided KU's aerial attack, and each Jayhawk alley-oop seemed to pump the venue's volume louder and louder.
"That's what they do," Walker said of KU's lob dunks. "They did get more than we anticipated, and we lacked a little bit of toughness that could have negated some of those things."
Added TTU forward Jordan Tolbert: "It is hard to swallow, but it's Kansas. It's not just any regular team. They have great confidence, they have great fans, they have everything."
All of that and more was on display Monday night, as the Jayhawks and 16,300 adoring fans said goodbye to four senior starters and may also have watched freshman phenom Ben McLemore play the final home game of his college career. With the game firmly in hand and the love-fest in full swing, Self pulled his starting five from the game with 4:45 to play. But even that did nothing to comfort Walker, who was asked if he took any joy from the fact that he would not have to face those five again in the coming seasons.
"They said that (a few) years ago and they won the national championship," he said with a shrug. "Kansas is Kansas. I hope they get everybody. That's what we're here for. You want to play the Kansas and Dukes of the world. They're always gonna reload. ... They're trying to win a national championship, and we're trying to show every single night that we can come out and be competitive."