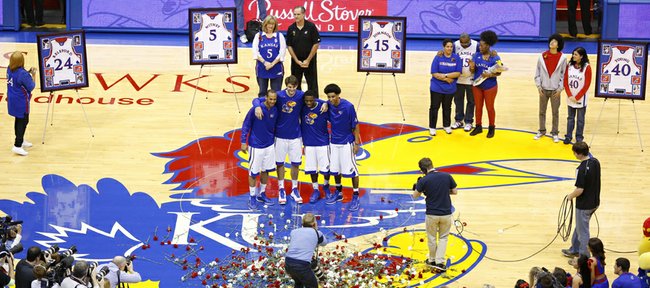 Photo Gallery
Kansas basketball v. Texas Tech (Senior Night)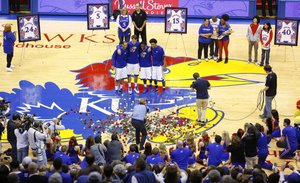 Images from Monday night's game against Texas Tech at Allen Fieldhouse.
Podcast episode
Kansas coach Bill Self talks after his team's 79-42 win over Texas Tech on March 4, 2013.
Podcast episode
Kansas coach Bill Self talks after his team's 79-42 win over Texas Tech on March 4, 2013.
Extras
If ever I had been afforded the opportunity to watch historically great orators Mario Cuomo and Ronald Reagan play basketball, I would have passed, figuring they wouldn't do anything memorable in sneakers. But I'll never forget the goose bumps the two politicians on opposite sides of the ideological spectrum gave me speaking from convention podiums.
Similarly, I decided to skip the senior speeches, figuring whatever the Kansas University basketball team's four seniors said standing still couldn't speak as loudly as the effort they put forth flying all over the Allen Fieldhouse floor for the final time Monday night.
Texas Tech didn't even have a puncher's chance of competing. More like a speed bag's chance against a puncher with blurry-quick hands.
On a night that featured what could be remembered as the greatest senior day starting lineup in KU history — four seniors who played key roles as juniors in getting KU to the national-title game, plus the possible No. 1 pick in the NBA draft; not the usual mix of starters and walk-ons — it became more evident than ever that this Kansas team is getting better with age.
On the way to a 79-42 blowout of the overmatched Red Raiders, Kansas stormed to a 45-20 first-half lead that was more entertaining than it was one-sided.
If not for the uniforms giving them away, this easily could have passed for the Harlem Globetrotters abusing their favorite foils, the Washington Generals. A team full of Red Raiders impersonating Red Klotz.
The four lobs thrown by Elijah Johnson can't possibly be as easy as he makes them look and sound when he responds to questions about them in ho-hum fashion.
On his way to nine first-half assists, Johnson completed six lob passes, two apiece flushed by Ben McLemore, Kevin Young (one with his back to the basket) and Jeff Withey.
Johnson's lobs call to mind Todd Reesing's throws. Whether long passes or short ones, they were all right on the money, delivered with exceptional timing and accuracy.
If you're scoring at home, give Johnson extra style points for one of the lobs to Withey and call it a hook lob. Johnson dribbled down the right side of the lane and threw what looked like a hook shot, except it was a pass way wide left of the rim and high. Cutting down the left baseline, Withey took the ball and threw it down with so much fury it made me wonder whether he imagined he were stuffing the basketball in the face of everyone who had ever asked him, "How's the weather up there, Stretch?"
The NCAA doesn't keep records for completed lobs for dunks in a half, but if it wants to start, Johnson's record has a shot at standing for a while.
"They just felt good," Johnson said. "Once I got going I just had confidence throwing them up there by the backboard and Kevin, Jeff and Ben went and got them. It kept pumping energy into the building, so I kept doing it."
He's been pumping energy into teammates for a few weeks now, staging an impressive in-season comeback.
His hook lob, which he explained started at the hip, was not spur of the moment, even though he made it look that way. He said he works on them in practice.
Alley-oops entertain the crowd, a bonus because they pump up the volume, which fuels the team, but that's not the chief reason Kansas throws so many more than most teams. They're high-percentage plays for them.
"That's who we are," Self said. "That's part of our offense. We definitely practice it. We'll do some drills where the only pass you can make is a lob to finish the play, so the guys are used to throwing it up there."
And the guys on the other end are used to throwing it down.