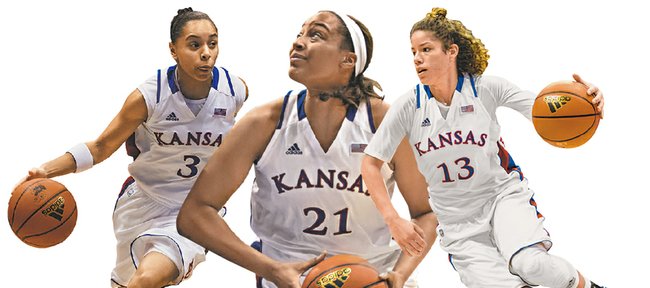 Kansas women's basketball guard Monica Engelman already has her Senior Night at Allen Fieldhouse planned out.
"I know it's going to be emotional," the senior said, "but I want to get the win first, then cry after."
The Jayhawks will play their final regular-season home game at 7 tonight against TCU in what will be the sendoff for three accomplished players.
Point guard Angel Goodrich, forward Carolyn Davis and Engelman all have been with the program at least four years and have been starters in each of those seasons.
KU coach Bonnie Henrickson wants those seniors to have a lot of NCAA Tournament memories past Senior Night, though, meaning the game against TCU takes on even greater importance with the Jayhawks firmly on the NCAA bubble following a four-game losing streak.
"For us to have a heartbeat and a pulse, we've got to win (today)," Henrickson said. "There's no doubt about that. These guys know that. I know that."
KU was listed as one of the first four teams out in ESPN's latest women's bracketology column.
"I try not to pay attention to it," Engelman said. "Whatever Bonnie tells us ... or my teammates who keep up with it a little bit. I know it's extremely important that we get the win and then heading into Big 12 tournament play that we make things happen."
TCU (9-19, 2-15 Big 12) certainly challenged KU in the teams' first match-up.
The Jayhawks fell behind by 23 points in the second half to the Horned Frogs before rallying for a 76-75 victory on Feb. 13 in Fort Worth, Texas.
"It was us that dug ourselves in that hole," Goodrich said. "We made turnovers, and we made bad passes, bad decisions in the first half, and that's what put us down by so much. But we stuck together, and that's what we had to do."
The Horned Frogs were led by freshman guard Zahna Medley, who had 35 points on 10-for-22 shooting. That included 27 first-half points, when she made eight of 11 shots and six of eight three-pointers before halftime.
KU (16-12, 7-10) faces TCU tonight knowing it will be the first of two straight match-ups against the Horned Frogs.
The Jayhawks have secured the seventh spot in this weekend's Big 12 tournament, meaning they also will play the 10th-seeded Horned Frogs at 8:30 p.m. Friday in Dallas.
"We've got to get on a run," Henrickson said. "We've got to take care of business here to finish the regular season, and we've got to get on a run in the (Big 12) tournament."
Tonight's game will be televised on Metro Sports (Knology Cable channel 37).