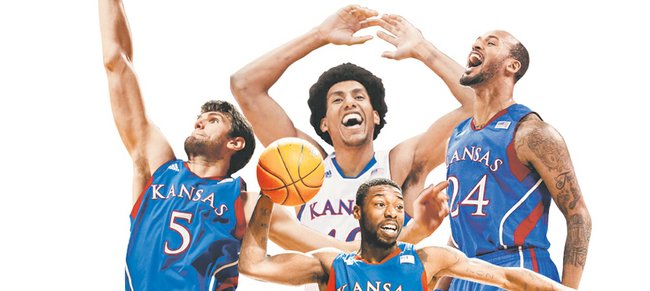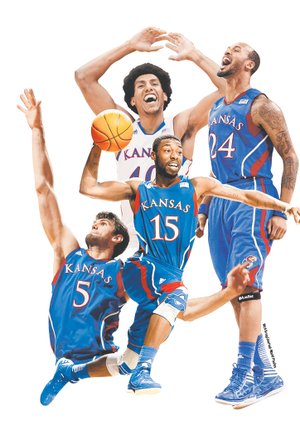 Senior superlatives
Elijah Johnson
Helped KU to a spot in the NCAA title game his junior year by averaging 13.3 points in the postseason. Scored 39 points in KU's overtime win over Iowa State on Feb. 25.
He said it: "It's been a fun experience. I grew up (at KU). I had a chance to meet a lot of good people who came through. It was a transformation kind of thing."
Self said it: " I think he's a much better basketball player (now) than he was when he got here. You look at all these NBA players: They're freaky-athletic in their first five years in the league, then they become great the next five years because they've learned the game goes in slow motion, it's not in fast-forward anymore. I think he's (Elijah) become one of those guys."
Jeff Withey
Had amazing two-year run in which he became the all-time leading blocks leader at KU and in the Big 12 (281). Recorded the second triple-double in KU history with 16 points, 12 rebounds and a school and Big 12-record 12 blocks vs. San Jose State. He was one block shy of a second triple-double Saturday vs. West Virginia.
He said it: "I am not too emotional. Hopefully I won't cry or anything like that (giving senior speech after game tonight). I don't know how I'm going to feel. I'm sure after the game it will hit me all at once."
Self said it: "I think he'll play in the league (NBA) awhile. He has a great attitude. He's fallen in love with basketball. He has become a sponge. He's so bright."
Travis Releford
Emerged as KU's defensive stopper the past two seasons while becoming a reliable scorer on offense. Has amazing 59.0 shooting percentage this season.
He said it: "It takes a little push to go a long way sometimes. I feel that little push is taking me far right now. ... I think I'm going to break a record for the shortest speech ever. I don't like to do the talking. It'll be crazy with the fans."
Self said it: "Travis is our best defender. He's a winner and competitor."
Kevin Young
Emerged as a top-10 rebounder in the Big 12 at 6.9 per game. Provides hustle and energy.
He said it: "This is a dream come true to play on the biggest stage, in front of best crowd. It doesn't get any better ... we (seniors) understand what it means to sit out and wait for your turn. It's our turn now."
Self said it: "He's been far more than what we thought when we signed him. What a great kid."
For Elijah Johnson, four years of college basketball have passed in the blink of an eye.
"Sometimes I think, in order, freshman, sophomore, junior, senior ... it's a big blur," Johnson, Kansas University's 6-foot-4, 195-pound senior point guard out of Las Vegas Cheyenne High, said of his days as a Jayhawk.
"Once it starts, it never stops. It makes me appreciate it. This is a good place to be. I wouldn't go back and go anywhere else."
Johnson — who scored eight points in 17 minutes against Hofstra in the first home game of his KU career in 2009-10 — today plays his final game in Allen Fieldhouse with fellow senior starters Travis Releford, Jeff Withey and Kevin Young.
Tipoff for a Senior Night battle between KU (25-4, 13-3) and Texas Tech (10-17, 3-13) is 6 p.m., with a live telecast on ESPNU (Knology Cable channels 35, 235).
"This is a great place to play, a great place to be and live," 6-6, 210-pound Kansas City native Releford said of KU and Lawrence. "It's gone by so fast. I'll miss this place, but I think it's about that time. The end has to come."
Releford, who red-shirted in 2009-10, is completing a five-year KU career. He's approaching the 1,000-point scoring standard (he has 880) that coach Bill Self predicted for him at the team banquet following Releford's red-shirt season.
"When he said that, I said, 'Wow, that's crazy,'" the former Roeland Park Bishop Miege standout said. "It was like, 'How can I get that many points if I'm not playing?' As time went on, I thought, 'This guy knows what he's talking about.'"
Withey, a transfer from the University of Arizona, played 31⁄2 seasons at KU, and Young, a transfer from Loyola Marymount, the past two campaigns.
"I've enjoyed the process," said Withey. The 7-foot, 235-pounder from San Diego's Horizon High, has gone from being a seldom-used pivot his freshman and sophomore seasons to KU's all-time leading shot blocker thanks to dominant defensive play his junior and senior campaigns.
"I had some growing pains for sure, taking a little bit of time to get used to the speed of the game in college," Withey said. "When I was younger, I thought I would have just been in San Diego (all his life). After I started growing and playing basketball, I obviously saw this sport can give me a lot of opportunities. I've been blessed with the opportunities at hand. I transferred here, and everybody accepted me. I love it (KU) so much."
Young, who most expected would be a super sub, emerged as a starter who definitely proved he could compete at the Big 12 level.
"My goal has been to provide energy in games and practice, try to make everybody around me better," the 6-8, 190-pound forward out of Perris (Calif.) High said. He loves Lawrence so much he helped convince his mom, Alicia, and brother, Donovan, to move to Lawrence for his final semester of college, knowing they'd like it here, too. "With our senior class, it's all been about leadership, trying to help the young guys. It's been our focus."
KU coach Bill Self has appreciated the giving approach of his senior class.
"Our young guys love our seniors, who are unselfish," Self said. "Our older guys want Ben (McLemore, freshman) to be the best player on our team because when Ben plays great ... we know he is different (in terms of raw ability). I think it is pretty cool to have guys that bust their butt for four or five years and get to their senior year, they just want to win, so they want our young kids to do well."
KU's four seniors possess the talent to play basketball for a living, Self said. Withey, who along with Johnson has a 125-17 record at KU (.880), is expected to be tapped in the first round of the 2013 NBA Draft. Johnson has been mentioned as a possible second-round pick. One could envision both Releford (152-25 record, .859) and Young (57-11 record, .838) getting looks in NBA summer league ball if they are not selected in the second round. Europe also is a strong possibility.
"They are going to play ball next year," Self said. "Their whole focus is leaving a legacy. I think they want to be the team that has done something special because there are so many special teams that have been there before them, and that's how they'll be judged over time (how they perform in Big 12 and NCAAs). I think it's a little bit different for them, but I know that they all respect each other, immensely, as they are going through the process."
Johnson said the seniors do not think of each other as elder statesmen, but just four pieces of a 16-person team.
"This is a special group," Johnson said. "Not the most talented, but definitely one of the toughest. I think we can do something a lot of teams weren't able to do. Although we had three and four lottery picks on certain teams, I think this team can do something we haven't been able to do before."
This, that: Andrew Wiggins, the No. 1 prospect in the high school recruiting class of 2013, will attend tonight's game as part of his official recruiting visit. The 6-7 senior from Huntington (W.Va.) Prep, who arrived in Lawrence with his parents Sunday afternoon, is considering KU, Kentucky, North Carolina and Florida State. ... Texas Tech snapped a nine-game losing streak Saturday by beating TCU, 72-63, in Lubbock.