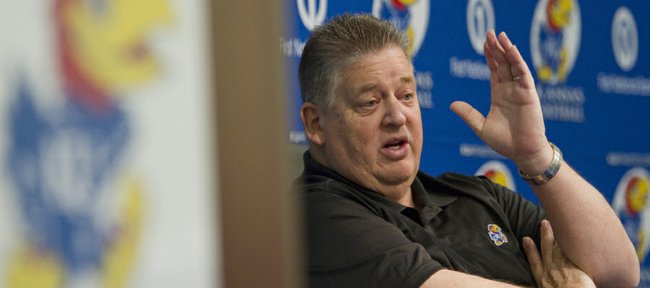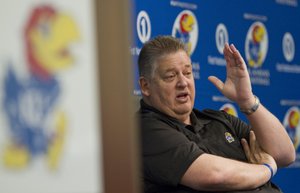 Change, across the board, seems to be the theme for the Kansas University football team as it enters spring practice, which begins today at Memorial Stadium, where the snow is piled high on the track and hope and optimism even higher.
From minor tweaks on the coaching staff and roster to major changes to the depth chart and the offensive and defensive schemes, Year Two of the Charlie Weis era is taking off from much farther down the runway than Weis' first season in town.
"Last year, I was just trying to figure out what we had," Weis said. "And in a couple of cases, we were putting square pegs in round holes. Now, a year in, you start adapting what you do to who you have, and it gives you a much better chance to get round pegs in round holes."
For Weis, that meant spending the past three months not only upgrading the roster through relentless recruiting, but also reviewing every detail of the program. He watched all 12 games of the 2012 season multiple times, sometimes looking at his own team and other times looking at how opponents attacked it. He challenged returning players to be a part of the solution and not the problem. He was open and honest about strengths and weaknesses in all areas of the team. And, perhaps most importantly, he opened his door to input from just about everybody associated with the program.
"A lot of it is just him in his office, working, chipping away at things," said junior quarterback Jake Heaps, who opens the spring atop the depth chart. "But he'll come and ask you, 'What do you think of this, what do you think of that?' And he wants you to be honest. That's been exciting."
The initial depth chart of Weis' second season at Kansas features 20 new names on the first team — seven on offense, eight on defense and five on special teams. About half are familiar faces moving into new spots. The other half is newcomers. The most notable changes regarding what KU will try to do on the field this fall show up at running back and defensive line. Rather than lining up in a straight 4-3 set, the defensive line will operate with a Buck position — juco transfer and former Florida Gator Chris Martin is listed No. 1 — that can play on the left or the right side. The rest of the defensive line then can adapt on the fly.
"I didn't feel we had enough pass-rushing ability and flexibility with our outside positions," Weis said. "So the Buck is the beginning of our answers to that problem."
Addressing the running backs, KU's clear-cut strength in 2012, is even simpler. Rather than basing the offense out of a one-back set, the Jayhawks now will start with two, which will allow senior James Sims and junior Tony Pierson to be on the field at the same time more often.
"I just felt, after analyzing our team, that it doesn't do a lot of good to have one of your best players standing on the sideline for a good portion of your plays," Weis said.
He didn't stop there.
"I spent a lot of time studying (West Virginia standout) Tavon Austin and how they utilized him," he continued. "And I think Tony has a lot of similar traits and qualities."
Although there still is a long way to go before the beginning of the 2013 season, the KU coaches and players believe the mentality that surfaced the day after their last loss of the 2012 season will go a long way toward getting the program back on track.
"We're more of a unit," Sims said. "Last year, there were some individuals that were just worried about themselves, and now it's just all about the team."
Added junior tight end Jimmay Mundine: "For the first time, I feel like the team is holding ourselves more accountable, and we really want to get better rather than waiting for the coaches to get on us to do it."
Tharp finished
Weis announced Monday that linebacker Huldon Tharp had elected to step away from football and was no longer on the team. Tharp, a former freshman All-American who started nine games in 2012, said in a release that the physical toll football had taken was too much.
"My body just can't hold up any more," he said. "I love KU and have enjoyed my time being a part of the football program. Thanks to Coach Weis' encouragement, I am going to graduate this summer and head out into the real world."
In other injury news: Tight end Trent Smiley (shoulder) will go through spring drills without contact; offensive lineman Riley Spencer (knee) and linebacker Prinz Kande (knee) are both ready for spring drills; and linebacker Schyler Miles, who played hurt last season and had offseason knee surgery, will miss the first couple of weeks of drills and likely the spring game on April 13.
Shared special teams
Last season, assistant coach Clint Bowen served as KU's special-teams coordinator, however, with Bowen moving to coach the linebackers this fall, Weis said the team would move forward with no official special-teams coach.
"Every coach on the staff has an assignment in special teams, with the exception of (quarterbacks coach) Ron Powlus," Weis said. "I was very unhappy with our special-teams play last year, and I'm holding the whole staff accountable for it this year."
Dave Campo, who received a title change in the offseason — from defensive coordinator to assistant head coach for defense — will function in the same role while Weis, who spent much of his time on offense last season, will look to be more involved with overseeing the entire team.
Kicking game update
Junior-college transfer Trevor Pardula was listed as the first-team punter and place kicker on KU's pre-spring depth chart released Monday, but Weis said the roles were still up for grabs.
With Eric Kahn and returner Ron Doherty listed behind Pardula at place kicker and Doherty behind him at punter, the Jayhawks appear to have multiple options, which include junior-college transfer Michael Mesh, who is not yet on campus, and a player they picked up during walk-on tryouts who made 14 of 15 field goals including a 3-for-3 mark from beyond 50 yards.
"Trust me, we're not going through what we went through last year," Weis said. "We have a couple of really big legs, and I think there'll be plenty of competition at that position. And I think we'll get some touchbacks on kickoffs, and I think we'll be better in the punting game."
Heeney speaks
During the offseason, junior linebacker Ben Heeney was cited for an incident at a downtown Lawrence night club. Although the legal process is still playing out, Weis said at the time that Heeney would be punished internally, and Heeney on Monday said he was working toward putting the incident in the past.
"The leadership role, I'm still working toward it," Heeney said. "I'm not perfect, but I learn from my mistakes, and I don't make the same mistake twice."
More like this story on KUsports.com