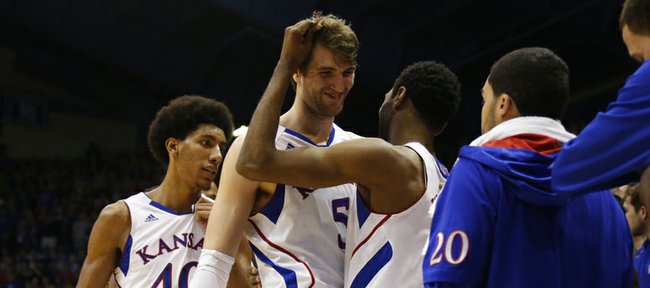 Photo Gallery
Kansas basketball v. Texas Tech (Senior Night)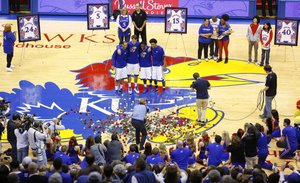 Images from Monday night's game against Texas Tech at Allen Fieldhouse.
Podcast episode
Kansas coach Bill Self talks after his team's 79-42 win over Texas Tech on March 4, 2013.
Podcast episode
Kansas coach Bill Self talks after his team's 79-42 win over Texas Tech on March 4, 2013.
Extras
Kansas University center Jeff Withey wasn't going to disappoint his 21,443 Twitter followers — as well as 16,300 Allen Fieldhouse fans — on Senior Night.
The 7-footer from San Diego, who is known for his shot blocking and dunking — definitely not his long-range bombing — was determined to sink the first three-point shot of his KU career in his final home game as a Jayhawk.
"I wanted to shoot one. I think the fans wanted me to. I got a lot of Tweets from fans about shooting a three. My friends back home said, 'Go ahead and shoot it. You'll make it,''' said Withey, who swished a straight-on three with 5:18 left in the first half of Monday's 79-42 rout of Texas Tech.
He flashed a three-point sign to the fans after hitting the bucket that gave KU a commanding 32-12 lead.
"I knew it was going in. I was ready," Withey said of being prepared to celebrate. "Before the game, Elijah (Johnson) said he'd get me open to shoot one. I asked him, 'How should I celebrate?' It was brought up that's the way I should do it," Withey added.
Johnson actually earned an assist on the three — one of his career-best 12 assists in his own Senior Night game.
"He had no choice," Johnson said of Withey trying a three. "I told him that I was going to drag his man, and as soon as he bit I pitched it back to him. As soon as I turned around I saw Jeff celebrating already."
Withey can't wait to joke about his three with a former KU big man, also known for hitting the only three-point try of his career on his own Senior Night.
Zany Scot Pollard, who like Withey is from California, hit a three in the Jayhawks' Senior Night victory over Kansas State on Feb. 22, 1997, in Allen.
"I heard Scot bragging about that. Not any more," Withey said with a smile. "I might have to go for the all-time percentage record," Withey added. "Me and Scot are tied at 100 percent. If I go 2-for-2, I beat him."
Withey — he erupted for 22 points off 8-of-9 shooting (4-4 from the line) against Tech — has hoisted a three or two at practice during his KU career.
"I'm sure he has," KU coach Bill Self said, asked if Withey has made threes at practice. "I've held him back. It's very fitting he will be remembered instead of Pollard going 1-for-1 from three. There's no question who is the better shooter of those two," Self added, giving the nod to Withey.
Withey had seven points in a senior-dominated 24-4 run that stretched a 13-10 lead to 37-14. Kevin Young (14 points, six boards) scored six, Travis Releford (13 points, 8 of 10 from the line) six and Johnson (seven points) three in the run. Freshman Ben McLemore (13 points), who also likely was playing his final home game, had a bucket in the run.
"It was a great way to send those four studs off, and they've been studs the whole time they've been here," Self said. "They've won a lot of games, got their degrees and been great ambassadors for our university, and I was certainly proud of the way our crowd acknowledged them and stuck around to hear their speeches."
The four seniors each spoke for about three minutes apiece following the game, which wasn't much of a game. Led by Johnson's nine assists and a combined 36 points from the seniors (Withey 12, Young 10, Releford 9, Johnson 5), KU held a 45-20 lead at the break.
"How good was he tonight? Efficient and just played so well," Self said of Withey, "but our whole team played so well. Elijah gets 12 dimes and gets nine in the first half. Everybody played well."
Of the four seniors playing so well, Johnson said: "It's time to rock out. It's time to get to business, and I think we all know that. I honestly think that the reason (the last home game) hasn't hit us yet is because we are so focused on what we have to do. We aren't dwelling on the moment, and that's where our heads are at the moment. When I say it's time to 'rock out,' I mean it's time to go out and leave it all out on the court."
"Today has been kind of crazy," Withey noted. "The game was fun and we played hard. For me personally (the thought of the last home game) hasn't hit me. I don't think it will for a little while. The fieldhouse has been good to us and the fans have been good to us. This is going to be a night that we will remember for a long time."
KU will next meet Baylor at 5 p.m. Saturday, in Waco, Texas. If KU wins, it'll claim at least a share of the Big 12 title.