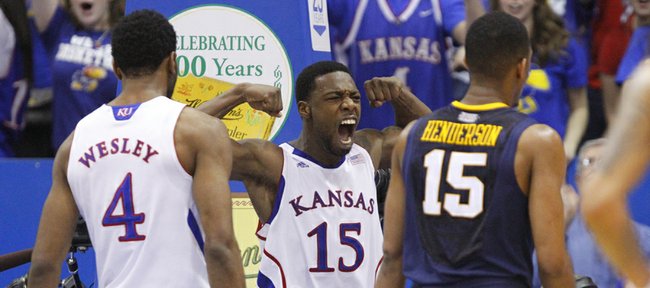 Photo Gallery
Kansas basketball v. West Virginia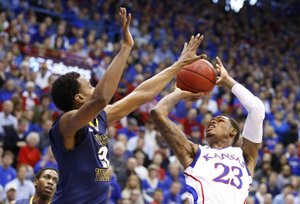 Images from Saturday's game against West Virginia at Allen Fieldhouse.
Podcast episode
Kansas coach Bill Self talks after his team's 91-65 victory over West Virginia on March 2, 2013.
Podcast episode
Kansas players Ben McLemore, Elijah Johnson and Jeff Withey talk to reporters following the Jayhawks' 91-65 victory over West Virginia on March 2, 2013.
Podcast episode
West Virginia coach Bob Huggins talks after KU's 91-65 victory on March 2, 2013.
All afternoon, Kansas University senior guard Elijah Johnson delivered lob passes with pinpoint precision and watched teammates throw them down to trigger loud celebrations in Allen Fieldhouse.
Now it was his turn. Naadir Tharpe put one up there for him, and Johnson soared to heights normally reserved for teammate Ben McLemore. Fouled on the play, Johnson still cashed it in and when he landed, he reacted like one of those power lifters after the weights crash. Johnson struck a flexing pose, triggering hundreds in the seats to mime it in the wake of the jaw-dropping play.
"I didn't even realize I did it," Johnson said. "That's just how I felt at the time. It dawned on me like, 'That was just too strong.'"
He flashed a grin inspired by the memory of the play and his explanation for the flex.
Johnson earned the right to pose by playing a terrific game to end a week that started with a 39-point effort in Monday's overtime victory at Iowa State.
Johnson contributed more than 12 points, 10 assists, five rebounds, a huge blocked shot and a big steal to KU's 91-65 victory Saturday against West Virginia. He made everybody on the court with him play better and was largely responsible for Kansas getting so many open shots.
The Jayhawks' transformation from too shallow to two-deep at point guard took another loud step forward in the fieldhouse, where the usual 16,300 paying customers were treated to some beautiful basketball played by the home team.
Fastbreaks without the ball touching the floor, eight dunks, most set up by lobs, and long jumpers that settled softly into the net abounded. That sort of relentlessly pretty basketball doesn't happen without the primary ball distributors performing their tasks with high-speed precision.
On an afternoon everything freshman Ben McLemore touched turned to gold, Johnson and Tharpe, in that order, made sure to deliver the leather into those Midas hands whether McLemore stood behind the three-point semi-circle or soared well above the rim on the way to 36 points.
The humble freshman wasted no time in sharing the credit for his big afternoon.
"I want to thank my teammates, especially Elijah for creating for me and getting me open shots," McLemore said. "Elijah's a great player, he sees me get on a roll and he wants to feed me. I want to thank him a lot for that."
Coming off offseason knee surgery and uneven shooting through the season, Johnson's mind and body have rounded into shape in time for Kansas to play the way it usually does this time of year, which is to say like a team worthy of consideration for a No. 1 seed in the impending NCAA Tournament.
"I think a lot of it is confidence, and I think his body feels a little better right now," Kansas coach Bill Self said of Johnson's recent surge. "Maybe the timing's right where he's getting his pop back. He looks more athletic. He's dunking the ball in practice. He's doing a lot of things athletically that he hadn't been doing all year long."
Two of Johnson's athletic plays came in an 18-second span that turned a game that had not been going KU's way after West Virginia took a 16-9 lead. The Mountaineers' Jabarie Hinds stole Travis Releford's inbounds pass and was going to take it in for a bucket, but Johnson shot down the court and blocked his shot at the rim. West Virginia retained possession on the rebound, and Jeff Withey blocked Eron Harris' shot, which a couple of passes later resulted in Releford's dunk at the other end.
Johnson then stole the inbounds pass near the sideline and whipped a pass to Releford, who moved it to McLemore, who was fouled driving to the hoop and made both free throws. The momentum shifted to Kansas and never shifted back.
"I felt like Tyshawn (Taylor), I swear I did," Johnson said of the blocked shot. "That's all I could think about when I was trailing him. He couldn't get that one. He just couldn't get it, and we fed off it. Not too much credit to me because I put Travis in a tough situation to make that pass (that was stolen), but if that's what it led to, I really don't mind."
Johnson spent most of the day putting West Virginia's defense in a tough situation with hard drives to the hoop that opened up teammates for good shots. All of Johnson's lob passes were on the money and so were those delivered by Tharpe (eight points, six assists, no turnovers).
"It's something you just feel," Johnson said of the accurate lobs. "I read that back person. I don't look at Ben. I don't look at him coming off the curl. I look at that back person who's supposed to be protecting the basket. I throw it up there, and I know Ben's going to get it. It's really not an accuracy thing. I feel like I just basically have to throw it too high. That's how I approach those situations, throw it too high and it never fails."
Johnson made three of four three-pointers and has made 10 of 15 long ones in the past three games, improving his season accuracy rate to .354.
"It's amazing what one performance can do for your confidence," Self said, referencing Johnson's 39-point game. " ... That's such a bonus for our team when we have our best perimeter shooter from last year now playing up to his expectations because it totally changes the look of our ballclub."
By the look, he didn't mean the uniforms Kansas will wear in the Big 12 tournament. He meant the way it looks playing the game he so enjoys coaching. It was one outstanding look Saturday.