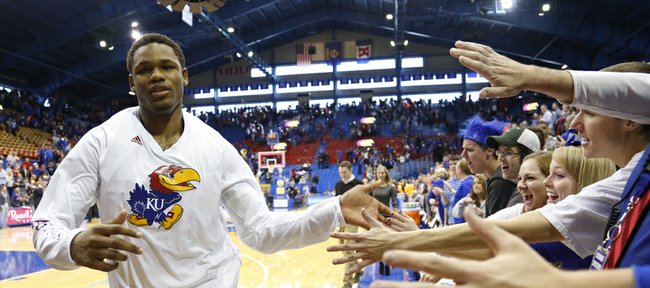 Photo Gallery
Kansas basketball v. West Virginia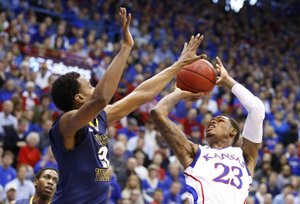 Images from Saturday's game against West Virginia at Allen Fieldhouse.
Podcast episode
Kansas coach Bill Self talks after his team's 91-65 victory over West Virginia on March 2, 2013.
Podcast episode
Kansas players Ben McLemore, Elijah Johnson and Jeff Withey talk to reporters following the Jayhawks' 91-65 victory over West Virginia on March 2, 2013.
Podcast episode
West Virginia coach Bob Huggins talks after KU's 91-65 victory on March 2, 2013.
A bad pass by Ben McLemore earned Kansas University's freshman sensation a spot on the bench — and an earful from his coach — four minutes into the Jayhawks' 91-65 rout of West Virginia on Saturday afternoon in Allen Fieldhouse.
"He knows he can't feed the post that way," Bill Self said of a dish into forward Kevin Young that turned into a turnover. "I took him out. I didn't leave him out long, though. I think it had something to do with, 'Hey wake up and play,' more than anything."
McLemore, who had two points at the time of his early exit, returned 2 1/2 minutes later. The 6-foot-5 guard from St. Louis erupted for 19 first-half points in staking KU to a 45-31 lead. He finished with a KU-freshman record 36 points off 12-of-15 shooting and 7-of-9 free throwing in just 30 minutes.
McLemore — he hit five of six threes — broke the old freshman scoring record of 35 points set by Danny Manning against Oklahoma State on March 2, 1985 — exactly 28 years to the day in Stillwater, Okla.
"I made a bad pass to Kevin. I messed up," McLemore said of the early gaffe, which so upset his coach and may have signaled a lack of focus against the (13-16, 6-10) Mountaineers.
"I went back out there and had the opportunity to make up for it, which I did."
McLemore, who had two of (25-4, 13-3) KU's eight dunks, scored 13 points in a 21-6 run that turned a 16-9 deficit into a 30-22 lead. He scored seven points in a 14-3 surge that stretched a 22-21 deficit into a 35-25 advantage. And he had 10 points in a 19-2 run that upped a 51-41 lead to 70-43.
"After a while, Ben caught on fire. He's still on fire," said senior point guard Elijah Johnson, who dished 10 assists against four turnovers to go with 12 points.
McLemore scored his 35th and 36th points off a baseline jumper with 5:36 left. Self took him out for good at 5:21 and at that time was informed of his freshman scoring record by floor general Johnson.
"When coach told me to go get him, I figured I would send him to the bench in even better spirits," Johnson said of McLemore, who also had seven rebounds, four assists, two turnovers and a steal.
"I honestly think Ben is a person that deserves to break the record out of anybody I have ever played with. I love this kid. I never tell him. I think he knows, though. I can honestly say I've learned a lot from him. He's a hard worker. You would think he's the worst player in the gym the way he approaches it every day. He's always in a good mood, always trying to pump energy in the room. He's just a good guy," Johnson added.
McLemore thanked Johnson and the rest of his teammates for setting screens for him and feeding him the ball. He said he recognizes what an honor it is to surpass Manning, who was an assistant coach at KU during Ben's red-shirt season and now is head coach at Tulsa.
"He's a great player, one of the best to play at the University of Kansas," McLemore said. "Just breaking the record and knowing I did something great for the university is just great. Right now I just want to enjoy this win with my teammates, enjoy that record with my teammates."
As to how he knocked down 12 of 15 shots and passed his previous career high of 33 points set against Iowa State on Jan. 9, McLemore said: "It was going out there and feeling free and just shooting the ball."
He also was motivated after watching Johnson burn Iowa State for 39 points on Monday in Ames, Iowa.
"He's a great player and teammate. Seeing him do that just helped me try to be better as a player, try to create for myself, get myself open. It definitely inspired me," McLemore said.
KU coach Self actually played in the game Manning scored 35. KU won, 88-79, in Stillwater, Okla.
"I played back line of a 2-3 zone. I think he got 20 on me, but not all 35," former Oklahoma State point guard Self said.
McLemore's scoring spree came on a day Jeff Withey fell one block short of the second triple-double of his career. Withey scored 14 points off 7-of-8 shooting with 10 rebounds and nine blocks.
"I was one away from 10 and I felt pretty good about that. Nine is a lot and I did a lot of work for that," Withey said. "As long as we get the win, I'm usually happy. I help my teammates not have to work a lot on defense and let them worry about offense."
Withey, Johnson, Travis Releford (six points, 2-of-8 shooting) and Kevin Young (six points, four assists, three blocks, two rebounds, two steals) will play the final home game of their KU careers on Monday against Texas Tech. Tip for Senior Night is 6 p.m. in Allen Fieldhouse.