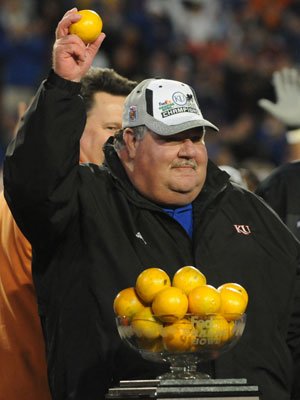 After sitting out for three full seasons, former Kansas University football coach Mark Mangino is back in coaching.
Mangino, who resigned his post at KU under pressure following the 2009 season, was hired as an assistant on Friday by Youngstown State head coach Eric Wolford, the school announced in a press release.
A native of New Castle, Pa., Mangino had been linked to jobs across the country during the past couple of years, but nothing materialized because of his desire to spend time with his family and focus on his helping his wife, Mary Jane, fight cancer. The one job that lured him back to the game comes at a program and in a region where Mangino has strong personal ties. He graduated from YSU in 1987 and also coached two seasons at the school with Bill Narduzzi and Jim Tressel.
"This is a homecoming for me," Mangino said in the press release. "I'm delighted to be at a great school with a great football tradition with a team and coach poised to do great things. Every coaching job I have ever taken was a rebuilding project, but this program is not rebuilding. This program has the potential to have a very good year and that's a credit to Eric Wolford, his staff and his team."
Mangino will serve as an assistant head coach, tight-ends coach and recruiting coordinator for the program that is run by a former Kansas State player whom Mangino coached and later worked with during his days in Manhattan.
"I am a big believer in Coach Wolford's 'no shortcuts' approach that focuses on getting results on and off the field," Mangino said. "This school is near and dear to my heart and I'll work very hard with Coach Wolford to get the job done."
During his eight seasons in charge of the Jayhawks, from 2002-09, Mangino finished with a 50-48 career record. Mangino's crowning achievement at Kansas came in 2007, when he guided the Jayhawks to a 12-1 record and an Orange Bowl championship and was named the consensus national coach of the year.
His success at KU went beyond that one season. He guided the Jayhawks to one-third of their all-time bowl appearances (four out of 12 in 125 seasons); led KU to bowl games in consecutive years for the first time ever; posted three consecutive bowl victories for the first time in school history; had eight-win seasons in consecutive years for the first time since 1908-09; had six wins in four straight seasons for the first time since 1903-06; won 20 games in a two-year period, the most in school history; brought the program into the national polls for the first time in 11 campaigns; and saw the passion for KU football explode, as the school set home attendance average records in a four-year span.
Prior to his arrival in Lawrence, Mangino played a key role in the rebuilding process at both Oklahoma (1999-2001) and Kansas State (1991-98).
More like this story on KUsports.com