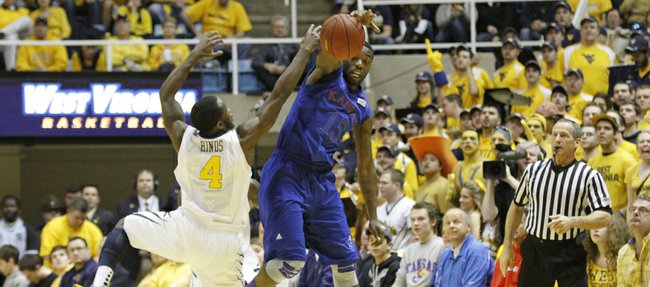 Elijah Johnson's 39-point scoring spree against Iowa State on Monday night certainly was unexpected.
The 6-foot-4 senior out of Las Vegas, who hit 13 of 22 shots in the Jayhawks' 108-96 overtime victory over the Cyclones, had a previous season high of 12 points in Big 12 Conference play — in home games against Iowa State, Baylor and Texas. His season high of 18 points came against Chattanooga way back on Nov. 15.
"This will boost my confidence ... definitely," said Johnson, who takes a 10.2-point average into today's 1 p.m. home game against West Virginia. "I don't see me reverting back. It's kind of that thing where you know you can do it, and now you've just got to continue to try to do it."
Of course, Johnson, who plays point guard to open games and moves to shooting guard when Naadir Tharpe enters, has shown the ability to score in the past. He had 26 and 21 in games against Texas A&M; last season, 23 versus UCLA and 18 against Purdue in the 2012 NCAA Tournament. That 26-pointer versus A&M; came in KU's regular-season finale, preceding a March run that had him score in double figures in all six NCAA Tournament games.
"I stayed in attack mode," Johnson said of his secret to scoring against Iowa State. "The conversation coach and I had in that timeout (early in ISU game) ... it just sent me into tunnel vision."
He said his goal today and the rest of the season is to "apply pressure at all times. Make it harder (for foes) to faceguard Ben (McLemore). Make it harder to sit in the lane on Jeff (Withey). I feel I can help everybody and stretch the defense."
Johnson scored six points off 2-of-4 shooting with five assists against three turnovers in KU's narrow 61-56 victory over West Virginia on Jan. 28 in Morgantown, W.Va. It's a Mountaineer team that has struggled in its first year in the Big 12. Coach Bob Huggins' squad enters today's game 13-15 overall and 6-9 in league play. KU is 24-4, 12-3.
What does Johnson remember about that first meeting?
"Being all the way on the East Coast, real far (away)," Johnson said with a smile. "They've got to come all the way here this time. They've got a hostile environment over there, too. We're looking forward to showing them our environment."
West Virginia's Aaric Murray scored 17 and Juwan Staten 14, while Withey and Travis Releford had 15 apiece for KU in that earlier meeting.
"We've got two games left at home," Johnson said. Senior Night is Monday against Texas Tech. "I don't think Travis (Releford), Jeff and Kevin (Young), including myself, want to leave any bad taste these last two games in the fieldhouse. I'm pretty confident in those games in terms of going out and playing hard."
KU enters today's game tied with Kansas State atop the league standings. Oklahoma State is a game back.
W.Va. coach Huggins is 0-5 against Self-coached teams (0-3 in 2006-07 while at Kansas State, 0-1 at Cincinnati, 0-1 at West Virginia).
"He is a great coach. He is a Hall of Fame coach, and his kids play as hard as anybody in the country, without question," Self said. "Their win-loss record probably isn't what he thought going into the season, but we will get an unbelievable effort. He is as good as our game has as far as total package of coaching, and it has been that way for a long time."
Of today's game, Huggins said: "I think the first thing is we have to do a good job of handling the atmosphere. It is an incredible atmosphere, 18,000 strong. They're loud. They cheer like crazy, and the team feeds off of it. We have to handle that, kind of block that out. We have to guard and make some shots.
"They did a pretty good job taking Eron Harris out of the game the first time (two points, 25 minutes). Deniz (Kilicli, four points first meeting) has to have a big game for us. He's been playing well. We need to throw the ball inside to him."
This, that: West Virginia is 8-5 at home, 3-7 on the road and 2-3 on neutral courts. ... WVU averages 65.6 points per game and allows 66.1. ... The Mountaineers are outrebounding foes 35.8 to 33.7 and average 7.4 steals while forcing 14.4 turnovers per game. ... Eleven Mountaineers average 11-plus minutes per game and 10 have started at least two games. ... Freshman guard Harris averages a team-leading 9.3 ppg with 37 threes. ... Junior center Murray averages 8.8 ppg and a team-leading 6.2 boards. ... KU coach Self watched prize high school senior prospect Julius Randle score 40 points for Prestonwood Christian on Friday in a Texas state playoff game in Plano, Texas. Randle, the No. 2-ranked prospect in the country by Rivals.com, is considering KU, Kentucky, Florida, Texas and N.C. State.
More like this story on KUsports.com