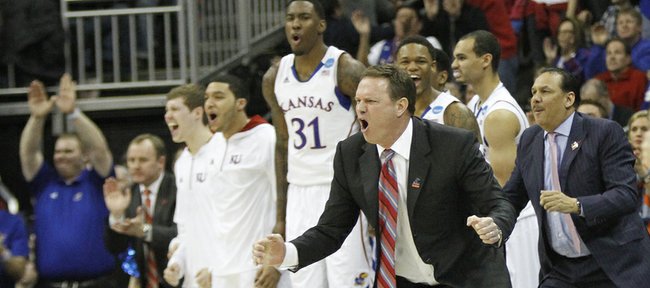 Kansas coach Bill Self received a fine and public reprimand from the NCAA on Wednesday morning because of "misconduct" during the 2013 NCAA Tournament.
Specifically, Self damaged the LED scorers table when he hit it with his hand during KU's 70-58 victory over North Carolina on March 24 at Sprint Center in Kansas City, Mo.
Self issued a statement on the matter: "After shooting 25 percent (7-for-28 field goals, 0-for-6 threes), scoring 21 points and 12 turnovers in the first half, my emotions got the best of me."
NCAA guidelines define misconduct as "any act of dishonesty, unsportsmanlike conduct, unprofessional behavior or breach of law, occurring from the time the championship field is announced through the end of the championship that discredits the event or intercollegiate athletics."
"Coach Self's actions were out of line with the committee's expectations that championship participants act in a manner that represents the highest standards of sportsmanship," said Ron Wellman, athletic director at Wake Forest and chair of the Div. I men's basketball committee.