Have a tip?
Contact Journal-World reporter Caitlin Doornbos: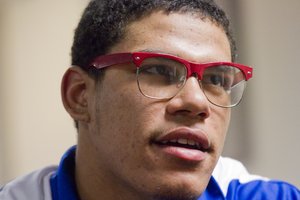 Former Kansas University football player Chris Martin and two other men were bound over for trial today in a robbery case stemming from a May 13 home invasion in southwest Lawrence.
Martin, along with two other defendants arrested and charged with aggravated robbery last month, appeared in Douglas County District Court this morning for a preliminary hearing. All three defendants waived their right to ask prosecutors to present evidence in court, pleaded not guilty, and were scheduled to appear in court again in July to set a trial date.
Martin was dismissed from the football program on June 17. Kansas University football coach Charlie Weis has said Martin was dismissed not because of the criminal case, but because Martin failed to follow a series of stipulations, or protocols, that athletics officials had asked him to follow while the criminal case was pending in court. Weis never described those stipulations in detail.
The Kansas football program recruited Martin last year, and the 6-foot-5, 260-pound junior-college transfer came to Kansas as a four-star defensive end but never played a game here. He was arrested May 30, along with Jeremiah Letrell Edwards, 21, of Garland, Texas, and Joshua Edwards, 28, of Lawrence, on suspicion of robbing cash and marijuana from a Lawrence man at gunpoint at a home in the 1900 block of Camelback Drive about 10:30 p.m. on May 13, according to Sgt. Trent McKinley, a Lawrence Police Department spokesman.
If convicted of aggravated robbery, the three men could face a prison sentence from 55 months to 20 years, depending on their criminal history. Douglas County prosecutors have said Martin had no criminal record. A 2011 citation for marijuana possession in Florida had been resolved by a diversion agreement.
Chris Martin's attorney, Chris Joseph, said Monday that he was in plea negotiations with Douglas County prosecutors. He has said that he thought the handgun allegedly involved in the robbery might have been a toy gun rather than a working firearm.
Martin and Jeremiah Edwards are free on a $35,000 bond. Joshua Edwards has remained in Douglas County Jail since his arrest, with bond set at the same amount.