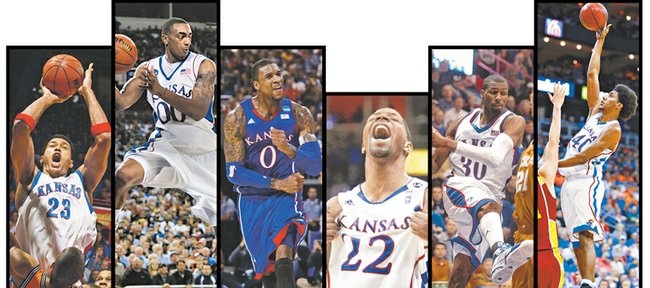 During Kansas University basketball coach Bill Self's first 10 years in Lawrence, the power-forward position has been filled by a wide range of skilled players.
From smooth, slippery overachievers asked to battle with the big men to finely-tuned athletes who appeared to be chiseled from granite and everything in between, the four spot during the Self era has featured some of the best players in school history.
Because of that, putting together a list of the top five low-post monsters made this edition of our annual summer series, which looks back at the top players and moments of KU basketball under Self, one of the most challenging.
Here's a look at what we came up with and the reasoning behind each pick:
Gary Bedore
1. Wayne Simien: Simien was the Mark Randall of his day, the fundamentally sound star who knew how to put the ball in the basket. You have to appreciate the fact he felt a calling to ministry and chose that path rather than the more lucrative route of playing ball in Europe for 15 years or so.
2. Darrell Arthur: The unsung hero of the national-title team, Arthur was one smooth-shooting forward. Also had one of the best stories, indicating he chose KU because of a dream he had the night before his signing-day news conference.
3. Thomas Robinson: The all-time overachiever, whose future as an NBA starter might be in jeopardy because of lack of a stellar offensive repertoire, certainly was great in college around the goal. What a powerful player.
4. Marcus Morris: Smooth, smooth, smooth. Morris was a dandy college forward, spectacular at times. I think he could have been a better leader, but, hey, that's debatable, too.
5. Julian Wright: Anybody who watched the skinny kid from Chicago drive and dunk had to be awed. I'm a little surprised he didn't make it in the NBA, but it seems Julian just didn't have a position and didn't have a reliable jump shot.
Tom Keegan
1. Wayne Simien: The most prolific scorer during the Self era, Simien had such a wide variety of scoring options that not many college basketball players were well suited to stopping him. Had tough luck in the health department in the NBA, where he was drafted by a team (Miami Heat) that needed him only as leverage in contract negotiations with Udonis Haslem.
2. Thomas Robinson: A relentless defensive rebounder whose defensive deficiencies were masked by Jeff Withey, Robinson developed into an excellent scorer who relied on explosiveness and a solid mid-range jumper.
3. Marcus Morris: There wasn't anything he did not do well. On defense, he slid his feet like a guard. Offensively, he was a gifted passer, had nice footwork and fakes that he used down low, and he had a steady pull-back jumper. Surest hands on the planet.
4. Darrell Arthur: Ran the floor like a guard, had great hands and a soft shooting touch. He never overcame a penchant for fouling, but with KU's consistent front-court depth, that didn't burn the team. In the 2008 national-title game, Mario Chalmers hit the shot, and Sherron Collins had huge late plays, but nobody on either team played better than Arthur, who totaled 20 points and 10 rebounds.
5. Julian Wright: A terrific passer, he was far quicker than most inside players, which enabled him to rebound well. Might rank higher on this deep list if only he had not so thoroughly enjoyed dribbling, when giving up the ball was the right call.
Matt Tait
1. Thomas Robinson: Robinson takes the top spot simply because of his power and unyielding tenacity. Whenever Self and the Jayhawks needed a bucket, they could throw it down to Robinson, and, one way or the other, he would get to the rim or the free-throw line, often times looking flat-out unstoppable in doing so. An automatic double-double night in and night out, Robinson came as far as any player in the Self era in terms of development.
2. Wayne Simien: A kinder, gentler version of Robinson a few years earlier, Simien also seemed unstoppable at times. His soft shooting touch and sharp mind often put him a step or two ahead of overmatched opponents. Not many KU players appreciated being a Jayhawk as much as Simien.
3. Marcus Morris: Arguably the best all-around player to handle the four spot during Self's time at KU, Morris used his big frame to get buckets but also could play D and put the ball on the floor and score on the move or create easy shots for teammates.
4. Darrell Arthur: Had a complete game and was an incredible athlete but often was overshadowed because of the incredible talent around him. Still, Arthur was a reliable scorer, an underrated jump shooter and a tremendous athlete. When he showcased all three skills at the same time, he, too, looked unstoppable.
5. Kevin Young: Julian Wright had more game, and Perry Ellis has more potential, but I went with Young here because he played such a key role on two national-title contending teams, and I'm partial to guys like Young, who are willing to do all the little things — track down loose balls, steal offensive rebounds, grow great afros — that make a good team great.
Jesse Newell
1. Wayne Simien: A consensus first-team All-America selection in 2005, Simien was a really, really good college player. While taking on huge offensive loads for KU in his final two seasons, he still managed to keep his two-point percentages above 54 percent and his free-throw percentages above 81 percent. He doesn't get much credit for this, but he's also one of the best rebounders on both ends that Self has had at KU.
2. Marcus Morris: Gets the nod over Thomas Robinson simply because he contributed two elite offensive seasons to Robinson's one. A talented jump-shooter, Morris did it all his junior season, making 62 percent of his twos while also posting top-250 marks in both offensive and defensive rebounding percentage.
3. Thomas Robinson: Produced offensively his junior season even with the pressure of having to take on a huge offensive load. Defensively, he did one thing and did it well, grabbing defensive rebounds at a rate better than any other player in the nation. Robinson is one of three consensus All-America selections for Self during his KU tenure.
4. Darrell Arthur: Had two productive years for KU before jumping to the pros. Contributed in a lot of areas for the '08 title team, posting above-average shooting, rebounding and shot-blocking numbers his sophomore year.
5. Julian Wright: Because of his athleticism, Wright could fill up a stat sheet for the Jayhawks ... though sometimes that included turnovers as well. One could definitely make the argument Wright was KU's best player during the 2006-07 season, as he ranked in the top 300 nationally in shooting, offensive rebounding, defensive rebounding, shot-blocking and steals.
More like this story on KUsports.com