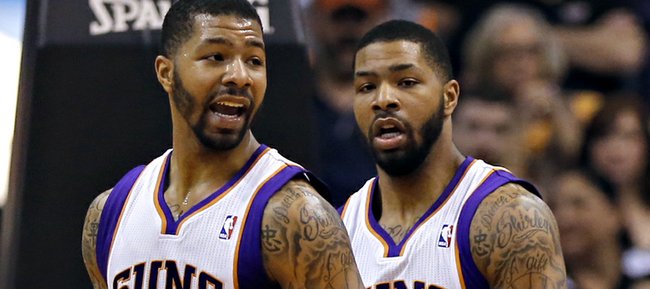 Former Kansas University center Jeff Withey, who has worked out for 13 NBA teams in 13 cities the past three weeks, knows the drill by now.
"Everywhere you go, you do the same thing — a little shooting, play 3-on-3 a little bit, do some conditioning at the end," the 7-footer from San Diego told Sunstv.com after his workout Thursday for the Phoenix Suns, who have two first-round picks — Nos. 5 and 30 — in Thursday's NBA Draft.
Withey, who has one more workout scheduled Saturday in Indiana, was happy to inform reporters of a change in the routine Thursday.
"It was fun to be here. The twins were in attendance. They were cheering me on," Withey said of former KU players Marcus and Markieff Morris, who play for the Suns. "It was a good little reunion. It was good to see them again. It was a good workout."
Withey is aware there's a chance Phoenix could take KU's Ben McLemore at No. 5 and Withey with the final selection of the first round.
"It would be great. It'd be crazy if Ben went here, too. You'd have a whole team full of KU guys," Withey said. "It'd definitely be a blessing. You can't have your heart set on these things because you never know."
Withey said he has concentrated on offense during the individual workouts with NBA teams.
"I want to show people I can shoot the ball. Something I've been working on is my 15-foot jump shot," Withey, the Big 12's all-time leading shot blocker, said. "I feel people know me pretty well already defensively. I just want to show them I can shoot."
Walt Perrin, Utah Jazz vice president of player personnel, told the Deseret News he was impressed with Withey's offensive game.
"He's more than a back-to-the-basket player. He can really shoot the ball from about 15 feet," Perrin said. "We know he can protect the basket. We know he rebounds. He played extremely hard (in Wednesday's workout in Utah). But because you don't see him stepping away from the basket at Kansas, he showed us that he can knock down the 15-foot jump shot.
"We had an opportunity to see Jeff shoot jump shots today. ... With the way we run our workouts, we want to take a look at different things so we're able to see if they can get away from the basket, (or) if a smaller guy can post up, (or) we can see how well they're going to work through the altitude, (or) are they going to finish strong. That's his main skill — he can protect the basket,. He does a really good job from the weak side, and it would be intriguing having him and (center) Derrick (Favors). But you could say the same thing with some of the other big guys we've brought in, too, so we'll have to see," he added to the Deseret News.
AAU coach meets with NCAA: McLemore's AAU coach, Darius Cobb, met with NCAA officials for several hours Wednesday with one KU official present, sources told the Journal-World. USA Today this week reported that Cobb was slated to meet with an NCAA rep to detail knowledge of former KU player McLemore's relationship with middleman Rodney Blackstock, who is now a certified agent. A KU official was there merely to observe the proceedings, sources said.
Cobb has told USA Today that Blackstock paid for a birthday party of McLemore's and paid for Cobb's travel expenses to Los Angeles on fact-finding missions with potential agents for McLemore. Cobb also said he accepted two $5,000 cash payments from Blackstock.
KU associate AD Jim Marchiony said KU would have no comment on the case. It is against NCAA rules for a student-athlete or individuals close to a student-athlete to accept benefits from third parties like Blackstock.
Meanwhile, ESPN's Chad Ford believes McLemore's stock is falling in the draft perhaps because of Blackstock.
"McLemore is in a tug-of-war right now between adviser Rodney Blackstock and his agency Rivals," Ford wrote. "It's kept McLemore out of the gym and for the most part, out of workouts. How much will all of this affect the draft stock? I'm told teams are worried. But how worried? Enough for one of the most talented players in the draft to slide further? If the Suns pass on McLemore (at No. 5), both C.J. McCollum and Michael Carter-Williams are possibilities here."
More like this story on KUsports.com