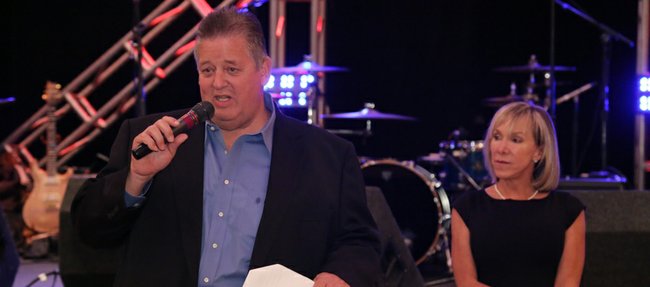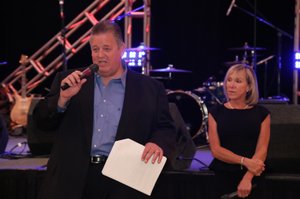 Mayetta — On the 21st anniversary of their wedding night, Kansas University football coach Charlie Weis and his wife, Maura, celebrated by honoring the 10th anniversary of the charity that changed their lives.
A decade ago, the Weises started Hannah & Friends in honor of their daughter, Hannah, who struggled with developmental delays. At 12, Hannah was diagnosed with Electrical Status Epilepticus of slow wave sleep, a rare epilepsy syndrome that affects cognitive function.
The Weises wanted the best for Hannah, of course, but hoped to help others as well. Hannah & Friends was created.
Friday, for the first time in the organization's history, its primary fundraiser was held in Kansas, near where Weis is in his second season of coaching at KU.
The two-day event began with a celebrity dinner and silent auction Friday night and will wrap with a golf tournament at Firekeeper Golf Course today.
When Weis was hired by KU in December of 2011, he and Maura decided they would move the event to Kansas this year and, judging by the turnout Friday, which featured Notre Dame alum and ESPN personality Mike Golic and Hollywood actor and KU grad Rob Riggle as the co-emcees, the move was a fantastic idea. More than 200 people filled the ballroom at Prairie Band Casino for dinner, dancing and the chance to donate money to a good cause.
Friday's guest list surpassed the total attendance from last year's event.
"We weren't apprehensive at all," said Weis of moving the event. "We just felt this is where it should be. The vendors, both in Lawrence and here, have been absolutely wonderful."
For Maura, who first thought of the idea in 2002, seeing Hannah & Friends flourish has been beyond what she expected.
"I think I (knew it would be successful)," Maura said. "But I didn't think it could happen in 10 years. When I think back, I just see the faces of all the kids. To me, it's the spirit of the place that I love the most. The kids are the heroes here. It's not us."
Hannah & Friends houses a 40-acre property with 12 full-time residents, including Hannah, in South Bend, Ind.
It also has gained steam everywhere the Weises have been — Massachusetts, South Carolina, Florida and now Kansas. In some cases, people who have been moved by the message of Hannah & Friends have sought advice from the Weis family. One such couple, who resides in Florida, was in attendance Friday night.
"If we can inspire other people to do the same thing, we will help them however we can," Maura said.
A new activity center which is slated for completion in November is under construction on the property, and the grant program and day camps, which provide momentary joy for families across the country, have been a huge success.
"We just want to enjoy this," Maura said. "But something else will pop up."
Without hesitation, Weis said he had an inkling about what that might be.
"We'd like to do more here," he said of giving back to individuals with special needs in Kansas.
Weis credited his former players for helping Hannah & Friends get off the ground a decade ago. Former Patriots compadres Tom Brady and Bill Belichick both played a key role in the early success of the charity, and many former Weis players continue to contribute today. More than a dozen made the trip to Prairie Band for this weekend's fun, including current NFL players Brady Quinn, Jimmy Clausen, Golden Tate, Kyle Rudoloph and Anthony Fasano.
Quinn, who played for Weis at Notre Dame and now suits up for the Seattle Seahawks, said he had heard about the charity even before he began playing for Weis and said he chose to remain actively involved because of the personal connection he has with the Weis family.
"I remember having dinner with the family one time," began Quinn, when asked to share his favorite Hannah story. "Hannah was having a rough night, but toward the end of the dinner she peeked her head in to say hello, and then she said goodbye when I was leaving, and that meant more than anything."
Hannah, who turned 18 in April, moved into her new home at Hannah & Friends a couple of weeks ago. The moment was the culmination of what Weis and his wife envisioned when they raised the first dollar and lifted the first shovel of dirt.
Still, moving Hannah into her new environment and away from Maura was an emotional moment for all of them, but Maura said when Hannah walked in and saw that her new bedroom was painted exactly like her bedroom at home, she smiled and with that grin made everyone in the family feel that everything was going to be all right.
"It's exciting," Maura said. "But I was really bittersweet."
Added Weis of Hannah: "She's adjusted better than Maura has."