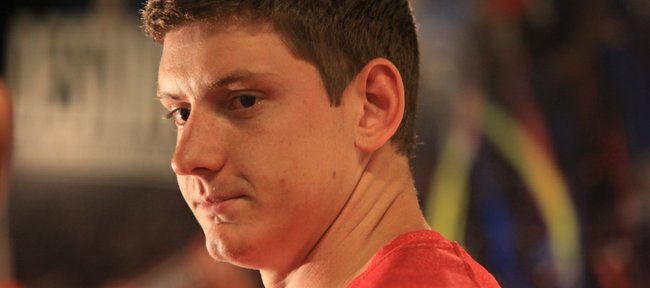 Able to practice but unable to play in games during the 2013-14 season, Arkansas transfer Hunter Mickelson will have plenty of time to familiarize himself with Kansas University's basketball program.
"I just want to get better overall, get stronger, soak up everything I can and improve," Mickelson, a 6-foot-11, 235-pound junior-to-be, said Tuesday from Bill Self's basketball camp in Allen Fieldhouse.
The Jonesboro, Ark., native, who is the roommate of Wichitan Conner Frankamp, also is eager to study the topography of the region.
"I like to fish and hunt. I don't know if I'll be able to hunt as much. I'll probably find a river around here somewhere where I can fish a little bit," Mickelson said with a smile.
He joins a KU big-man group that includes senior banger Tarik Black, sophomore Perry Ellis, red-shirt sophomore Jamari Traylor, freshman Joel Embiid, red-shirt freshman Landen Lucas and senior Justin Wesley.
"I think it's going to be a war this year. There's going to be a bunch of good guys out there," Mickelson said. "Practice will be interesting. I know I have to sit out, but I think everybody is going to get better."
Of 6-9, 260-pound Memphis transfer Black, who is immediately eligible after earning his undergraduate degree, Mickelson said: "Tarik is athletic. He's pretty fast, pretty quick. He's a thick guy, strong, too. All that will definitely help him."
Mickelson — he set Arkansas' freshman-shot-block record (72) two seasons ago — has been compared to former KU center Jeff Withey, the Big 12's all-time rejection leader.
"It did a little bit," Mickelson said, asked if Arizona transfer Withey's story influenced his decision to transfer to KU. "He's a great player. We're kind of built the same, so hopefully if I can follow in his footsteps, that would be great."
Of his own blocking ability, Mickelson said: "(I'm) just trying to play good defense. Coming here, I think I'll slim down a little bit weight-wise and be quicker, get stronger and use that and my athletic ability to be able to block shots."
Mickelson, whose block total dipped to 39 last season, averaged 5.4 points and 3.5 rebounds in 16.6 minutes a game. He lost his starting job midseason playing under second-year coach Mike Anderson.
"He's a great coach. I enjoyed playing for him. Things changed a little bit. The situation wasn't right for me," Mickelson said. "I ended up making the choice to change. Kansas has been a great basketball place for years now. It's definitely a good place to be, good place to play. I always liked the team, the coach and everything. It was definitely something to look at."
Mickelson, who was out of town last week for his sister's wedding in Florida, said he's "super excited, glad to be here. I'm trying to get the hang of things, trying to get in the groove. It's been fun so far.
"I'm trying to adjust to the level of competition. These guys are pretty good players," he added. "I've got to get in with them and be able to hang with 'em a little bit."
KU coach Bill Self believes Mickelson will be an outstanding KU big man.
"In Hunter's situation, if he was able to play immediately, that would be great. He would definitely add something to next year's team without question," Self said. "But I think in his case, when we recruited him (as Rivals.com's No. 100-rated player in Class of 2011), we didn't know Hunter would be a great player as a freshman, but we knew he had a chance to be a great player down the line. That's exactly where we are now. It will take a little time, so the red-shirt year will help him get back to the point where mentally he's ready to carry a big load the following year."
Of the comparisons to Withey, Self said: "He's not as tall, and he's more agile than Jeff, and he's probably more of a perimeter player than Jeff. But from a shot-blocking standpoint, you can say he's a poor-man's Jeff. He is an excellent shot-blocker."
And that Wiggins guy?: On Monday, Mickelson had his first workout with newcomer Andrew Wiggins, a 6-7 freshman forward from Canada.
"He's pretty talented. He's pretty athletic," Mickelson said with a smile.
Draft update: Former KU guard Ben McLemore has slipped to fifth in Chad Ford's ESPN mock draft.
Ford writes: "McLemore remains in the top 5, but I'm starting to have my doubts. I love the talent. But his lack of preparation for the draft is hurting him. Multiple sources told me that his workout in Phoenix (for Suns who pick fifth) was not impressive. He wasn't in shape, and he struggled to keep up in the workout. I heard similar things in Orlando. McLemore is in a tug-of-war right now between adviser Rodney Blackstock and his agency Rivals. It's kept McLemore out of the gym and for the most part, out of workouts. How much will all of this affect the draft stock? I'm told teams are worried. But how worried? Enough for one of the most talented players in the draft to slide further? If the Suns pass on McLemore, both C.J. McCollum and Michael Carter-Williams are possibilities."
Ford no longer has KU center Withey listed as a first-rounder. He lists as one of the "guys not in the mock (draft) who could sneak into the first." Draftexpress.com has McLemore being selected No. 2 overall by Orlando and Withey No. 29 in the first round by Oklahoma City. Withey worked out for the L.A. Clippers (25th pick) on Monday.
More like this story on KUsports.com