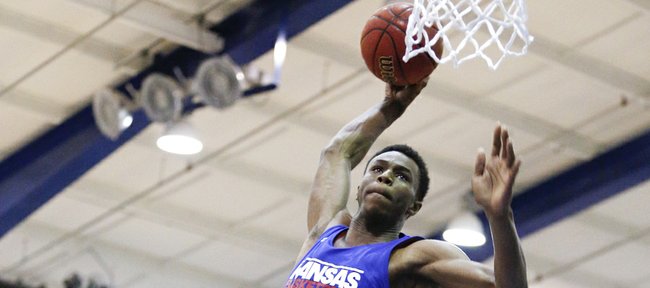 Photo Gallery
Kansas basketball scrimmage
Images from Wednesday's scrimmage between current and former players including the first on-court appearance from highly-touted recruit Andrew Wiggins.
Bill Self's 800 basketball campers, who obviously follow their Kansas Jayhawks closely, knew somebody was missing as the players gathered under Horejsi Center's west goal Wednesday afternoon.
"We want Wiggins ... We want Wiggins," the youths chanted, clapping and stomping their feet — then cheering wildly as 18-year-old Andrew Wiggins, wearing jersey No. 22, walked through a side door into the facility.
The 6-foot-7, 200-pounder, who joins KU's program as the No. 1-ranked prospect in the recruiting Class of 2013, immediately gained the approval of 1,300 fans in the jam-packed gym by downing a few dunks during layup drills.
Once the scrimmage involving current and past Jayhawks started, the Toronto native picked up the intensity, throwing down a vicious one-handed dunk over Cole Aldrich, giving the Blue team a 2-0 lead en route to a 66-61 loss to the Red team.
"It felt good," Wiggins said of the game-opening slam. "I let loose all of my nerves, so it was good after that dunk."
He followed with a steal and two-handed jam and later hit a three in the second of two, 15-minute halves, finishing with seven points off 3-of-7 shooting.
"I just let my game come to me. I think that's what happened," said Wiggins. "I think that's what the fans want to see."
Red team member Tyrel Reed, who led all scorers with 19 points, said it was only fitting Wiggins — who didn't play in last week's campers game, arriving for summer school Sunday — opened with a dunk.
"He shows you how much a freak he is on the first play of the game. It's going to be a special year," Reed said, adding, "He looks like a 26-year-old NBA veteran."
He handled his first local media gathering smoothly, as well.
"I know college is a big step from high school, so I just wanted to make sure I was ready for it," Wiggins said of the reason he declined an invitation to play for Canada's Under 19 national team, instead electing to attend KU summer school. "Coming here early would (make) higher my chances of being ready for college.
"It feels good to be here," added Wiggins, who is rooming with senior Niko Roberts. "Everywhere I went, no matter where I went, everyone asks where I'm going to school. Now everybody knows I'm going to Kansas so it's like a big relief, a big weight off my shoulders. It's an experience I can enjoy. A lot of former players always say college was their greatest basketball experience. Being on campus is a great vibe. It's what I'm looking forward to."
Of course, barring some freak occurrence, he'll be at KU just one season.
He's considered a lock to be taken No. 1 in the 2014 NBA Draft.
"I just take my life day by day," said Wiggins, who averaged 23.4 points and 11.1 rebounds a game for Huntington (W.Va.) Prep last season. "I just try to stay grounded, keep my circle tight, always stay close to my family and friends. When that day comes where hopefully God will bless me to go to the next level, hopefully I'll be there."
KU coach Bill Self, who couldn't watch the scrimmage in accordance with NCAA rules, says the rock-star status of Wiggins, while exciting, could become "ridiculous" if it gets out of hand.
Self said professional autograph-seekers have been "waiting for him every time he steps out of his apartment. He has to be able to be a kid and tell people no. We have to help him do that and make it easier for him.
"The whole thing is, he's just a kid. I told him the other night he hasn't made a basket yet. The attention he's received is based on potential, not based on anything he's done. I think he should welcome the expectations. I don't think there's any reason to try to run from them. He's going to have them no matter what. We'll talk more as we get closer (to regular school year), the best way to have a strategy on handling things."
Box score
BLUE TEAM (61): Perry Ellis 12, Brannen Greene 9, Naadir Tharpe 9, Landen Lucas 8, Andrew Wiggins 7, Wayne Selden 7, Frank Mason 3, Niko Roberts 3, Joel Embiid 2, Jamari Traylor 1, Tyler Self 0, Conner Frankamp 0.
RED TEAM (66): Tyrel Reed 19, Justin Wesley 14, Cole Aldrich 10, Tarik Black 9, Aaron Miles 6, Sherron Collins 5, Jeff Hawkins 3, Hunter Mickelson 0, Brady Morningstar 0, Christian Garrett 0. Andrew White, sprained knee, did not play.
Self said it might be a good idea for Wiggins to talk to former KU phenom Danny Manning about handling the limelight in Lawrence.
"I'm sure Danny had this type of exposure when he was coming in. Danny found a way to handle it," Self said of Tulsa's head coach. "Probably other than Danny, you'd have to go back to Wilt (Chamberlain) that would have the type of fanfare. I'm not saying the same type player but the same type fanfare coming in as he's had."
Wiggins has no complaints.
"It's been a great vibe since I've been here. All the people of Lawrence have shown me nothing but love. I've been following the other players, seeing where to go, seeing how Lawrence is," Wiggins said. "Everyone is loving, friendly. I've been pretty comfortable here."
Wiggins — who said it's great that his brother Nick, a Wichita State player, is so close to Lawrence — indicated he senses a family atmosphere with the KU fans. He attended KU's Senior Day victory over Texas Tech.
"The whole, whole whole place was going crazy. The fans are so loving to all the players," Wiggins said. "I can tell they are loyal fans because after the game, the players were talking for maybe 30, 45 minutes, and no one left the building at all. I know the fans are loyal. That's what I like to see."
Perry Ellis scored 12 points to lead the Blue team, while Brannen Greene and Naadir Tharpe had nine apiece. Reed had 19 points, Justin Wesley 14 and Cole Aldrich 10 for the Red team.
Scrimmage highlights: Wesley had 14 points for the winning team. ... Landen Lucas (eight points) blocked an Aaron Miles shot. ... Joel Embiid dunked following a lob from Wayne Selden. ... Frank Mason lobbed to Selden for a slam. ... Tarik Black hit a three-pointer. ... Black had a one-hand dunk off a lob from Brady Morningstar. ... Ellis hit a three from the corner. ... Jeff Hawkins lobbed to Aldrich for a slam. ... Jamari Traylor, who was going to try to lob the basketball off the glass to a trailing Tharpe, instead tossed the ball over the backboard.
Draft talk: Of Ben McLemore's NBA Draft stock, Self said: "I think Ben's been a little bit up and down. He's on an uptick now based on what everybody is telling us and based on conversations we've had with general managers. I think he'll have a happy end result next Thursday."
Of Jeff Withey, Self said: "I read today where Chad (Ford, ESPN) said Withey on his board may have fallen out (of first round). I talk to everybody picking between 20 and 30. I think he has a great chance to go in the first round."
Pride of Canada: Wiggins was asked about being one of the most popular athletes in Canada right now. "Yes, it's a great feeling to know I've got a whole country on my back. Whatever I do, I know I have millions of people always supporting me through thick and thin," Wiggins said.
Tonight's game: Asked who he thought would win Game Seven of the NBA Finals tonight, Wiggins picked the Spurs.
Self's take: "My heart says Spurs. My head I think says Heat (he is good friends with Spurs' general manager R.C. Buford). I don't see the Heat losing now. I think it'll be a great game. How the Spurs lost that game (six) or how the Heat won it last night obviously will pump energy in one team and suck it out of another. It was a tough way to lose. It was a great basketball game."
More like this story on KUsports.com