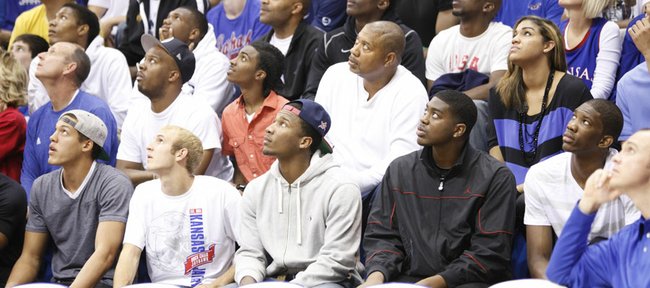 The recruiting process for five-star, Top 20-ranked high school boys basketball players can be long, drawn out, excruciatingly painful for those players, their parents and fans.
Not always, however.
"It was never stressful for me," said Wayne Selden, Kansas University's 6-foot-5, 220-pound freshman shooting guard from Tilton School in New Hampshire, who, instead of milking the process for months as the country's No. 12-rated player, announced his commitment to Kansas University last Oct. 15.
That was exactly one day after the conclusion of his only official campus visit.
He revealed his decision to a handful of media members before his first class of the week at Tilton.
"I took the process slow. My circle was able to control it well. I was taking it as it goes and able to make my decision," Selden said.
The McDonald's All-American — he averaged 24.8 points and 10.1 rebounds a game last season — chose KU over Ohio State, Florida, UCLA, Syracuse and Missouri.
"It came down to a few schools. After my visit (for Late Night in Phog) I was pretty solidified I wanted to come here," Selden said during a Thursday interview in Allen Fieldhouse. "My parents loved it. During the in-home visit, coach (Bill) Self had made the best impression on my mother, my parents. I wanted to come here."
Selden actually committed to Self on the Saturday night of his weekend visit, but wanted to return to his hometown of Roxbury, Mass., with his parents so he could phone coaches of his finalists before making the news public.
Coincidentally, the only other freshman in KU's recruiting class of 2013 who is ranked higher than Selden — No. 1 Andrew Wiggins — also had a low-key recruitment that ended with an announcement on Twitter, not on national TV.
"I was sitting in my dorm (at Tilton). We were all watching ESPN, flipping the channel. Somebody tweeted at me saying 'Andrew Wiggins to Kansas,'" Selden said of the May 14 morning announcement. "Me and the guys in the dorm were excited. We knew how versatile a player he is and the athlete he is. He's a great player.
"Before he decided, I was like, 'We're trying to win games, do this and that.' When he decided to come here, I was like, 'We're REALLY trying to win games.'" Selden added.
Selden spent time with Wiggins during the weeks of both the McDonald's All-America and Jordan Brand Classic contests
"He is quiet. Once you get to know him he opens up," Selden said of Wiggins, a 6-7 small forward from Huntington (W. Va.) Prep, originally out of Toronto. "A bunch of people were pulling him different ways. The media always was in his face. Different players from different teams were trying to persuade him. I probably hinted at it once (that he should attend KU). I never put pressure on him. That can be stressful. I decided to let him take his time. It was his own decision."
As far as the two players ... "We're not too similar (on court). He is more of a freak athlete. I like more on-ball stuff. He is more catch and ready to go. He has a quick first step. I feel our games will blend well together," Selden said.
Selden was asked if the addition of Wiggins takes a load off his own shoulders.
"I came here to develop. I came here to get better. I came here to win," Selden shrugged. "That's the big thing. Andrew will help me get better. Practice will be real competitive with all the new guys and returning guys. With the older guys like Tarik (Black, senior transfer from Memphis) coming in ... we all came in to develop and win games."
Selden said he believes his natural position is shooting guard. He played some point in high school.
"I am willing to do whatever. I'll play 4 if I have to," he said of power forward. "I want to win and get better."
KU coach Self likes Selden's versatility.
"He's powerful. He's got a great frame," Self said. "He can play the 2 or 3 and maybe even some emergency point. He's big enough to post and defend the 4 if we decide to go small and he can make shots. He's a strong kid. He has an NBA-type body. He's explosive. He can put it down on the deck, make threes."
Selden said his goal is to blend in and win games.
"I'm thankful I've been able to get this far, coming from the inner city, coming from Boston, going to prep school in New Hampshire. My journey has led me here. I'm thankful," he said.
Selden on his first week on campus: "It's been a great experience being with the guys, starting to blend with the guys, hanging with the guys," said Selden, who rooms with frosh center Joel Embiid. "We're trying to become one team now."
... On his favorite moment in KU history: "Probably Mario Chalmers' shot. That was big. I remember watching the game (2008 vs. Memphis). It was a big deal."
... On KU workouts and pick-up games: "Naadir (Tharpe, junior) is being a great leader. All the returning guys are great leaders."
McLemore on assertiveness: Former KU guard Ben McLemore worked out for the Phoenix Suns on Wednesday and spoke to the Arizona Republic about criticism he is not assertive on the court.
"Bring the ball up, control it, up-tempo, take control of the game," McLemore said, referring to what he can add as a pro. "I could've done those things at Kansas but that's just how the Kansas system is. I was just playing Kansas basketball. Now, I have an opportunity to play free and play my own game. I know deep down inside I can take over games. I know I have that dog in me to take over games."
McLemore, who has had just one individual workout, is said to be slipping in the draft, ESPN indicating he will be available for the Suns at No. 5. The guard still has time to work out for some more teams and possibly move up before the June 27 draft.
Late Night on Oct. 4: KU's 29th-annual Late Night in the Phog will be held the evening of Friday, Oct. 4, in Allen Fieldhouse, KU officials announced Friday. The event is usually held the Friday closest to Oct. 15. However, the NCAA recently moved up the start of fall men's basketball practice by two weeks. KU will play a homecoming football game versus Texas Tech on Oct. 5.
"I am in favor of this because of this — injuries," Self said recently of the early start date. "The way it is set up, you will get the same number of practices (30 before first exhibition game). Starting earlier means you could take more days off. I think that is very positive for everybody."
More like this story on KUsports.com