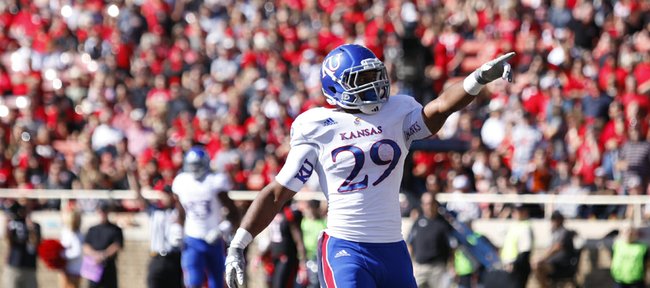 Prediction season begins
The arrival of June often marks the beginning of the prediction season for the upcoming college football campaign, and the first batch of predictions regarding the Big 12 Conference are now out.
Of the 112 Big 12 football players listed on his four preseason all-Big 12 teams, college football analyst Phil Steele reserved just four spots for Jayhawks.
Senior running back James Sims leads the way with a spot on the second team. Junior linebacker Ben Heeney earned third-team mention and newcomer Marquel Combs and veteran kicker Ron Doherty both earned fourth-team nods.
Sims and Heeney are no strangers to all-Big 12 accolades. Both earned postseason honors in 2012 and are, without question, two of the Jayhawks' top returning players.
After finishing third in the conference with 112 tackles, Heeney was named second-team all-Big 12 by the coaches, the Associated Press and Steele. Sims, who led the Jayhawks in rushing for the third straight year and finished with a Big-12-best 112.6 rushing yards per game, earned first-team honors from ESPN.com, CBS Sports and Steele and was a second-team selection of the league's coaches and the AP.
Combs' inclusion on the preseason list speaks to his status as the nation's top junior college recruit. The 6-foot-5, 300-pound defensive tackle is one of the most high-profile players to come to Kansas in quite some time and, clearly, he brings with him expectations and a heck of a reputation.
Doherty, who made Steele's list as a punter, is in the middle of a stiff competition with newcomer Trevor Pardula for the starting job.
Chip Brown taps KU 8th
Count Texas Longhorns reporter Chip Brown, of OrangeBloods.com, as one of the media members who believes good things are in store for KU during Charlie Weis' second season in Lawrence.
Brown recently released his predictions for the final Big 12 football standings of 2013 and slotted the Jayhawks into eighth place with a 6-6 overall record and a 3-6 record in conference play. Brown picked KU to finish above West Virginia (9th) and Iowa State (10th) and said: "KU takes three non-conference games against South Dakota, at Rice and home against Louisiana Tech before losing six Big 12 games in a row but finishing with wins against West Virginia, at Iowa State and home against K-State."
Weis family's big move
Kansas coach Weis and his wife, Maura, began preparing themselves for a major transition when their daughter, Hannah, turned 18 in April.
Hannah, who as an infant struggled with developmental delays and at age 12 was diagnosed with a rare epilepsy syndrome that affects cognitive function, is the inspiration for Hannah & Friends, the Weises' not-for-profit charity dedicated to improving the quality of life for people with "different abilities." With Charlie coaching the Jayhawks in Lawrence, Maura had been caring for Hannah, who will now move away from the family's South Bend, Ind., home and become a permanent resident at the Hannah & Friends property outside of town.
Although the big move to the Hannah & Friends community is exactly the reason the Weis family founded the organization in the first place, it does not come without some emotion, which Charlie Weis expressed via Twitter Friday afternoon.
"Thank God for my wife," Weis began in a four-part message. "My daughter moves into the Hannah and Friends community tomorrow and my wife has had to do everything alone. Hannah's move will be a tough transition for both Han and Maura. It will take some time, but it will be great for both of them in the end. Hannah will be around people she loves outside our family — people with what we call Different Abilities. Maura will get well-earned rest. After Hannah transitions, Maura will be freed up to spend most of her time in Lawrence. Charlie Jr. and I are looking forward to it."
Longhorn Network again?
According to a recent report in the Austin American-Statesman, the Longhorn Network will air three University of Texas football games during the 2013 season, with the Nov. 2 match-up between UT and KU slated as one of them.
A 2011 match-up between KU and UT was televised on both the Longhorn Network and the Jayhawk Network, with fans in and around Lawrence being able to pick up the game through KU's broadcast.
The last time around, the Jayhawks received compensation for agreeing to the deal and the broadcast had the look of any other Tier-3 KU football or basketball broadcast, complete with KU announcers and local advertising.
KU has made no official announcement regarding this year's game.