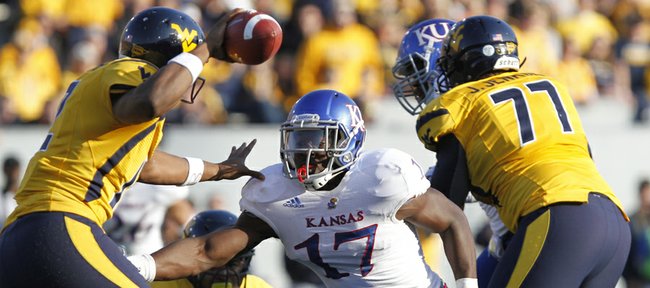 Although his training-camp invitation from the Chicago Bears did not lead to a contract, former Kansas University linebacker Tunde Bakare remains on the Bears' potential-call-ups list and hopes to get another chance at professional football.
With his immediate future up in the air and the chances of a phone call slight, Bakare has found a way to combine staying in shape with moving on through the creation of his own business, Bodies by Bakare.
The business, made up of little more than an email address, a Facebook page and a lot of hard work, was founded as a vehicle to help high school and junior-college athletes reach their goals of becoming Div. I athletes. Bakare, a 2013 graduate from Woodbridge, Va., is developing the business with a couple of his buddies back home.
"I'm trying to help kids in Lawrence, too," said Bakare, who still lives in Lawrence. "But most of my clients right now are in the Woodbridge area, where I grew up. In fact, we've already got one kid who we helped get a D-I scholarship."
Bakare said that athlete, a football player, secured a scholarship to Old Dominion University, and the two-year KU starter hopes that's just the beginning.
Bakare came to KU the hard way, going first through two years at Highland Community College and, even then, getting the word out about his ability to college coaches on his own. He believes having been in the shoes of many of the young people he's attempting to help will give Bodies by Bakare a better chance of sticking around.
"I've walked the walk," Bakare said. "I went to Highland, where there was nothing, and I worked my tail off for two years and wound up getting a lot of scholarship offers and making it to Kansas. I was the one sending out emails and calling coaches, and I figured if I could do that for myself, why not try to help out other guys who are struggling like I was?"
Bakare's business focuses mostly on getting the word out about potential recruits along with the personal-training aspect of preparing their bodies for the Division I level. Bakare believes his one year of working with and learning from KU strength coach Scott Holsopple prepared him better to communicate to his clients what they need to do to be ready for the big time.
"He really taught me a lot," Bakare said of Holsopple. "I thought I was one of the most mentally tough guys out there, and then he came in with his whole workout approach, and it was really hard. But I loved the challenge of it, and I know it made me better."
Asked if Bakare had unleashed any of Holsopple's workouts on his clients, the former KU linebacker laughed.
"We're letting 'em ease in," he said. "Can't attack 'em too fast."
Throughout the past five years, Bakare's goal always was to earn a spot on an NFL roster, in part so he could live out his own dream but also as a tribute to his late brother. He said he appreciated the opportunity the Bears gave him, met a ton of great people during camp and would love to get another shot. But now that Bodies by Bakare is up and running and the former Jayhawk has found a different way to turn his passion into a paycheck, he's content with whatever lies ahead.
"You never know what's gonna happen," Bakare said. "So I don't really want to go get a job and get stuck in a situation if the NFL wants me back or whatever. So I figured why not do what I love to do, stay ready and help people at the same time. It's an amazing transition job. NFL or not, I'm working out every day, and I'm helping people go after their dreams every day. Shoot, that's the dream. I couldn't ask for something better."
Anyone interested in learning more about what Bodies by Bakare can offer can contact Bakare via telephone at (703) 565-4360 or email at bodiesbybakare@gmail.com or visit the Facebook page at www.facebook.com/BodiesByBakare
More like this story on KUsports.com