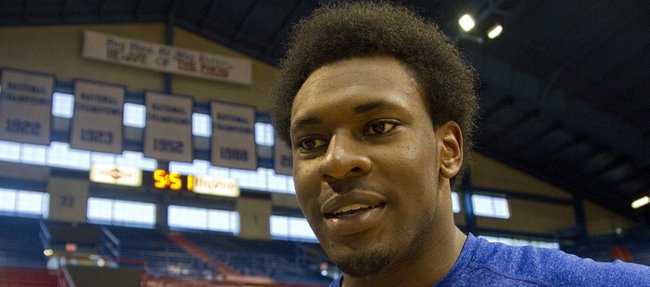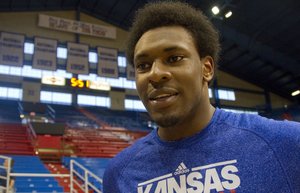 It hasn't taken Kansas University basketball newcomer Tarik Black long to invest himself fully in strength coach Andrea Hudy's weight program.
"Three days in a row now ... it's serious, and I love it. It's what I need. I can feel it right now, and I can see it right now. Over time, I'm going to develop and get better," said Black, KU's senior transfer from the University of Memphis, who says he has reported to campus for summer school at 6-foot-9, 260 pounds.
"By the time the season starts, the measurements will be different, so look out for new numbers," added Black, immediately eligible for the 2013-14 season thanks to a rule that allows transfers to play without delay provided they have earned an undergraduate degree.
A recent Memphis graduate in the field of organizational leadership, the 21-year-old Black plans to lead a young KU team.
"Even though I'm new to this program, I'm not new to college basketball. I'm not new to big games. I'm not new to taking over games. I'm not new to anything that has to do with the college level," said Black, who averaged 8.1 points and 4.8 rebounds while coming off the bench in 27 games and starting five his junior season for the Tigers (31-5).
"I have experience to spread. I'm already spreading it. I'm not saying I'll step into the gym as a leader. I have to earn that role and earn my keep. I have to earn guys' respect for me and (have the) coaches expect to trust me, that I'll be a leader and not steer guys wrong, which I plan on doing. It's not going to happen tomorrow. I wouldn't call me a leader just yet."
Still, just a few days into the first session of summer school, Black has been not been shy around KU's five freshmen on campus. The sixth member of the freshman class, Andrew Wiggins, is in his home country of Canada.
"He's definitely one of the oldest in the room," freshman guard Wayne Selden said of Black. "He's definitely leading us and helping us. In three days, I've got some good advice already."
Such as ... "different stuff, not basketball, but different stuff," said Selden, who has also been impressed with Black during pick-up games.
"Powerful. He can go get the rebound. He's strong," Selden said emphatically.
Black signed a financial-aid agreement with KU on May 20, choosing the Jayhawks over Duke, Oregon, Ohio State and Georgetown. On Thursday, he for the first time explained what went into his decision. He had waited until reporting to campus to agree to his first interviews as a Jayhawk.
"For one, the masters program that provides me what I want to do, assures me I'm going to learn something new for my future and what I want to do in my future," Black said.
After what he hopes is a long pro career, he plans to open his own nonprofit organization.
"Looking at basketball, I'm just looking for an opportunity to propel myself into the situation I want to be in, which is to try to get to the next level," Black said. "More important, just to win big at the collegiate level and be the best player I can be at the college level."
A Memphis Ridgeway High graduate who was ranked No. 47 nationally by Rivals.com in the Class of 2010, Black said it was difficult to leave coach Josh Pastner's program.
"Memphis is my heart and soul. It was more so telling my city, telling my family, which is not only my blood family but just my family sitting in Memphis — the Tigers — everybody, that I made a decision to go to another university," Black said. "It hurts, but I had to make the best decision for myself.
"If I'm really truthful, I'll tell you what I'll miss the most ... I'll miss looking up in the stands before every game, seeing my mom standing there and my brothers and my father and looking up and blowing them kisses, blowing my mother a kiss, my brother giving me a look like, 'Yeah, little brother, you just did it.' But I'm older now. I'm out here now. I made a decision for myself. It's time for me to finish and accomplish what I set out to do."
Black said he knew KU was the school for him on his campus visit earlier in May.
"We had to drive from the Kansas City airport. We saw a sign that said, 'Lawrence.' My dad said, 'That's my name,'" Tarik said of Lawrence Black. "Coach (Kurtis) Townsend said that's the name of the city as well. Coach Townsend said, 'It's only right.'"
Black's older brother, Bilal, who played college ball at Langston University in Oklahoma, helped Tarik choose the number he'll wear at KU — 25. Tarik (pronounced TAR-ick) wore 10 at Memphis.
"He said, 'You should go to 25. I feel it's right for you,'" Black said. "He said, '2 times 5 equals 10 anyway, so you'll still have your number on.' I said, 'Cool, so I'll go to 25.'"
He thinks his one and only season at KU will be special.
"We're young but so talented, and Andrew Wiggins has not even got here yet," Black said. "Even without him being here (currently), I see us being one of the top teams in the country because I played the top teams in the country. I understand what the talent is like on those teams. We possess that. We just have to mature."
A reporter surmised that Black "must be smart" to have earned an undergraduate degree in three years.
"I'd rather be called 'intelligent' over 'smart,' but I'm both," Black said with a smile. "Just putting in a lot of hours, understanding there's a goal and I have to reach it ... accomplishing what I set out to do. It's willpower, knowing I wanted to graduate in three years, sticking to it and getting the job done."
Selden, a 6-5 guard from Boston who will wear jersey No. 1 at KU, also met the media Thursday.
"It's been a great experience," Rivals.com's No. 12-rated player in the Class of 2013 said of his first days in Lawrence. "Just getting together with the guys, just hanging out with the guys, and we're just trying to become one team. That's all it is right now."
More like this story on KUsports.com