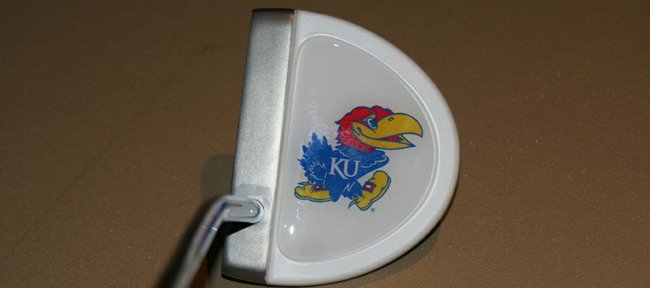 A collection of decorative putters leaning against the wall in the corner of his office inspired longtime broadcaster Roger Twibell to come up with a product that merges the loyalty aspect of those impractical door prizes with a golfer's desire to trim strokes.
Twibell pulled it off. He markets logo putters from the website logoputter.com. A number of universities, including Kansas, Kansas State and Wichita State, licensed him to sell putters with their logos. Ultimately, Twibell hopes to break through on the corporate level. Picture Budweiser executives stroking putters with the beer's logo staring at them. Maybe even a tournament with all 144 participants all using the same logo putter.
"I've gotten a lot of great feedback," Twibell said. "People like the putters."
If it sounds like a long shot in the same way all golf products not used by a PGA Tour professional do, that's not likely to deter Twibell, a 1973 KU graduate. He remembers when people thought the concept of a sports-only network was sure to fail. Twibell joined ESPN in 1980, 13 months after the network's birth.
"The inmates ran the asylum, no question about that," said Twibell, who lives in the Kansas City area and plays most of his golf at Mission Hills. "It was interesting because there were like three or four of us who had been in television awhile. Greg Gumbel had been in Chicago. George Grande had been around awhile. Then there were guys like Chris Berman, who was basically a rookie. It was kind of an interesting mixture."
Twibell fell into the young veteran category. He started his professional career as the sports anchor for Sunflower Cable in Lawrence. That became a springboard for stops in Tucson, Dallas, Miami, Boston and then Bristol, Conn., where the ESPN studios remain.
"One of the things we used to do that I always had a lot of fun with, we'd be calling an event from the studio in Bristol, and the chroma-key backdrop was of the city where the event was," Twibell said. "So we'd be sitting in Bristol doing an international track and field meet in Milan, Italy, talking about what a great dinner we had the night before, saying, 'The Chianti was great!' They weren't traveling us around the world like they do these days. Those were good times."
Twibell said the "SportsCenter" shows took place at 7 p.m., 11 p.m. and 2:30 a.m. Single at the time, he volunteered for the 2:30 slot, appearing to be oh-so considerate, saintly almost, of the anchors who had families.
"There was a method to my madness," he said. "I didn't have to come in until 10, and all the people in suits were gone by then. I'd sleep until noon, play golf all day, have a nice dinner, come into work and be out of there by 3:30 (a.m.). There was nothing to do in Bristol, Conn., anyway. Plus they'd play that 2:30 show 10 times in the morning. I was getting on the air more than anybody."
Not everybody agreed with Twibell that there was nothing to do in Bristol.
"The White Birch Café was a restaurant/bar down the street from the studio in a pie-shaped lot on a corner," Twibell said. "Fred the producer had over-extended his dinner and was producing the show while watching it on TV from the White Birch while having a cocktail."
All those spring, summer and autumn days on the golf course gave Twibell a nice feel for the right putter. His has a Jayhawk on it. In Lawrence, putters with Jayhawk logos on them can be found by Father's Day shoppers at Framewoods, Kansas Sampler, KU Bookstore and Lawrence Country Club.