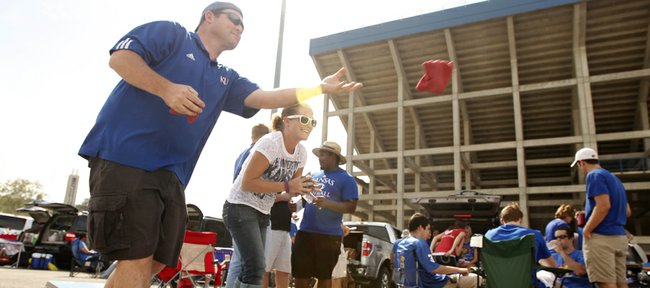 The Kansas University football team will kick off the 2013 season under the lights, the Big 12 Conference announced Tuesday.
KU's Sept. 7 season opener against South Dakota is slated for a 6 p.m. kickoff at Memorial Stadium.
The start time is pretty common for KU's season openers. The Jayhawks have launched the season with a 6 p.m. kickoff every year since 2004.
Based on head coach Charlie Weis' past statements, the start time is pretty much perfect for a day that figures to come with a certain amount of fanfare and celebration. After playing most of last season's games in the late morning and early afternoon hours, the Jayhawks received a 6 p.m. kickoff for last year's Iowa State game and during the week leading up to the game Weis explained why he loved the later start.
"Six o'clock's too early to go out," Weis said last November, making his case for why the KU students should pack Memorial Stadium. "Nine o'clock, get over about 9:30. You know, it's just about right. We have over 30,000 people at this school, and I think it would be really good if a whole bunch of 'em came and spent the evening with us."
The Jayhawks and Coyotes will be meeting for the first time. The game will be televised on the Jayhawk IMG TV Network. A week later, KU will kick off at 6:30 p.m. on Sept. 14 when it plays at Rice in Week 2.
No other game times have been determined for the upcoming season.
Roll call
A quick scan of Twitter and various other social media sites divulged that nine of the 19 KU football newcomers arrived in town last weekend.
They were: linebacker Kellen Ash, defensive tackle Marquel Combs, quarterback Montell Cozart, quarterback Jordan Darling, offensive lineman Zach Fondal, linebacker Colton Goeas, wide receiver Ishmael Hyman, tight end Ben Johnson and running back Darrian Miller.
Those players still waiting to report include: offensive lineman Joey Bloomfield, defensive end Andrew Bolton, wide receiver Rodriguez Coleman, linebacker Samson Faifili, wide receiver Nick Harwell, cornerback Brandon Hollomon, safety Isaiah Johnson, linebacker Marcus Jenkins-Moore, defensive back Kevin Short and wide receiver Mark Thomas.
Of that group, Bloomfield, Faifili, Hollomon and Jenkins-Moore are the most likely to report next, and Weis has said repeatedly that he expects everyone to report and that the newcomers will sprinkle in throughout the summer.