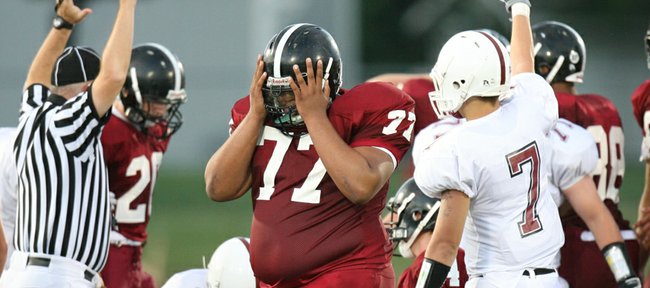 Former Lawrence High football player Jamal Brown — the son of former Kansas University defensive tackle Gilbert Brown, who played 10 seasons with the NFL's Green Bay Packers after starring for the Jayhawks from 1989-92 — will join the program for the 2013 season as a walk-on.
Brown, who played both offensive and defensive line at LHS, comes to KU after a stint at Coffeyville Community College. He graduated from LHS in 2011 and received a two-star rating from Rivals.com. He chose to walk-on at KU despite fielding interest from smaller schools, such as Washburn, Pittsburg State, Bethune-Cookman, Jacksonville State, Hampton, Howard, Alabama State and Florida A&M.;
Brown, 6-foot-3, 342 pounds, said his family ties and love of Lawrence played a huge role in his decision to return to Lawrence to finish out his college career. He is expected to arrive in August in time for fall camp.
"I am extremely excited to be a Jayhawk," Brown said. "It will be a great feeling to come home and be able to play in front of all of my family, friends and fans again. I am thankful every day for this opportunity and will give nothing but the best of my efforts to make myself and teammates better."
Brown said he hopes to earn a scholarship from KU coach Charlie Weis before his playing days are finished and also sees his chance at KU as an opportunity to set a good example for current middle school and high school players in the area.
"My young guys from Lawrence, in a way, look up to me, and if they see me putting in the work to make my dreams come true, then they really know that anything is possible," Brown said. "Like (LHS) coach (Dirk) Wedd always said, 'If it was easy, everybody would be doing it.'"
Wedd, who coached Brown throughout high school, said he was happy to hear of Brown's opportunity to join the KU program.
"Any time one of our kids can play at a high level like that, it helps other kids have goals and understand that they can reach those goals with some hard work," Wedd said.
Throughout his career, Brown's biggest obstacle to sustained success has been his weight. During his recruitment in high school, college coaches often told him they would be more interested if he proved he could drop a few pounds. Wedd said Brown could do just that. After a strict summer workout regime in 2010, he opened his senior season at LHS at 310 pounds and played great for three games before injuries slowed him.
"If the light bulb ever comes on for Jamal, and he rolls up his sleeves and gets to work, the sky's the limit," Wedd said. "Because he has some ability, and you know he's got a pretty good gene pool, too."
Patmon picks Pokes
Former Kansas cornerback Tyler Patmon, who graduated from KU in May and left the team at the end of the 2012 season, will join the Oklahoma State program for the 2013 season, OSU officials announced through a press release Monday.
A three-year starter at KU, Patmon played in 35 career games and recorded 142 tackles, 11.5 tackles for loss, 22 pass break-ups and six interceptions. He led the team with three interceptions in 2012.
As a graduate with one year of eligibility remaining, Patmon will be able to play for the Cowboys immediately and is expected to compete for the starting cornerback spot opposite Justin Gilbert.
KU is scheduled to face Oklahoma State on Nov. 9 in Stillwater, Okla.