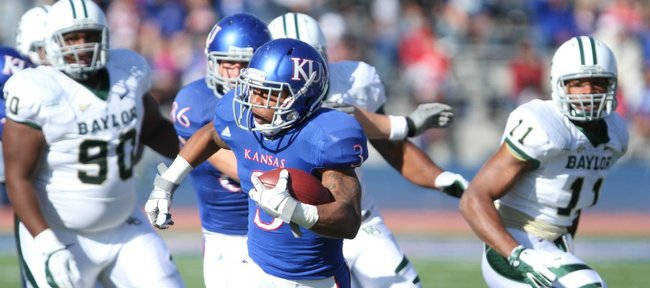 When news broke in late May that former Kansas University running back Darrian Miller was coming back to Lawrence to rejoin Charlie Weis' program, the only official reaction from KU came through a press release that included comments from Miller about being thankful for the second chance.
Last week at Big 12 media days in Dallas, Weis spoke about the running back's return for the first time and the second-year KU coach offered his thoughts on what Miller's mindset should be entering fall camp, which gets going next Wednesday.
"First of all, I think what Darrian should be (trying to do) is beat everybody out," Weis said. "He's been there before, right? So if I were him, I wouldn't be content coming in being anyone's back-up, I'd be trying to beat them out."
With senior tailback James Sims continuing to improve and coming off of three straight seasons as the Jayhawks' leading rusher, such a goal sounds like a bit of a reach. But there are plenty of people who believe that Miller has what it takes to become a big-time player in the Big 12 and many of them are basing that belief off of his stellar freshman season in which he finished with 559 yards and four TDs on 136 carries, just 168 yards and 46 carries behind Sims' team highs.
"I'm playing the best guy," Weis said. "And, right now, James Sims is the best guy. But James Sims knows that the competition, which was already tough enough with Tony (Pierson) and Taylor (Cox) and Brandon Bourbon, just got tougher."
Miller is the second player who left the program after Weis was hired to return this offseason. Cornerback Dexter McDonald was dismissed following the 2011 season because of academic issues, but after a year at Butler Community College — the same school Miller spent the spring — McDonald was welcomed back to Kansas, and the early reports on his comeback have been good. McDonald spent the spring as one of KU's first-string cornerbacks, and all indications suggest that's how he will begin fall camp next week.
Miller did not arrive in Lawrence until June, so it's hard to know where he'll land on the depth chart when Weis releases an updated version during camp. But there are plenty of signs, both inside and outside of the football complex, that suggest Miller has matured and is not taking his second crack at Division I football lightly.
"At the end of the day, that kid took a little bit of time to figure it out and then when he got to Butler he figured it out," Weis said of Miller. "It might not have been until he got to Butler that he figured it out, so give kudos to their staff. But he figured it out. And once he figured it out, he was gonna go somewhere, and why not us? If he's figured it out and his life's turned in the right direction, now you want a kid like that on your team. My job isn't to get rid of players. My job is, here's the way we're gonna do it, are you with us or without us? And I feel very confident that he's with us."
Harwell update
A recent check with Don Jackson, the lawyer for former Miami (Ohio) University wide receiver Nick Harwell, revealed that there was "no news as of yet" regarding Harwell's bid to finish the classes he needs to graduate from Miami and become eligible to play for KU as a graduate senior this fall.
Eligible or not, Harwell is expected to arrive in Lawrence when camp opens next week, and it's possible that his status could remain uncertain even after he's on campus.
"Do I hope he's a go for this year?" Weis asked at Big 12 media days. "You betcha. If he's not, we've already got a plan in place and let's go."
Pep rally date set
For the eighth year in a row, notable figures from KU's athletic department and Jayhawk fans will join together at Corinth Square, 83rd and Mission Road in Prairie Village, to kick off the 2013-14 sports season with a pep rally that is scheduled to begin at 6 p.m. on Aug. 16.
KU football head coach Charlie Weis, men's basketball coach Bill Self and women's basketball coach Bonnie Henrickson will each address the crowd during the rally. The event also will include food, drinks and KU giveaways as well as inflatable games for kids. In addition, the popular cover band SELLOUT! is scheduled to perform from 8-10 p.m.
KU-UT television
As announced earlier this summer by the University of Texas, KU's Nov. 2 game at UT will be televised by both the Jayhawk TV Network and the Longhorn Network, with the kickoff slated for 2:30 p.m.
The broadcast will be handled by Metro Sports for Time Warner Cable and Comcast subscribers in the Kansas City area and WOW subscribers in Lawrence. A recent KU press release regarding the game said distribution plans for the rest of the state would be announced at a later date.
KU and UT worked together on a similar shared-broadcast deal in 2011, the last time the KU football team traveled to Austin.