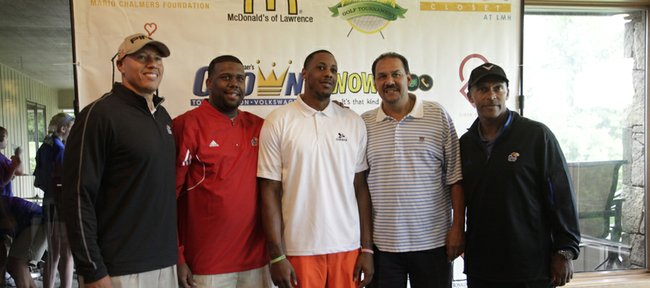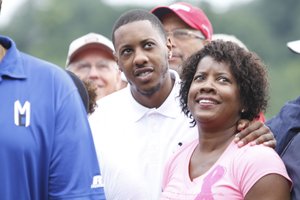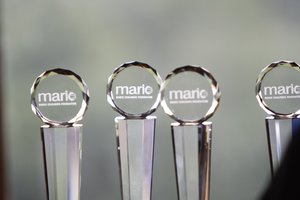 First-year Kansas University assistant basketball coach Jerrance Howard enjoyed representing his new school during the just-completed July recruiting period.
"It was great to walk in that gym and have that 'KU' and Jayhawk on my chest. It was a good experience. We've got to get some guys (prospects) if I want to keep my job," the 33-year-old Howard said with a smile while waiting to tee off in Mario Chalmers' fifth-annual National Championship Golf Classic on Monday at Alvamar.
Only time will tell how Howard, fellow assistants Norm Roberts and Kurtis Townsend and head coach Bill Self fared during their 15 days on the road tracking top AAU talent. Early indications hint that, "We did really well," Howard said. "We saw some great prospects. We were in Orlando (Fla). We were in (Las) Vegas, Kansas City. It was fun.
"They (prospects, coaches) pick up the phone and look over a little bit more now that you have 'Kansas' on your chest. It's been great," added Howard, who also has worked on coaching staffs at his alma mater, Illinois, as well as SMU, Texas A&M; and Kentucky.
Peoria native Howard — he played for both Self and Bruce Weber at Illinois — is known as a good recruiter with great connections in Chicago. KU currently is recruiting Chicago seniors Jahlil Okafor (6-foot-10, Whitney Young, ranked No. 1 in the country by Rivals.com) and Cliff Alexander (6-8, Curie, ranked No. 4).
KU also is recruiting No. 2 Tyus Jones, 6-1, Apple Valley (Minn.) High; No. 3 Emmanuel Mudiay, 6-5, Prime Prep Academy, Arlington, Texas; No. 6 Myles Turner, 6-11, Trinity High, Euless, Texas; No. 7 Rashad Vaughn, 6-5, Findlay Prep, Las Vegas; No. 8 Stanley Johnson, 6-6 Mater Dei, Santa Ana, Calif.; No. 14 Malik Pope, 6-8, Laguna Creek High, Elk Grove, Calif.; No. 16 Justise Winslow, 6-5, Houston St. John's; and No. 19 Kelly Oubre, 6-5, Bush High, Richmond, Texas, as well as others.
"I love it. I don't look at it like a job," Howard said of recruiting. "I've always been a people person. It's why coach Self brought me along, to bring some energy.
"How can you not be passionate about KU basketball with the history and tradition? Working for coach Self and Norm Roberts, who was on our staff at Illinois ... K.T. (Townsend) may be the funniest assistant coach in the country. We have a great staff, coach doing things the right way. We're excited about this young group we have."
Howard said having the entire roster on campus for just-completed summer school was productive for the players and staff.
"I know there's going to be a couple plays and a couple possessions where you are going to say, 'Wow,' with the things Andrew Wiggins and Wayne Selden do and Tarik (Black)," Howard said of some of the incoming players for the 2013-14 season. "We have so many athletic guys. We are going to have some depth. I think we've got good point guard play with Naadir (Tharpe) and Frank (Mason). This summer was really good for us to get after it and kind of put our system in and terminology especially with our young guys (eight incoming players including six freshmen). I thought we had a great summer."
Howard was asked if coaches on the recruiting trail refer to him as Jerrance or his nickname, "Snacks."
"It's half and half. That's one name I can't get away from," Howard said. "My teammates (at Illinois) gave me that name. My freshman year ... I had surgery. I had to sit out. Every time they came to see me in the hospital or at home, I had Skittles and Snicker bars. They started calling me 'Snacks,' and it stuck."
Mixer a success
Chalmers Foundation officials said former Kansas University guard Mario Chalmers raised $15,000 for charity at his Sunday night VIP mixer.
Monday's tourney, which included about 100 golfers, was hampered by steady rain. KU basketball was represented by its three assistant coaches and former KU guard Jeff Hawkins. Coach Bill Self was golfing — on a vacation in Scotland, not Lawrence — and could not attend.
"He deserves it (success) because he works so hard, and his dad and mom have trained him growing up of who he is going to be," assistant coach Kurtis Townsend said of Chalmers and his parents, Ronnie and Almarie. "He believes in God and has great faith. I'm happy for him and his family and all the success and the fact that he comes back and gives to the community is great. He will always be a special part of the KU family."
Giving back
Chalmers realizes his overtime-inducing shot against Memphis in the 2008 National Championship game, and KU's performance in overtime in the 75-68 victory, positioned him to host such a golf event.
"That is the reason we are here today," Mario said. "That helped propel me to the next level and propel all the things I wanted to do with my foundation. It made for a perfect opportunity."
Tourney pairings
KU will meet Wake Forest in a first-round Battle 4 Atlantis game at 2:30 p.m., Central time, Nov. 28, in Paradise Island, Bahamas, tournament officials announced Monday.
The game will be televised on AXS TV. Villanova, Tennessee, Iowa, UTEP, Xavier and USC fill out the tournament field.
The Jayhawks will meet either Villanova or USC on Friday, Nov. 29.
Tipoff will be 8:30 p.m. with a KU victory against Wake Forest or 2:30 p.m. with a loss.
The third day of the Battle 4 Atlantis is slated for Saturday, Nov. 30, with four games starting at noon and the championship game beginning at 8:30 p.m.
More like this story on KUsports.com