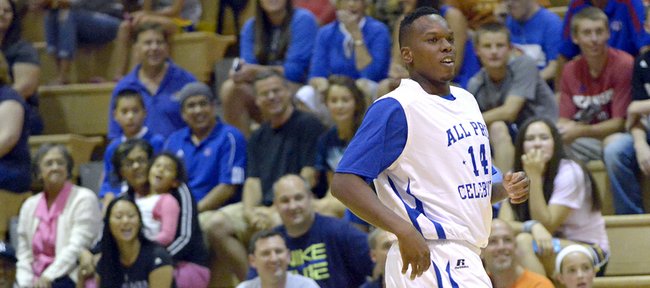 Like the vast majority of highly-recruited basketball players from the Big Apple, New York City Rice High's Russell Robinson dreamed of someday playing in the NBA, not far, far away in Europe.
"Back then, playing overseas was dreadful. They didn't have Skype, didn't have Facebook and all those things," said Robinson, starting point guard on Kansas University's 2008 NCAA championship team who was not selected in the '08 NBA Draft, making him a likely candidate for overseas hoops.
"As college came along and there came more options, I embraced it. That's where the game took me. I'm not fighting it. I'm enjoying it, living life and making good money doing it," added Robinson, who on Wednesday signed a two-year deal with Stelmet Zielona Góra, a Euroleague team in Poland.
Terms were not disclosed, but suffice it to say Robinson's contract is well into six-figure territory.
"More importantly I'm playing the game I love, getting to travel the world ... unbelievable," Robinson stated.
After giving the NBA a shot — he toiled for both Reno and Maine in the NBA Developmental League after graduation — Robinson in 2009-10 headed overseas for stints with pro teams in Turkey, France, Spain, Italy and now, Poland.
"The NBA is definitely a different game, but factor in lifestyle and the things I'm getting to do, it's all a blessing," the 27-year-old Robinson stated. "I've been to four different countries, dealing with different coaches and egos, the culture barrier. Having to perform at a high level, it's all making me a better person. I love it. Every year there's something different, new challenges I face. I embrace it."
Robinson started the 2012-13 season playing alongside former Iowa State standout Craig Brackins with Italian club Angelico Biella. Robinson moved over to Polish team Turow Zgorzelec where he averaged 11.6 points and 3.6 assists a game. His squad lost to his new team, Stelmet Zielona Góra, in the Polish League finals. Brackins, coincidentally, has also signed with Robinson's Zielona Góra squad.
"I'm living life, going wherever it takes me," Robinson said.
He's been back in Lawrence this past week, supporting his former KU teammate, Mario Chalmers. Robinson played in Chalmers' charity all-star game on Thursday in Olathe. Robinson has been back for all four of Chalmers' National Championship Golf Classics (the fifth is Monday at Alvamar) even though he is not a golfer.
"Me and Mario have that relationship. We stay in contact with each other no matter where we are in the world," Robinson said. "It's family. So I try to make an effort, try to make a way to make it back here and spend time with him. Anytime I can get back to Kansas and enjoy this atmosphere, I do it. The fans ... we (former players) miss them so much. Any chance to share time with them, I like to do that."
Robinson has been able to play in some pick-up games with members of KU's current team.
"They have an incredible team, young, athletic," Robinson said. "I haven't had a chance to play with (Andrew) Wiggins yet. I've seen everybody else. Like I said, unbelievable, incredible athletes and shooters. It's going to be fun. Coach (Bill) Self, like always, is going to work his magic, get everybody in line. I can't wait to see it all play out."
He commented on the point guard group that includes junior Naadir Tharpe, plus freshmen Frank Mason and Conner Frankamp.
"Naadir has definitely stepped up as a leader," Robinson said. "It's incredible how he's grown over the last couple years. They are in good hands. I think it's all going to be pretty good."
Camp coming up: KU coach Self will hold his inaugural Basketball ProCamp, featuring Ben McLemore and Thomas Robinson, on Aug. 17-18 in Allen Fieldhouse. The camp, for youths in grades 1-12, will run with Session 1 from 9 a.m. to noon and Session 2 from 1 to 4 p.m. For information on the camp go to http://www.procamps.com/selfcamp
Windy City Pro-Am: KU's Naadir Tharpe and Jamari Traylor have been competing in Nike Chicago League games over the weekend in the Windy City. Former KU guard Sherron Collins is also competing in the league. Tharpe hit five threes in the first half of his "Dream Team" loss to Code Black on Saturday. For a video of Tharpe's performance in the game, click here.