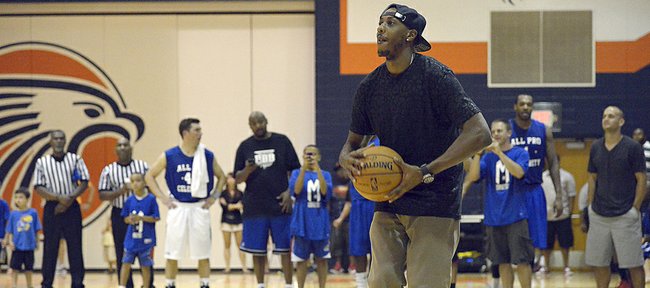 Mario Chalmers, who held a four-day youth camp and all-star basketball game Monday through Thursday in Olathe, now moves to Lawrence for a set of events supporting his Mario V. Chalmers Foundation.
The former Kansas University combo guard, who has completed five seasons with the Miami Heat, joins former KU guard Ben McLemore of the Sacramento Kings in an autograph signing session from noon to 2 p.m., Saturday at Crown Toyota Showroom, 3440 S. Iowa St.
On Sunday, Chalmers will host his National Championship Golf Classic VIP Mixer from 5 to 8 p.m., at the Cider Gallery, 810 Pennsylvania St.
Monday is the fifth-annual National Championship Golf Classic at Alvamar. And on Tuesday, Chalmers ventures to Topeka to present a check to the Ronald McDonald House Charities of Northeast Kansas.
"When I think of Mario, I think of a good-hearted guy with a tremendous work ethic, especially on the basketball court," said former KU guard Jeff Hawkins, head coach at Perry-Lecompton, who assisted at Chalmers' camp and played in Thursday's all-star game at Olathe East. "Off the court, he has a big heart as well, involving him with his Mario Chalmers Foundation. But when I think of Mario, I think of, 'All-out good guy,'" Hawkins added.
Chalmers, who has won two championships with the Heat after winning one at KU, said he's committed to his foundation, which indicates its mission is "to create and support community based programs that encourage the positive development of youth through sports and education and fund initiatives for breast cancer research and treatment. The MVC Foundation will strive to empower, inspire and enable youth to live healthy lifestyles, put education first and give back to their communities. Each activity supported by the MVC Foundation will encourage youth to stay positive and remind them that in times of adversity...we must perform."
Chalmers said he seeks no credit for his charitable works.
"Giving back always has been a big part of my life. Ever since I was a little kid my mom used to do it," Chalmers said. "Basically it's a habit. When I got in the position I was in, I wanted to give kids an opportunity (at camp) to hang around NBA players and see the type of training we do. It's all about giving back to the community and helping out."
For information on coming events go to the foundation's website.
This year's honoree: Miles Schnaer, owner of Crown, will receive the Chalmers Foundation's Heart of a Champion award at Monday's National Championship Classic golf tournament for his contributions to both the Mario V. Chalmers Foundation and the local community.
Roster: KU has made public its 2013-14 men's basketball roster on the KUAthletics.com webpage. The roster is ...
0 — Frank Mason, 5-11, 185, Fr., G, Petersburg, Va.
1 — Wayne Selden, Jr., 6-5, 230, Fr., G, Roxbury, Mass.
3 — Andrew White III, 6-6, 210, Soph., G, Richmond, Va.
4 — Justin Wesley, 6-9, 220, Sr., F, Fort Worth, Texas
5 — Evan Manning, 6-3, 170, Soph., G, Lawrence
10 — Naadir Tharpe, 5-11, 170, Jr., G, Worcester, Mass.
11 — Tyler Self, 6-2, 165, Soph., G, Lawrence
14 — Brannen Greene, 6-7, 215, Fr., F, Juliette, Ga.
15 — Christian Garrett, 6-3, 185, Sr., G, Los Angeles
20 — Niko Roberts, 5-11, 175, Sr., G, Huntington, N.Y.
21 — Joel Embiid, 7-0, 250, Fr., C, Cameroon
22 — Andrew Wiggins, 6-8, 200, Fr., G, Thornhill, Ontario, Canada
23 — Conner Frankamp, 6-0, 165, Fr., G, Wichita
25 — Tarik Black, 6-9, 260, Sr., F, Memphis
31 — Jamari Traylor, 6-8, 220, Soph., F, Chicago
33 — Landen Lucas, 6-10, 240, Fr., F, Portland
34 — Perry Ellis, 6-8, 225, Soph., F, Wichita
42 — Hunter Mickelson, 6-10, 245, Soph., F, Jonesboro, Ark.
Mason dunks: KU's Frank Mason has posted some of his dunks during a recent workout on Instagram.
More like this story on KUsports.com