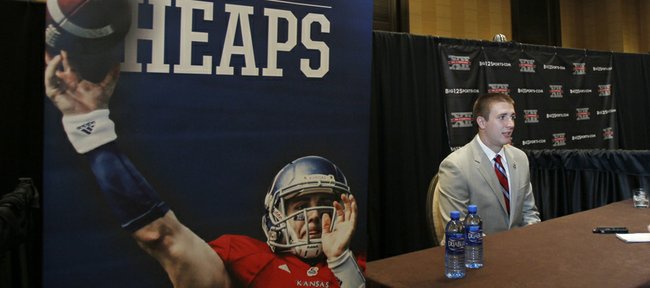 Dallas — Of the 34 players who made their way to the Omni Hotel for this year's Big 12 media days, only Kansas University junior Jake Heaps and Texas sophomore David Ash were quarterbacks.
For a league that has been known for names such as Vince Young, Colt McCoy, Sam Bradford, Robert Griffin III and dozens more, seeing the quarterback torch resting in the hands of a transfer from BYU and an often-criticized option in Austin, Texas, is a bit strange.
The SEC has Texas A&M;'s Johnny Manziel. The ACC has Clemson's Tajh Boyd. The Pac-12 has Oregon's Marcus Mariota. Heck, even the newly formed American Athletic Conference has Louisville's Teddy Bridgewater.
Although the Big 12's top passers may not be as well-known as those talents, Heaps isn't worried.
"I think it's great," he said Monday during a two-hour breakout session in the Omni Ballroom. "I think it's an opportunity for a lot of unproven guys to go out there and show what they're capable of. At the end of the season, I think you guys will see that there's not a drop-off in talent, there's just a lot of guys that need to go out there and play their first year."
Heaps is one of those guys, and in many ways this is the moment he has been waiting for since his senior year at Skyline High near Seattle. Sure, back then he was a five-star prospect and pretty much had his choice of colleges. And, yeah, he did rewrite the freshman passing record book at BYU back in 2010. But even when things seemed to be going well on the field, Heaps was striving to be better. That's why he studied game film of NFL stars Brett Favre, Peyton Manning and Tom Brady and tried to model his game after Drew Brees. That's why he soaked up every second he could with former BYU greats Steve Young, Ty Detmer, Robbie Bosco, Marc Wilson and Gifford Nielsen. And that's why he still has relationships with many of those guys today. It all led to this point in time and this place and this responsibility in this conference.
"I think there's different things you can take from a lot of quarterbacks, and I've taken the good and the bad from people," Heaps said. "It's just an honor to be in the Big 12 with these quarterbacks and with the expectation that, when you play quarterback in the Big 12, you must be one of the elite. That means a lot to me."
Proving that he belongs with the best means so much to Heaps — because of the victories and feelings of accomplishment that come with them, not the ego boost — that he continues to strengthen his work ethic, which teammates have said is among the best on the team.
Heaps said Monday he never has put in the extra effort that he is these days. And that's saying something considering he once spent every weekend of every offseason from 6th grade through 12th grade driving seven hours roundtrip from Seattle to Portland on the same day just to work out with a quarterback trainer.
"I just love the game that much," he said. "And I want to be the best I can be and be the best quarterback, and I'm willing to work for it. In my time at Kansas so far, I've just worked so hard and I think that's what's going to lead me to be successful."
Heaps isn't alone in believing he can live up to the standard that comes with playing quarterback in the Big 12.
"Most definitely," said KU senior tailback James Sims. "I think Jake will make a big impact in this conference."
Added junior defensive back Cassius Sendish: "People will greatly appreciate Jake Heaps. I don't want to make any predictions for him because he's his own quarterback. But I'm really looking forward to watching him play and watching him blossom."
If that does, in fact, happen, no one would be less surprised than KU coach Charlie Weis, who has believed in Heaps since he recruited him out of high school and is ready for him to step into a starring role at Kansas.
"At the quarterback position there's really two major things, one off the field and one on the field," Weis said. "The greatest physical attribute, by far, is accuracy. Off the field it's leadership. And he's got those two things. If you have those two things, everything else falls into place."
More like this story on KUsports.com