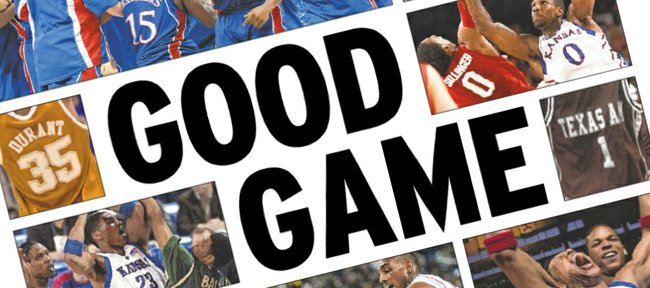 Defining a best game can be a tough thing to do. Is best referring to how big a win was, how well a team played, how hard players battled, how good they looked or simply how entertaining the game was to watch?
In a word, yes.
Keep that in mind as you stroll through the latest edition of our summer series, which looks back on the top players and memorable moments from Kansas University men's basketball coach Bill Self's first 10 seasons in Lawrence.
For some of us, it was the stakes and the outcomes that shaped our lists this week. For others, it was the pure enjoyment factor of a game that stuck in our heads hours after the final horn sounded, the one game where we just kept saying, 'Wow, wow, wow,' every time we thought about it.
KU has played plenty of meaningful games and won most of them. But making this edition of the summer series simply the biggest wins in the Self era would have backed us into a corner and made our lists look too similar. So we went with the best games theme and, as you will see, that meant something a little different to each one of us:
Gary Bedore
1. KU 75, Memphis 68, OT (April 7, 2008, San Antonio): It looked as if Derrick Rose, who had a big second half, would be the story until KU miraculously rallied to tie late and force OT on a Mario Chalmers three. The Jayhawks dominated in overtime in the NCAA title game.
1A. KU 87, Missouri 86, OT (Feb. 25, 2012): Last game of Border War. Enough said.
2. KU 84, North Carolina 66 (April 5, 2008, San Antonio): Brandon Rush had 25 points and seven rebounds in the Final Four semifinal in which KU stormed to a 40-12 lead before UNC rallied to within five points with nine minutes left.
3. KU 90, Texas 86 (March 3, 2007): Kevin Durant scored 25 points in the first half as the Longhorns awed a fieldhouse crowd that couldn't believe its eyes. The Jayhawks wound up erasing a 16-point deficit and winning, thanks in large part to Julian Wright's 17 points and 13 boards.
4. KU 59, Davidson 57 (March 30, 2008, Detroit): Sasha Kaun's 13 points and six rebounds helped the Jayhawks survive a gritty Davidson team in the Elite Eight, giving Self his first Final Four. Stephen Curry was double-teamed on the final possession, could not get off a shot and was forced to pass to Jason Richards, whose 25-footer from the top of the key thudded off the backboard. Who can forget the shot of Self going to his knees, bending over in great relief?
5. KU 82, Florida 80, OT (Nov. 25, 2006, Las Vegas): Julian Wright had 21 points and 10 boards as KU beat the eventual national champions in Vegas. KU had a majority of fans in Orleans Arena who watched Darrell Arthur score six of his 19 points in overtime.
Tom Keegan
1. KU 87, Missouri 86, OT (Feb. 25, 2012): Sloppy ballhandling and uglier Twitter handling made Tyshawn Taylor the object of so much criticism, but when he was good, he was really good, and he never was better than when leading the Jayhawks back from a 19-point deficit in Allen Fieldhouse. Taylor scored nine of his 24 points in overtime and in 44 minutes had five assists, four rebounds and one turnover. Taylor and Thomas Robinson made sure the last game of the Border War series for what could be quite some time ended in KU's favor.
2. KU 100, Baylor 90 (Feb. 9, 2008): The loaded Bears came ready to bring their best shot and it wasn't good enough because Sherron Collins didn't let it be good enough. Others had better games statistically, but when Kansas took over, it was Collins at the controls, relentlessly assaulting the lane with productive drives to the delight of the fieldhouse crowd.
"Sherron was Sherron," Self said afterward. "He changed the game in the second half. When Sherron puts his head down, he is running downhill."
3. KU 84, North Carolina 66 (April 5, 2008, San Antonio): Three, three, three games in one Final Four semifinal. Kansas won the first, 40-12. North Carolina won the second stretch (end of first half, beginning of second), 38-14, and KU closed it out with a 30-16 domination. Cole Aldrich made a name for himself by making life miserable for national player of the year Tyler Hansbrough for a stretch and Brandon Rush was magnificent, scoring 25 points.
4. KU 75, Memphis 68, OT (April 7, 2008, San Antonio): Lost amid the euphoria over Mario Chalmers' amazing three-pointer was the reality that nobody from either side played a better game than sophomore Darrell Arthur, who contributed 20 points and 10 rebounds.
5. KU 90, Texas 86 (March 3, 2007): It didn't take Kevin Durant long in his one-year Texas career to show he would become one of the best shooters in the NBA right off the bat. And it was obvious right from warmups that he was not going to waste his one and only opportunity to play on one of the most exciting basketball atmospheres on the planet. He looked around a lot, soaked it all in, and came out on fire, scoring 25 first-half points. He made all five first-half three point attempts. A sprained ankle kept him out of the game for a long stretch, but did nothing to diminish the memory of a great player playing a phenomenal game in a special place and getting an ovation from the home crowd.
Matt Tait
1. KU 84, North Carolina 66 (April 5, 2008, San Antonio): It would be hard to find anyone out there who thinks the Jayhawks have ever played a better half than their incredible beatdown of former KU coach Roy Williams on the biggest stage in the world. KU raced out to a 40-12 lead and, in doing so, looked like it could have beaten anyone in the world that night. The Memphis victory two nights later was obviously the one that delivered the 2008 national title, but I can't recall a better half of basketball than this.
2. KU 64, Ohio State 62 (March 31, 2012, New Orleans): Maybe it was because Thomas Robinson had a way of making games feel this way or maybe it really was a slugfest. Either way, the 2012 Final Four match-up between the Jayhawks and Buckeyes was filled with as many huge possessions as I can remember. After a so-so first half, the Jayhawks trailed by nine at the break. But, behind 19 points from Robinson and seven blocks from Jeff Withey, KU rallied to win and advanced to its second national title game in five seasons.
3. KU 100, UAB 74 (March 26, 2004, St. Louis): Less than a week after watching Mike Anderson's Blazers dismantle top-seeded Kentucky in the second round of the 2004 NCAA Tournament, all of the talk was about Anderson's 40 minutes of hell defense and how it would eat you alive. Not Self and Kansas. During the week leading up to the Sweet 16 match-up, Self had his starting five practice against as many as eight players, a genius move that made even Anderson's swarming and frantic style of defense seem like a breeze when the Jayhawks routed UAB in the Sweet 16.
4. Texas A&M; 69, KU 66 (Feb. 3, 2007): Both teams were 6-1 in Big 12 play and ranked in the Top 10 nationally. ESPN was in town for the Saturday night showdown, which always makes games seem even bigger than they already are, and, KU got strong efforts from seven players who made up the core of its national championship team one year later. However, despite leading by 10 points with 6:33 to play, a man named Acie Law IV made the last of so many big plays in this all-out war, giving the Aggies the victory, the first for a Big 12 South team in Allen Fieldhouse in league history.
5. Duke 68, KU 61 (Nov. 23, 2011, Lahaina, Hawaii): It was so early in the season and, in the grand scheme of things, it really didn't matter, but this game, even though it was a loss for the Jayhawks, paved the way for their magical season that ended in the national championship game. Jeff Withey showed grit, toughness and blood, Thomas Robinson, with 16 points and 15 rebounds, did what he did 27 times in 39 games during his stellar junior season and Bill Self coached his butt off. It may have been a November game in a tiny gym, but it had the feel of a Final Four clash.
Jesse Newell
1. KU 75, Memphis 68, OT (April 7, 2008, San Antonio): For my list, I'm going with the most entertaining games, and this one was so dramatic that it ran as an "ESPN Instant Classic" the very next day. No shot in all of Self's years will be remembered more than Mario Chalmers' "miracle" at the end of regulation.
2. KU 87, Missouri 86, OT (Feb. 25, 2012): After a huge pregame buildup, this game still managed to exceed all expectations. The largest blast of noise I've ever heard at the fieldhouse came following Thomas Robinson's block of MU's Phil Pressey with 2 seconds left in regulation to send the game to overtime. Fun fact: Robinson had just two more blocks the rest of the season in his final 10 games.
3. KU 81, Oklahoma State 79 (Feb. 27, 2005): Simply an amazing shooting performance ... by both teams. Wayne Simien (32 points) and OSU's John Lucas (made first nine field goals) traded blows until the final possession, when Lucas missed a stepback three as time expired. Self and Simien's screaming postgame celebrations still make every KU pregame highlight video.
4. KU 70, Georgia Tech 68, OT (Jan. 1, 2005): After Georgia Tech eliminated KU in the Elite Eight the year before, Jayhawk fans were amped when given the opportunity for payback the next season. Keith Langford provided the game-winner, creating for himself on a turnaround jumper from the elbow with 2 seconds left in overtime. When asked about the game two years later, Self called it "maybe the best atmosphere in the fieldhouse since I've been here."
5. Duke 68, Kansas 61 (Nov. 23, 2011, Lahaina, Hawaii): Stick two powerhouse fanbases in a crowded, high-school-size gym in Maui, and you end up with one of the best sports environments I've experienced. The game remained entertaining until the end, when unlikely hero Tyler Thornton put in an off-balance, high-arching three with 20 seconds left that gave Duke a five-point lead. One of the lasting memories will be just how hard Self and Duke's Mike Krzyzewski were riding their players — and the officials — in a nonconference game played in November.
More like this story on KUsports.com