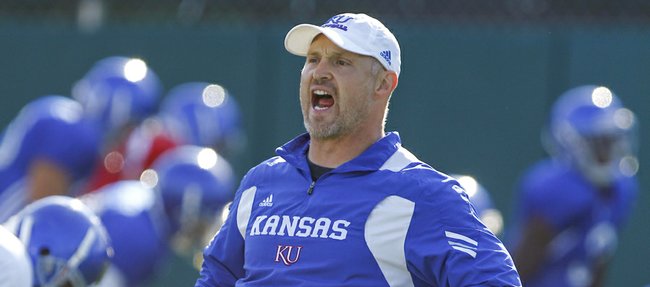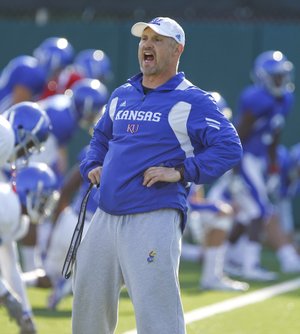 Never one to shy away from searching for new motivational tactics, Kansas University strength coach Scott Holsopple has come up with a couple of doozies this summer.
The first, a red-white-and-blue-clad Firecracker Workout back on the Fourth of July, was in line with the Valentine's Day Massacre and other holiday-themed training sessions that have become the norm in the KU football weight room since Holsopple's arrival a year and a half ago.
"We had a little Fourth of July bash," senior defensive tackle Shane Smith said with a bit of sarcasm in his voice. "There wasn't as much celebrating as there was sweating, but we had a lot of red, white and blue and fireworks and music blasting over the speakers. We got ourselves a nice workout in."
The second, which Holsopple implemented for the first time this summer, was a Big Brother program in which established veterans of the squad are paired with newcomers and charged with showing the rookies the ropes on how things are done.
"The new guys, juco guys or freshmen coming in out of high school, he gave 'em a big brother just to kind of help them with the transition," said Smith, noting that freshman offensive lineman Joe Gibson, of Rockhurst High, was his partner. "Anything they need, you're there for 'em because it definitely is a culture shock."
Walk-on kicker Austin Barone was not paired with a newcomer but said junior-college transfer Trevor Pardula, who arrived on campus in January and seems to have a leg up on KU's punting and kickoff jobs, was assigned Hutchinson Community College place kicker Michael Mesh when Mesh arrived in Lawrence earlier this summer.
"Trevor Pardula took (Mesh) under his wing and really treated him well," Barone said. "We (wear) these pride bands (on our wrists), and if you're a newcomer, you wear yellow. But Mesh has already been moved up to the red and hopefully soon we can get him up to the blue."
The idea behind both programs — and, really, Holsopple's entire philosophy in the weight room — was to create a bond between the players that cannot be forged through running drills or studying film.
"Coach Holsopple and the strength staff have really been pushing us, and I think that's helped bring the team together and bring some camaraderie," Smith said. "If it has been a tough workout or a tough run, they really push to make us pull together as a team and get through it. And I think that's been good and is really gonna help when we get into camp."
Asked how this summer compared to the first summer under Holsopple a year ago, Smith said things had been considerably more intense.
"They've turned it up," he said. "Maybe a couple notches. We've been told that this was about to be the best summer in college football, and that's what we're trying to make it."
Added Barone, who did not go through summer workouts last season but has talked to plenty of upperclassmen about the past: "From what they've told me, it's night and day. The unity that the team's formed, the camaraderie … the difference between a walk-on kicker and the starting quarterback, when we're working out and we're doing stuff together, it's no different. If you're a part of the team, you're a part of the team. It's awesome."
Smith said the guys who have stepped into the biggest leadership roles this summer are the ones most would expect. Quarterback Jake Heaps, linebacker Ben Heeney and others who play prominent roles on the team and have been through it all before were singled out by Smith as the example-setters this summer.
"Holsopple's been putting an emphasis on, 'Grab all the young guys. There's no transition period. Just grab 'em and pull 'em up,'" Smith said. "For the most part, the older guys have been stepping up, and it's been good. We turn it up every day. That's what our mentality has been, and it's been going good."