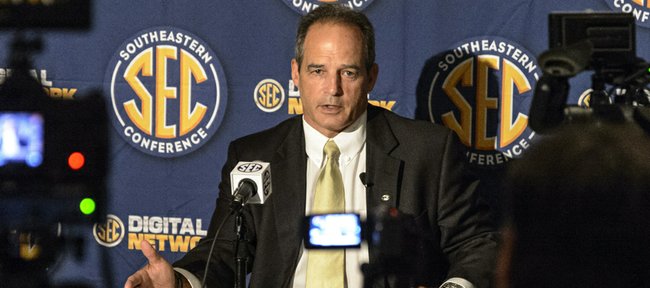 The Missouri Tigers may be on the verge of playing their second season in the ultra-tough Southeastern Conference, but head coach Gary Pinkel's thoughts have not strayed too far from the Big 12.
Tuesday at SEC Media Days in Birmingham, Ala., Pinkel told Jay Binkley of Kansas City's 610 Sports Radio that he missed Missouri's annual match-up with Kansas University.
"I wish we were still playing Kansas," Pinkel said. "You'd like to think that we'd get together and get that game going again."
KU and Missouri last met on the gridiron in the fall of 2011, with the Tigers topping the Jayhawks, 24-10. One of the biggest reasons the Border War rivals are not still playing is the belief of KU athletic department officials that it was the Tigers who ended the rivalry by leaving the Big 12 for the SEC two years ago. Nearly all of the powers that be at KU — from athletic director Sheahon Zenger to men's basketball coach Bill Self and football coach Charlie Weis — have shown no interest in resuming the rivalry that once was the longest uninterrupted series west of the Mississippi River.
According to Pinkel, now in his 13th season in charge of Missouri football, that's too bad.
"I guess the way I've always looked at it was, if we could play it the first or second week of every season and play it in Kansas City, that would be great to do and I think both teams could make a lot of money doing it," Pinkel said. "Hopefully some cool heads will prevail through this and look at it (and) we'll have an opportunity to play it again and make it work."
Big 12 Media Days
Pinkel may have had his chance to talk about the rivalry formerly known as the Border War at SEC Media Days on Tuesday, but don't expect the Tigers or the topic to come up at Big 12 Media Days next week in Dallas.
KU coach Charlie Weis will join the conference's nine other coaches and several player reps from each school Monday and Tuesday to preview the upcoming season. In addition to Weis, KU will be represented by junior quarterback Jake Heaps, junior linebacker Ben Heeney, senior running back James Sims and junior safety Cassius Sendish.
After that, the next key date for KU football is Aug. 6, when players are scheduled to report to campus for fall camp, which is slated to begin Aug. 7.
Heaping on the praise
Three Jayhawks landed in the top 26 of a recent article at athlonsports.com that predicted the top 25 impact transfers for the 2013 college football season.
Quarterback Jake Heaps, who came to KU from BYU and sat out the 2012 season, was ranked third among all transfers nationally. Of Heaps, Athlon writer Steve Lassan wrote: "There's no question Heaps should be an upgrade over Kansas' quarterbacks from last season, but it's unrealistic to expect him to contend for all-Big 12 honors. The Jayhawks also need to upgrade the weapons around Heaps for him to succeed in 2013."
The funny thing about that? The other two Jayhawks on Lassan's list were Heaps' weapons.
Lassan ranked wide receiver and Oklahoma transfer Justin McCay 18th and said: "The Jayhawks are counting on McCay to emerge as a go-to threat for Heaps."
He ranked Miami (Ohio) transfer Nick Harwell 26th, with his "Bonus" tag, and wrote: "Harwell still has some work to do in order to be eligible this fall. However, should the All-MAC receiver graduate from Miami (Ohio), he will give the Jayhawks' offense a much-needed go-to receiver. ... Assuming he's eligible in 2013, Harwell will be a starter for the Jayhawks from the first snap of fall camp."
Harwell's lawyer, Don Jackson, told the Journal-World earlier this week that he was still working toward getting his client enrolled in the classes he needs at Miami to graduate. Jackson said he remained "cautiously optimistic" that Harwell will be eligible to play at KU this fall.
More like this story on KUsports.com