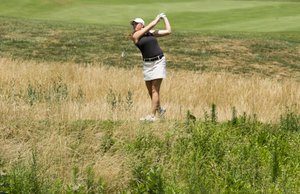 The speedy greens at Lawrence Country Club require players to handle wedges with the hands of a surgeon. In running away with the title in the women's championship flight of the Lawrence Amateur Golf Association's city tournament, Meghan Potee was up to that challenge Sunday. And she's not even a surgeon. Yet.
Potee's goal of one day becoming an orthopedic surgeon indirectly was responsible for her playing in her first city tournament. A member of Kansas University's golf team, Potee usually goes home to Noblesville, Ind., in the summer and competes in elite amateur tournaments. She decided to stay in Lawrence this summer in order to lighten her senior-year academic load by taking a "pretty tough class." Organic Chemistry II. That tough. The demands of the class (lab work every other day, for example) make it impossible for Potee to play in tournaments that take place during the week, so when she heard about the weekend tournament, she signed up.
"It was just a small thing compared to U.S. Open, U.S. Amateur qualifiers I'm used to doing, but it still keeps it competitive," Potee said. "I didn't want to go in here and play bad."
She didn't, although she didn't think she played great, either. Normally, she plays longer tees than the women's tees she was required to use during the weekend.
"My wedges and short game had to be on point, and they weren't, but it was still good enough to slap it around par," Potee said.
Potee has more experience playing at Alvamar, where Saturday's opening round was played, than at LCC, site of Sunday's round.
"They're much slicker here, which I like," Potee said of LCC. "I putted so much better than I did (Saturday). It seems like at Alvamar, one will be quick, and one won't. They're kind of hard to figure out by the end of the round. And I also have trouble reading those. These greens are just a lot more ... they're really true. I grew up playing fast greens, so that's what I'm more used to and what I like better."
Potee doesn't view golf as her destination career. She majors in exercise science and has two semesters of classes and a one-semester internship remaining to earn her degree. After that, she said, she plans to take off one semester and then attend medical school.
She cited Human Anatomy as the favorite class she has taken at KU.
"The lab was incredible," Potee said. "We had five cadavers that we looked at each day. That was really cool."
Recruited by several Big 10 and Big 12 schools, Potee said her father told her to decide which Big 12 school she wanted to visit first among Kansas, Oklahoma and Texas.
"I didn't really know anything about Kansas or the other schools, but the Jayhawk was cute, so we ended up coming here first, and once I came here, I just loved it."
High school athlete knows little about the state of Kansas and its flagship university, ends up taking a visit, tours the beautiful campus, and it's love at first sight. Potee's making the most of her academic and athletic opportunities and will go out in the world representing her school well. That's how it's supposed to work, and when it does, it's a cool thing to witness.
More like this story on KUsports.com