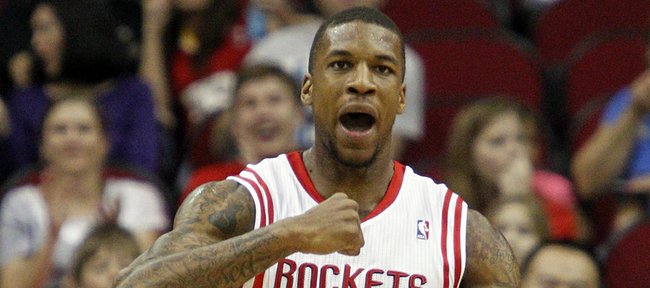 Thomas Robinson admits it was nice to hear words of praise from Portland Trail Blazers' coach Terry Stotts and general manager Neil Olshey at Robinson's introductory news conference Thursday in Oregon.
After being traded twice his inaugural season in the NBA, the 6-foot-10, 240-pound former Kansas Jayhawk started to wonder if he had bad breath or something.
"It's a great feeling to be wanted," said Robinson, shipped to the Blazers in a June 30 trade with the Houston Rockets. The Rockets had acquired Robinson in a deal with Sacramento in February. Sacramento initially made Robinson the No. 5 overall pick in the 2012 NBA Draft.
"I've been in this league a year, and being tossed around can mess with confidence. It can mess with everything, so to hear somebody actually tell me they want me on their team is a great feeling," Robinson added at the media session.
Robinson, 22, averaged a combined 4.8 points (off 43.0 percent shooting) and 4.5 rebounds in 70 games. A non-starter, he logged 15.1 minutes per contest.
"I think coming into the league, I wanted to prove I deserve to be here, prove I'm a worthy player in the league," Robinson said. "As far as being moved around twice already, it's a business. As a rookie, I learned that pretty quick. You can't take it personal. I'm excited to get a chance with the Portland Trail Blazers. I'm going to make the best of it."
Robinson will be playing for the Blazers in the Las Vegas summer league, which runs today through July 22.
"I think I still have a lot more upside to my game. I don't think I even came close to being a finished product," Robinson said of Year No. 1 in the pros.
Coach Terry Stotts believes Robinson can capably replace forward J.J. Hickson, who has signed with Denver.
"Thomas is a young talent, in some ways similar to J.J. last year in that he'll be a beast inside," Stotts said. "He can rebound. He can run the floor. He's rugged. Watching him practice today, he's one of the strongest players I've been around and adds a dimension to the team that we don't have. I think that's going to be something that we'll be able to utilize throughout the course of a season."
Noted GM Neil Olshey: "Clearly, Houston had goals where they needed to clear cap room. They very reluctantly acquiesced, and we were able to put together a deal (for pair of future second-round draft picks and the rights to Kostas Papanikolau and Marko Todorovic). They accomplished their goals. We were able to get what we think is an absolute steal in Thomas, who, we now basically have the fifth and sixth picks in last year's draft. We valued both he and Damian (Lillard, No. 6 overall in 2012 draft), and now we're lucky enough to have both of them."
Withey speaks: Former KU center Jeff Withey, who was selected by Portland in the second round of the 2013 NBA Draft, recently was traded to New Orleans.
"When my name was called (No. 39 overall on June 27), obviously I was very excited and happy," San Diego native Withey said after a pre-Vegas summer-league practice on Thursday.
"It was a special night. Then the trade, and I came here. I was extremely excited to be a Pelican. I think it's going to be a really good team. We have a lot of young players. I've played with Jrue (Holiday, who grew up in Los Angeles). I played against Tyreke (Evans, University of Memphis) and Anthony (Davis, Kentucky). I've known these guys for a while. I'm just really excited to be part of the program. I can't wait to get started and live in New Orleans."
Withey, who as a second-round pick does not yet have a guaranteed contract, said he wants to make an impression at summer league.
"I want to get in the flow of the organization, get down with what they like, learn all the terms," he said. "I want to play defense. That's what I'm good at. I want to block shots. Hopefully we can win this thing. That's the main goal."
In a new format, the 22-team Vegas summer league will crown a champion for the first time this year. Former KU players Ben McLemore (Sacramento), Elijah Johnson (L.A. Clippers), Travis Releford (Denver) and Josh Selby (L.A. Lakers) also will be playing in the league. For a full summer league schedule, go http://on.nba.com/12I1L3L