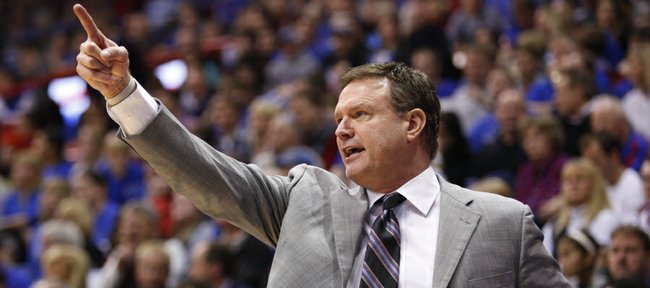 The newly revamped 12-day July college basketball recruiting period opens on Thursday.
Tournaments such as the Peach Jam in North Augusta, S.C., the AAU Super Showcase in Orlando, Fla., as well as adidas Super 64, Fab 48 and Las Vegas Classic in Glitter City, will keep Kansas University head coach Bill Self and assistants Jerrance Howard, Norm Roberts and Kurtis Townsend busy from Thursday to Sunday of the next three weeks.
"Obviously it's going to be an intense three weeks," KU coach Bill Self said Tuesday. "The rules have changed. You are not out that long (compared to 20 days in past Julys). It probably amps up the intensity during the period of time you are out. We have our core group of guys we are following and chasing. We need to have a good July and hopefully go into the school year with the best guys all thinking, 'Kansas,'" Self added.
Self can't, and won't, comment on individual prospects in accordance with NCAA rules. However, it's been widely reported that 10 of the top 20 high school seniors in the country, as rated by Rivals.com, are considering KU.
They are: No. 1 Jahlil Okafor, 6-10, Chicago Whitney Young; No. 2 Tyus Jones, 6-1, Apple Valley (Minn.) High; No. 3 Emmanuel Mudiay, 6-5, Prime Prep Academy, Arlington, Texas; No. 4 Cliff Alexander, 6-8, Chicago Curie; No. 6 Myles Turner, 6-11, Trinity High, Euless, Texas; No. 7 Rashad Vaughn, 6-5, Findlay Prep, Las Vegas; No. 8 Stanley Johnson, 6-6 Mater Dei, Santa Ana, Calif.; No. 14 Malik Pope, 6-8, Laguna Creek High, Elk Grove, Calif.; No. 16 Justise Winslow, 6-5, Houston St. John's; and No. 19 Kelly Oubre, 6-5, Bush High, Richmond, Texas.
Rivals.com reports that Alexander, Johnson, Turner and Oubre are all planning on attending the Oct. 4 Late Night in the Phog.
"Everything," Self said, asked what the Jayhawks are looking for on the recruiting trail. "We are recruiting everything because we don't know who will stay and who won't stay, how long guys will stay.
"Obviously we are going out with an open mind knowing we have to not think the worst (regarding early entries to 2014 NBA Draft), but prepare that we'll have more than one scholarship which obviously is how many we have on paper with Tarik (Black, senior) being our only scholarship."
Freshman Andrew Wiggins is expected to be the No. 1 pick in the 2014 NBA Draft. Players such as Wayne Selden, Joel Embiid and Perry Ellis have been mentioned as possible early entrees in 2014 or 2015.
Practice update: KU's players have practiced two hours a week with the Jayhawk coaches during June and July in accordance with NCAA rules.
Self was asked if Wiggins, 6-7 from Toronto and the No. 1-rated prospect in the recruiting Class of 2013, has been "dominating the scrimmages."
"I don't know about the scrimmages," Self said of daily pick-up games which coaches cannot attend. "The limited practice time we've had ... I think all our guys are working hard. They are all getting better. They are all learning. He is one of those guys getting better, learning, getting in shape. I think all of our freshmen (Wiggins plus Joel Embiid, Brannen Greene, Conner Frankamp, Frank Mason and Wayne Selden) have had days they have been as impressive as anybody in the gym. I don't want to say he's dominating. That'd be an absolute lie," Self added.
The good news is the freshmen appear to be as talented as advertised. Self said, "Yes, he can. He's good," when asked if Georgia off-guard Greene could shoot from deep. He stated, 'Yes. Unreal,'" when asked if Wichita combo guard Frankamp could shoot the trey with accuracy. He added, "Yes. He can do a lot of things," when asked if Cameroon center Embiid had good hands. He added that when he "gets it," Embiid could be quite a prospect. He's only played organized basketball the past two years.
"The whole thing is ... are they great? No," Self said of the newcomers. "They've all had days they were as good as anybody in the gym, all of them. Wiggins is talented, though. That is one talented cat."
Self was asked which of the young guys have stood out the most.
"We're all young," he said of his team. "To me, I'd say Perry (Ellis, sophomore forward) and Jamari (Traylor, soph forward) have been as good as anybody. I think our young guys have all been about the same, to be honest with you. I think they've all shown flashes of really being impactful."
Sophomore Andrew White III has recovered from a knee sprain that slowed him in early June. "Andrew is back 100 percent and looking good," Self said.
Of the practice time, he added: "It's just two hours a week, mainly individual improvement. It's not like we've done much at all."