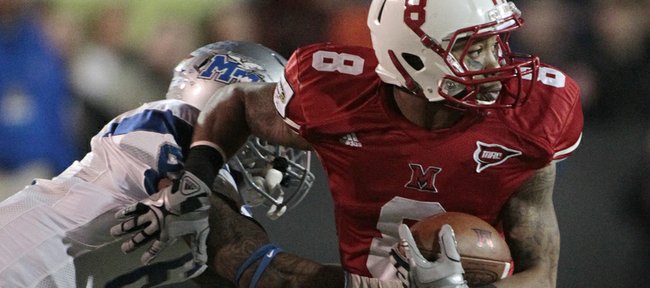 It's not just about wins and losses, football coaches and university presidents across the country shout from the highest mountains. It's about sending student-athletes into the world with college degrees first and football second.
And then there is the case of wide receiver Nick Harwell, who had a terrific record on the football field during his time at Miami (Ohio) University and a police record off of it. Harwell, who announced his intention to transfer to Kansas University in late May, wants nothing more than to take the necessary summer school classes to earn his degree so he can transfer to KU and become eligible to play another year of college football this coming fall. Thus far, Miami has blocked his path to doing so.
But according to numerous people close to the situation, Harwell is coming to Lawrence in August no matter what. Whether he's eligible to play when he arrives is completely up to the decision makers at Miami, who suspended him for a semester this spring after an arrest that led to Harwell entering a guilty plea on a second-degree misdemeanor charge of attempted theft after he reclaimed possession of his cap and gown from his girlfriend's car.
There is no question about whether Harwell is at fault in this incident or any of his previous arrests during his time at Miami.
The question is, why, with Harwell sitting just a couple of classes away from graduating and cleared in the eyes of the law, would Miami want to stand in the way of him moving on with his career, a path that one day figures to lead him to the NFL?
Don Jackson, a veteran attorney based in Montgomery, Ala., who has 23 years of experience fighting NCAA eligibility cases, is representing Harwell's interests. He said the only thing that made sense was that the powers that be at Miami were attempting to force Harwell to remain at Miami. He also said that's not going to happen.
"He's not going back to Miami under any circumstances," Jackson said. "He'll be at the University of Kansas whether that means he's playing this year or sitting this year and playing next year. But we're optimistic and hopeful that he'll be playing this year."
In order for that to happen, Harwell needs to complete a couple of courses that would allow him to graduate from Miami and transfer to KU via the same senior-transfer rule that brought Dayne Crist from Notre Dame and sent cornerback Tyler Patmon from KU to Oklahoma State. According to sources, Harwell is about a week shy of completing one such course online. The others, which also could be taken online, must be under way by July 15, the start date of Miami's final summer session.
According to the criteria for graduation from Miami, the classes must be taken through Miami. Furthermore, Harwell cannot take those classes as an active member of the KU program if he wants to be eligible for 2013. In short, the longer Harwell stays away the better his chances of playing for KU this season.
Miami's final summer session ends Aug. 10 and KU opens fall camp on Aug. 7. But one source said that even if Harwell were to arrive as late as the end of August, his talent, experience and familiarity with KU coach Charlie Weis' system — Harwell was recruited to Miami by former Weis assistant Mike Haywood — would make him a likely candidate to play in KU's opener Sept. 7 provided he reports in game shape.
The bottom line here is this: Since the time of the arrest both Harwell and KU have done everything in their power to pave the way for the nation's second-leading receiver to continue his college career at Kansas under Weis. Miami, however, seems to have played the role of the scorned ex-lover. Given the toll that losing Harwell would take on Miami's APR score along with the potential negative image portrayed to other current and future Miami student-athletes, it seems Miami would be best served to accommodate Harwell here and wish him well in the future. How can the school claim it puts athletes earning degrees before winning football games if Harwell's path to a degree is blocked over spite? Efforts this week to reach a Miami spokesperson for comments on Harwell's status and future were not returned.
There is no question that adding the 6-foot-1, 193-pound Harwell to Weis' offense would be a major lift for a KU program in the middle of rebuilding. Harwell leaves Miami as the second leading receiver in school history in career receptions (229) and yards (3,166), and third in receiving touchdowns (23). But this goes beyond football.
Other than the nature of the charges levied against him, this case seems similar to the situation KU faced in early 2012 with former quarterback Brock Berglund. In that instance, KU wound up granting Berglund his release before the end of January and he later transferred. Miami is choosing to stand in Harwell's way. And for what? To get the last laugh? To prove who's in charge?
School and athletic department officials may not be holding onto any hope that Harwell ever will play another down for the RedHawks, but they are holding him hostage when common sense suggests they should go the other route.
"I can't imagine why they've taken this long, to be perfectly honest," said Jackson, noting that the time frame of a resolution remains up in the air. "Instead of letting this young man take the classes he needs to graduate and then move on with his life, they have chosen to drag it out and drag it out to a point where it's too late for this young man to take the classes he needs to graduate."
We're not there yet. And if common sense prevails, we'll never reach that point. Instead, Harwell will be able to slip on his No. 88 jersey and make plays that send fans at Memorial Stadium into a frenzy. In addition, Harwell, who hasn't always made decisions in which he and his family can take pride, can put a big smile on the face of all those who care about him by framing his college diploma and hanging it on his wall.
More like this story on KUsports.com