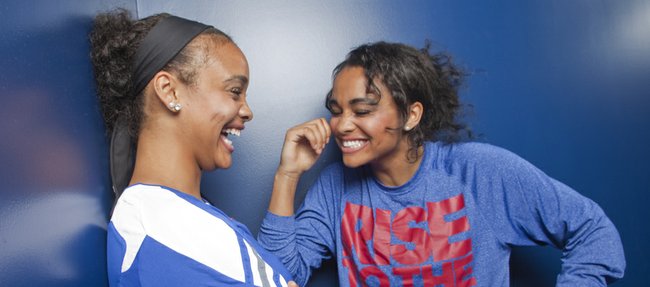 After a few weeks on campus, Dylan Gonzalez already has been stopped by strangers at Allen Fieldhouse who have called her by her first name.
Others have said how big of fans they are of her and her twin sister Dakota — and neither has played a minute for Kansas University's women's basketball team.
Though No. 1 men's basketball recruit Andrew Wiggins has received most of the headlines this summer, it's possible that a pair of outgoing twins from Pocatello, Idaho, could end up bringing nearly as much publicity to KU.
The 6-foot Gonzalez sisters — thanks to social media — have stepped onto KU's campus as mini-celebrities.
Need proof? The Big Lead sports blog declared in April the twins might be "the next big thing in college basketball" and later posted a story in May with the rumor that one of the twins was dating former No. 1 overall pick Anthony Davis ("We're just really good friends," Dakota said). The two also regularly interact over social media with rappers Romeo Miller (Lil' Romeo), Trey Songz and Waka Flocka Flame and have been compared to former Notre Dame guard Skylar Diggins.
Dylan and Dakota — they both model as well — have more than 200,000 followers on the photo social media site Instagram (Dylan is just 25,000 behind first lady Michelle Obama), while their combined Twitter account has more than 20,000 followers (for comparison, KU men's basketball freshman Wayne Selden has 15,000).
After a few weeks on campus, KU coach Bonnie Henrickson says the twins already are at a level of recognizability that it took All-Big 12 point guard Angel Goodrich five years to reach.
"I've always said it since I got into this profession: We're in the entertainment business," Henrickson said. "If that's part of it, I think that can only help us."
Social-media darlings
The twins have marketed themselves well. The charismatic pair regularly post on social media — using Instagram, Vine and Twitter — and aren't shy about putting themselves in the public eye. That includes posting photos, singing duets on camera and answering questions from fans in videos on YouTube.
"We were born into this age," Dylan said. "Social media is the thing to do."
Part of the attention, the women know, has come from their looks. Both have heard the term "eye candy" used by followers online.
"We appreciate it. People don't have to compliment you, so it's like, 'Thank you. Thank you,'" Dakota said. "But at the same time, with the support, we do hope it comes to where it's supporting the team for what we worked so hard for and what we want."
Added Dylan: "For now, that's OK. Later, after we get going here, like Dakota said, our team has so much potential."
As do the twins themselves.
The two are the daughters of former KU standout Angie Snider, who led the Big Eight in scoring in 1984 (21 points per game) and still ranks 11th on the Jayhawks' all-time scoring list.
Though the twins spent most of their lives in Denver before moving to Idaho about six years ago, Angie made sure they knew about KU. When coming back to Kansas to visit family, Angie would take her daughters to KU's practice or have them watch the Jayhawks during the Big 12 Tournament in Kansas City, Mo.
Though both believed early in their high-school careers that they would attend Pac-12 schools, they ultimately picked KU after seeing the scoreboard videos and the team camaraderie at Late Night.
'They're both very driven'
Dakota was ranked the 43rd-best guard in the class of 2013 by ESPN's HoopGurlz, while Dylan was 44th.
So far, Henrickson said both have been impressive. Not only are they quick learners, but they also have been good teammates.
One example came when Henrickson was giving the two special instructions this summer on one side of the practice gym. Every time point guard Natalie Knight circled the perimeter on a jog, one of the twins would slap hands with her or yell encouragement.
It was one of the first times Knight had been able to run since tearing her ACL in January.
"I didn't tell them to do it," Henrickson said. "They're naturally good communicators."
The two, who will both play on the wing at KU, also have been good listeners. Henrickson has already seen both improve their footwork and has received reports from strength coach Andrea Hudy that the two have tried to outdo each other in the weight room.
"They're both incredibly competitive. They're both very driven," Henrickson said. "In the (few) weeks they've been here, they've both gotten a lot better."
Now, the question is where they go from here.
With women's basketball's marketable "Big Three" — Baylor's Brittney Griner, Delaware's Elena Delle Donne and Notre Dame's Diggins —all graduating to the WNBA, the opportunity is there for players like the Gonzalez twins to take their own place in the national spotlight.
They both know their social-media attention won't amount to much, though, if they don't play well and KU doesn't win.
"If you're going to be a losing team, my mom said, then people are going to be like, 'OK, they're surface, but not substance there,'" Dylan said. "For us, I feel like even if we lose a game, I feel like I'm very confident in my team and what we can do here that we'll just bounce back from that, and people will see that. I feel like that will attract people."
Celebrity status
Henrickson knows the twins hold huge potential for the program in terms of exposure.
The 10th-year coach Henrickson, who uses Twitter and Vine for recruiting, is aware that many recruits could be following the twins' social-media accounts online.
"If this brings attention to our program, whatever they've been able to do from a social-media standpoint — and I think they're sincere, and that's a part of why they're doing this, to bring attention to the program — who wouldn't want more attention to your program?" Henrickson said. "And they're two quality young ladies who are very good players, who are very good people, who have great values and really are interested in helping us grow."
Henrickson, who has led KU to consecutive Sweet 16 appearances in the last two seasons, also has seen the benefits other schools have received when their players have earned celebrity status.
"When it was Skylar Diggins … she played at Notre Dame," Henrickson said. "There was a tag to her. It's where she was and what she did."
The twins already have set high standards for themselves and are unafraid to dream a little. Both have goals of Sweet 16s and even Big 12 championships at KU.
"We know what we want to do with our life," Dakota said, "and our life goal is not to accomplish 500,000 Twitter followers."
More like this story on KUsports.com