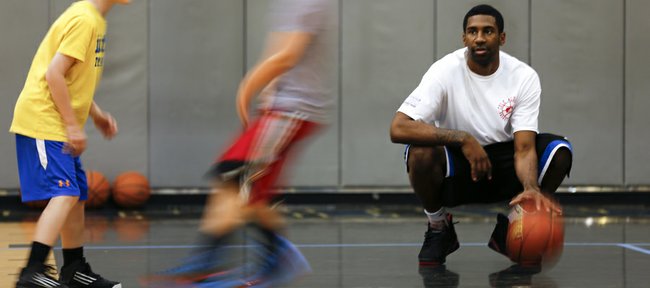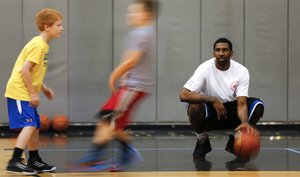 Kansas University men's basketball freshman Andrew Wiggins might have some competition for the top vertical jump on the team.
KU senior forward Justin Wesley says his vertical has been measured this year at 45 inches — up from 42 inches a year ago.
"I don't know what Wiggins' is. We'll see," Wesley said with a smile. "But I'd still say I jump the highest on the team."
Athleticism hasn't been the problem for Wesley, a 6-foot-9, 220-pound transfer from Lamar.
Wesley still was limited to just 68 minutes a year ago, partly because of injuries and partly because of a limited offensive arsenal.
In his fourth year at KU — he red-shirted in 2010-11 — the Fort Worth, Texas, native says he's working hard to become a more complete player.
"I've been in the gym working on my shot, trying to get that better," Wesley said. "Just having the mentality that I can score and that I can play, that's helped me a lot. Confidence takes you a lot further than you think."
The lack of faith in his offensive game showed in last year's statistics.
According to StatSheet.com, Wesley attempted just 4.3 percent of KU's shots when he was on the floor. To compare, the average shot percentage for a player is 20 percent; forward Jamari Traylor had the second-lowest shot percentage on the team, and he was still at 12.9 percent.
This offseason, Wesley has made 250 shots per day — both mid-range and long-range, which includes three-pointers — in addition to the reps he gets during individual drills with coaches.
His improved skill set was evident in the second camp scrimmage on June 19, when he scored 14 points for the red squad, with many of those points coming on jump shots.
"I just wanted to come out and be aggressive," Wesley said. "Honestly, I didn't know that I played that well."
Wesley also has been motivated by his older brother, former KU guard Keith Langford. The two talk on the phone often.
"He's just told me, 'You've been there four years now, going into your fifth year (of college). There's nothing that's going to get thrown at you that you haven't encountered before,'" Wesley said. "'You're one of the older guys in the game right now. Just enjoy it, have fun and be confident. Just know that you can play the game.'"
In scrimmages, Wesley has enjoyed going against KU's talented newcomers, which include Tarik Black, Joel Embiid and Wiggins. All three have the chance to be future NBA pros.
"Since I've been here, this is the most athletic team I've been on," Wesley said. "I don't know exactly who we're getting compared to, but I'm very excited about this year. I don't think there's very many teams out there as athletic as us.
"As long as we come together as a team and play unselfishly together, I think we'll be pretty good."
Wesley also knows the reality of the situation. Because KU coach Bill Self has brought in so much front-court talent, the opportunity to get minutes might be limited.
"However coach Self plays me, or whatever he does, I trust him," Wesley said. "He's very successful. Right now, I'm just trying to get better in all areas. However he sees how I fit the puzzle, then I'm OK with that."
Wesley knows — on the court or not — he has a valuable role to play for this year's team.
"The least (that) I want to do now is help the younger guys and try to be a leader, either by example or vocally or whatever it takes to be a leader," Wesley said. "I'm a senior, last go-around, so I want to leave with an impression on these guys, and I want to help them be the best they can be."