Document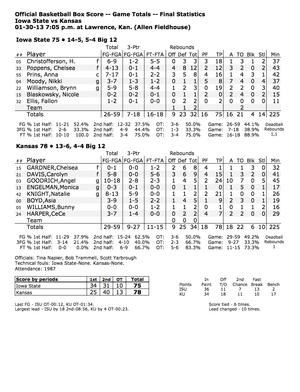 Every bit as quick with the basketball and just as electric, it might have been easy to confuse Kansas University point guard Angel Goodrich for a bolt of lightning during Wednesday's 78-75 overtime victory against Iowa State at Allen Fieldhouse.
One problem: Lightning is not supposed to strike twice.
With her team riding a wave of momentum but still trailing by three points with less than a minute remaining, Goodrich buried a top-of-the-key three-pointer with 13.5 seconds to play to force overtime.
It marked the second year in a row that a Goodrich three-pointer forced extra time against the Cyclones and also the second year in a row that the Jayhawks (13-6 overall, 4-4 Big 12) topped ISU when things looked hopeless.
So what is it about the Cyclones (14-5, 5-4) that tends to produce overtime thrillers against the Jayahwks?
"I guess we just love playing them so much that we want an extra five minutes," said senior forward Carolyn Davis, who scored 13 of her 15 points in the second half and overtime.
Last season, the Jayhawks needed two overtimes before winning, and Wednesday's victory had a very similar feel to that one.
The Cyclones raced to a nine-point halftime lead and bumped their advantage to 18 points before Kansas mounted its comeback. For the first 31 minutes, Iowa State was far and away the tougher, more aggressive, more free-flowing team. But in the final nine minutes — and, really, the final five — it was the Jayhawks who played loose and operated with a let-it-all-hang-out attitude.
"Similar to last year, we turned them over to get back into the game," KU coach Bonnie Henrickson said. "When you're down that much, it's not about answering, it's about getting multiple stops and stringing buckets together."
Kansas did that, turning a 55-37 deficit at the 8:56 mark into a more manageable 60-53 disadvantage five minutes later. KU ripped off a 19-5 run over the final 4:54 to force overtime and perhaps salvage its season.
Plenty of players were instrumental in the run. Sophomore guard Natalie Knight (21 points on 8-of-13 shooting) scored inside and out and helped the Jayhawks get out in transition. Davis, who was nearly non-existent in the post in the first half, worked early and seemed more determined to score during the critical run. And reserves Asia Boyd (nine points) and CeCe Harper (seven) came up with some key buckets and defensive stops when the Jayhawks needed them most.
While every player on the roster did what she could to help bring the Jayhawks back, one player stood out. That was Goodrich, who finished with 24 points, 10 assists, five steals and five rebounds. Despite the fact that everyone the gym knew she would be the one to take the potential game-tying shot, she still drilled it.
"It felt like the other shots that were bricks," Goodrich said of her five three-point misses before the game-tying gem. "So when it went in, I was just relieved."
Of the play that tied it, Henrickson said: "We (were) absolutely a train wreck. We're trying to run something without our timeouts, and then CeCe's on the wrong side, so I'm just trying to yell, and we're all looking at each other because it got busted. But often times it's not about the play you run, it's about making a play, and (Goodrich) made a play."
Nobody on either side was surprised.
"We told (Chelsea Poppens) to jump out there on the screen, and if you run into her, you run into her," ISU coach Bill Fennelly said. "But she laid back. In the heat of the moment, good players make plays, and she hit a big shot"
Added ISU guard Brynn Williamson: "She's a great player, and not just because she scores but because she gets so many others involved. You know she's gonna be the one to take those shots at the end of the game. She's not afraid to."
With road games at Kansas State (Saturday) and Baylor (Wednesday) next on the schedule, the Jayhawks were well aware of how important Wednesday's come-from-behind win was for their season.
"I think it was big-big," Davis said. "It was a ranked team, it's a game that can get us on the roll, and it's a game that was not supposed to be our game. When you lose games you're not supposed to, you have to win games you're not supposed to."
The Jayhawks and Wildcats will square off at 2 p.m. Saturday in Manhattan.
It remains to be seen whether Knight, who injured her right knee late in regulation, will be available for the game. The sophomore from Olathe was being examined by doctors after Wednesday's victory, and Henrickson did not have an update on the injury that forced Knight to be carried off the floor.
More like this story on KUsports.com