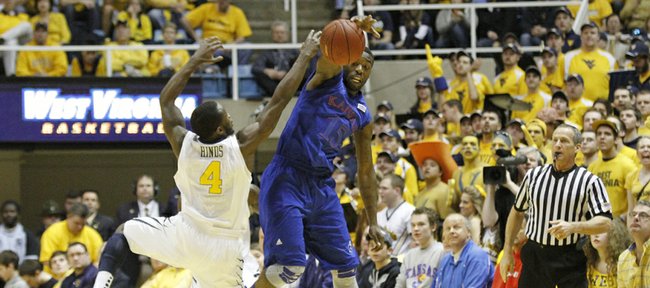 Photo Gallery
KU basketball v. West Virginia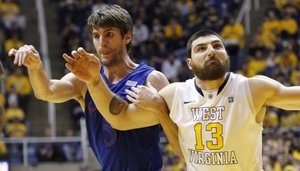 Photos from the Kansas men's basketball team's road game against West Virginia.
Podcast episode
Kansas coach Bill Self talks after his team's 61-56 win over West Virginia on Jan. 28, 2013.
Morgantown, W.Va. — Of all the plays in Elijah Johnson's basketball career, the one he made at the end of the first half Monday night in WVU Coliseum just might rank at the very bottom.
It was the equivalent of a quarterback throwing a pass into the flat without any attempt to camouflage it and nothing but daylight in front of the defensive player armed with the advantage of knowing it was coming.
Kansas came out of a timeout with 23 seconds left, and Johnson took the ball past halfcourt, killed clock with his dribble and started to make his move with about eight seconds left. Then something made him think it was a good idea to throw a one-handed pass off the dribble to the right wing.
Jabarie Hinds had no trouble picking it off and taking it all the way in for a buzzer-beating layup as KU
coach Bill Self put his hands to the sides of his head and counted to 10.
And so it goes for a Kansas basketball team ranked second in the nation, behind only Michigan in the Associated Press poll. The Jayhawks (19-1) pushed their national-best winning streak to 18 games with a 61-56 victory Monday night at West Virginia. But it's a streak fraught with moments such as Johnson's blunder to end the half. The Jayhawks keep winning, but make it so much more stressful than it would be if they didn't make so many sloppy plays on the perimeter.
Hearing later that freshman Andrew White III wasn't exactly where he was supposed to be didn't make Johnson's turnover any easier to stomach. It looked as if Johnson didn't believe he could get around his man. He didn't look like the confident player who made so many big shots in big games last March.
What happened on the play that prevented Kansas from taking a double-digit lead into halftime?
"Elijah just made a bad play," Self said. "The whole play was for him to drive it. The lane was open. Andrew didn't relocate right, and we just threw it to them for a layup. That happened two or three times in the first half. We've got to do better with that. You can't close halves out like that. The worse you can be is be up by 10, the worst, when you're playing for one shot and to do that is ridiculous. We've got to get better in that area."
Any team coached by Bob Huggins, and make no mistake, this is not of his better ones, is going to apply pressure on ballhandlers, and Kansas didn't do a very good job of handling it, and that, more than anything, was responsible for a 15-point lead shrinking to two points. Kansas committed 16 turnovers.
"Our guard play's got to get better," Self said. "Teams that pressure us and get after us, we've turned it over here of late. I thought we actually did some good things, but we made some bone-head plays, unbelievable plays. And didn't take care of the ball. We're better than that."
But how much better offensively? Is this a scoring slump in which Kansas is mired or is this a team that must demoralize opponents into offensive futility and score just enough to win?
Of late, Kansas has played well enough to win, but not because it's putting together those quick-strike scoring spurts for which Self's teams have become famous in recent years. Forcing teams to go into long droughts — West Virginia's first field goal came at the 12:36 mark of the first half — has paved the road to victory.
In the past six games, Kansas has averaged just 62 points and has not once scored as many as 70. That has sufficed for surviving and advancing through Big 12 play, but more points will be needed as the competition stiffens, and more points will be difficult to come by without better point-guard play.