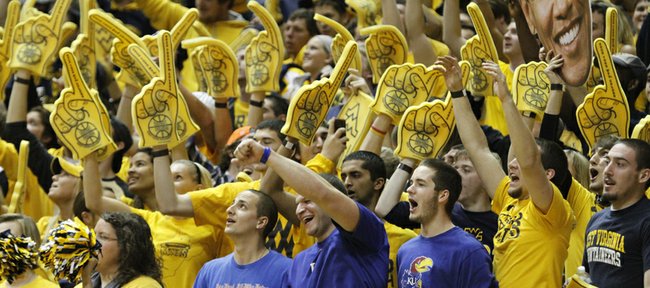 Photo Gallery
KU basketball v. West Virginia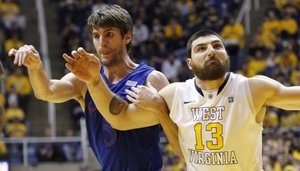 Photos from the Kansas men's basketball team's road game against West Virginia.
Podcast episode
Kansas coach Bill Self talks after his team's 61-56 win over West Virginia on Jan. 28, 2013.
Morgantown, W.Va. — Kansas University's basketball team ascended to the top spot of the USA Today Coaches Poll on Monday for the first time this season and 20th time overall in the 10-year Bill Self era.
The Jayhawks, who were ranked second to Duke last week, received 16 first-place votes and 760 points, topping the 14 first-place votes and 757 points awarded to Michigan. It was the closest finish for No. 1 since the poll of Feb. 28, 2011. KU placed four points behind Ohio State that week. KU last was ranked No. 1 the week of Feb. 14, 2011.
The poll order: KU, Michigan, Indiana, Florida, Duke, Syracuse, Gonzaga, Arizona, Michigan State, Butler, Ohio State, Oregon, Louisville, Wichita State, Miami, Mississippi, Creighton, Missouri, N.C. State, San Diego State, Kansas State, New Mexico, Cincinnati, Minnesota and Marquette.
KU moved up one spot from third to second in the Associated Press poll. Michigan was No. 1.
"We moved to 1 in the coaches poll and No. 2 in the AP," coach Self said in his pregame radio interview. "I'm not saying we deserve it, (but) it should be interesting to see how we play (with that ranking).
"Somebody's got to do it," Self said of his philosophy of being No. 1. "I'd never have thought before this season this team could be ranked No. 1 at any time. That is great for our kids."
"Being No. 1 now this early in the season does not matter," noted senior Travis Releford. "We are not worried about who is No. 1, just trying to get better. For us, every time we step out we get everybody's best shot. We are No. 1 in the conference. That's key every time we step out. We just have to come out no matter where we are ranked."
Competitive clause
West Virginia coach Bob Huggins was asked Monday about a unique clause in his contract that, according to a questioner on the Big 12 weekly coaches call, provides him $25,000 for a win over Kansas.
"I have no idea. You'd have to call my attorney. I had nothing to do with it," Huggins said, asked why that was put in his deal.
He was asked if he was at least aware of the clause.
"Pretty much when I was ready to sign the contract, I was," he said.
What big game?
Huggins, who is a graduate of West Virginia, sensed no big-time buzz around the game against No. 1/2 KU.
"Honestly, there hasn't been the kind of hoopla you'd think there would be around town. The paper sure didn't blow it up today as being a huge, huge, game," Huggins said. "I'm sure we have a lot to do with it with our play."
There was a "stripe the coliseum" promotion for the KU-West Virginia game. Fans were asked to wear either gold or blue depending on where their seats were located. A detailed map of the arena was available prior to the game on the university website so the fans could coordinate.
Mutual admiration
Huggins entered with a 0-4 record against KU — 0-3 in match-ups against Self in his one season at Kansas State (2006-07) and 0-1 mark while at Cincinnati. His No. 2-seed Cincy team lost to Self's No. 7-seed Tulsa team in the second round of the 2000 NCAA Tournament.
"Obviously, he does a great job," Huggins said of Self. "In that instance, we lost Kenyon Martin (to injury), who was consensus national player of the year. But Bill does a great job recruiting and putting his team together. I think he is kind of like, I guess when I was younger they used to call me an 'old-school guy.' I say it as a compliment (about Self). He does things the right way. His teams are fundamentally sound. They play the game the right way."
Of Huggins, KU coach Self said: "He's a great coach. I read some stats on him on the plane ... he's third winningest active coach (719 wins) behind Coach K (Mike Krzyzewski, Duke) and Boeheim (Jim, Syracuse). He's done a phenomenal job. I have a ton of respect for him and what he's done. His record since he's been back here (at alma mater, West Virginia, five straight NCAA bids) is very impressive."
Stuff
Huggins' West Virginia teams entered the game having never defeated a No. 1 team, but having defeated two No. 2 squads (Pitt and Kentucky).
Self on the trip
"It's a long way, but in a plane? What is it two hours instead of an hour and a half to Austin?" Self said. "It's not a big deal. Certainly it's a much bigger deal for them coming west so many times. We go once like all the other teams. We're excited to be here. Sunday was a short day after a tough Oklahoma game (Saturday in Allen Fieldhouse). We didn't have a lot of (preparation) time, like I'm sure they didn't have a ton of time traveling from Stillwater (Saturday)."
Expansion talk
Self and Huggins on Monday gave their takes on possible Big 12 expansion.
Self said: "Ten teams is fine to me. I think the round-robin situation is great for men's basketball. Ten is a good number. From an AD's perspective, if the (TV) money is not going to be a heck of a lot more, it's pretty nice to split between 10 than it would be to split between 16. I do think we need to be prepared to move forward in expansion, (but) this is not a situation just because we have smaller numbers makes our league weaker. Look at leagues that have 16 teams. What percentage of those teams are going to go to the NCAA Tournament? Our league has 10 and last year 60 percent went to the NCAA Tournament. There's not necessarily strength in numbers unless it's the right numbers. I'm sure there are universities out there that would be great additions to our situation. Unless we get those type universities I really don't see need for expansion."
Huggins said: "I am kind of a traditionalist. I like the round-robin. I think you get a true champion that way. The flip side is everybody else is expanding. You've got to wonder where everything is going. I am trying to figure out how we can guard the pick and roll right now," he added with a laugh, noting he's too busy to think much about the issue.