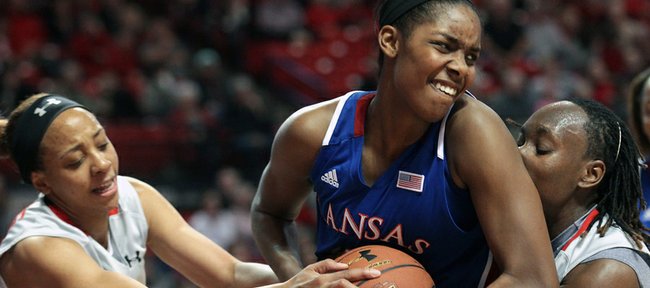 Rebounding, or a lack thereof, has been one of the big weaknesses for the Kansas University women's basketball team during a stretch in which the Jayhawks have lost four of five Big 12 Conference games after opening the season 2-0 in league play.
As the Jayhawks (12-6 overall, 3-4 Big 12) prepare to welcome No. 23 Iowa State to town for a 7 p.m. tipoff on Wednesday, they do so with the knowledge that the Cyclones (14-4, 5-3) give up the fewest offensive rebounds per game in the Big 12, get the fourth most offensive rebounds per game and feature the top rebounder in the history of the conference in senior forward Chelsea Poppens, who, this season, ranks eighth in the Big 12 with an average of 8.4 rebounds per game.
"That's all we scream about every day," said KU coach Bonnie Henrickson of her emphasis on hitting the boards in practice. "That's why they run — everything finishes to a box out. We've anted up (the punishment) from down-and-back to two of them now. (When) it makes them mad enough, then that's when it's gonna change."
Both senior forward Carolyn Davis and sophomore guard Natalie Knight said the Jayhawks were plenty tired of being out-rebounded. The Jayhawks have been outdone on the glass by an average of four rebounds per game during Big 12 play, a struggle that includes a 205-173 margin for KU's opponents during the past five games.
"Our rebounding has to change," Knight said. "So we're making that a key emphasis in practice. I think it's a mental thing and also toughness. You just have to be able to at least keep your man from getting the ball."
According to Henrickson, KU's problem securing the ball after misses is killing its momentum. The Jayhawks' first-shot defense has been good, Henrickson said, and they're holding opponents to around 30 percent shooting when limiting them to one shot per possession. The percentage skyrockets from there, with opponents shooting 60 percent on second-shot opportunities and nearly 80 percent on third-shot opportunities, according to Henrickson.
"We're often giving up the second and third one or, if they kick it out, it's a possession we don't get," Henrickson said. "We're a team that has to box out."
Both Henrickson and her players said being successful in the rebounding department does not always mean actually grabbing the rebound.
"You can win your battle if you don't get it," Henrickson said. "If you go, you're not guaranteed to get one, but if you don't go you're guaranteed to not get one. And if you box out you're not guaranteed to get it, but if you don't box out, your guy's probably gonna get it. We have to embrace that mentality."
With three of their next four games on the road, the Jayhawks are well aware of how important it is to snap out of their funk and get things heading in the right direction as they roll into February.
"We're not panicked; we're just concerned," Davis said. "We're concerned that we're making the same mistakes, we're concerned that we're losing the same way and that's just something that you have to fix. It's a long season and we have a lot of games left. We don't want to dwell on the last loss — we can't get it back. We just have to learn from that and keep moving forward."