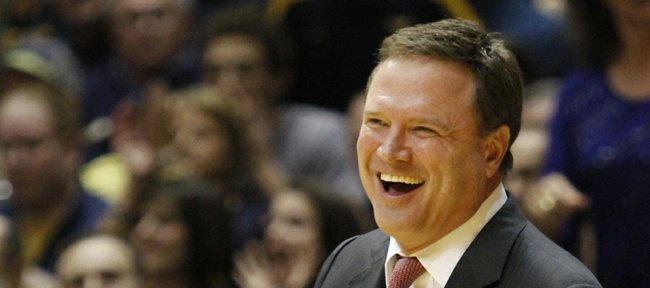 Photo Gallery
KU basketball v. West Virginia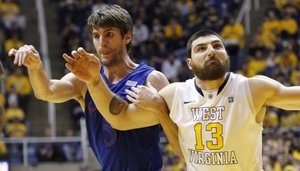 Photos from the Kansas men's basketball team's road game against West Virginia.
Podcast episode
Kansas coach Bill Self talks after his team's 61-56 win over West Virginia on Jan. 28, 2013.
Morgantown, W.Va. — Bob Huggins had just watched his team lose to second-ranked Kansas University, 61-56, Monday night after losing the battle of the boards, 36-27.
The Mountaineers trailed by 15 points in the first half but twice came within two points with the ball in the second half.
Huggins tends toward candor, so it was a good time to ask him a question on the minds of many who follow the Jayhawks: Does Kansas' No. 2 ranking say more about how good it is or more about the quality of play in college basketball this year?
"Kansas is good," Huggins said. "It's not like they're one of those teams that plays nobody in the preseason and gets ranked. They play people in the preseason. Bill (Self) does a great job. They're playing three fifth-year seniors. They're playing a sophomore (red-shirt freshman Ben McLemore) that played with them in practice every day (of second semester), wasn't allowed to participate, but practiced with them, and from what I hear may be a top-five pick in the draft.
"You've got a guy who can really coach, and then you've got all that experience. They've got the best of both worlds. They've got experience, and then they have youthful enthusiasm. Sometimes when you have fifth-year guys, it gets a little, you know, mundane, when you do the same thing all the time. When you have an influx of youth, it kind of rejuvenates them. So I think they've got a great combination."
The highlight of the night for the Mountaineers came in forcing 16 Kansas turnovers.
"I think if we do what we are supposed to do, we can turn over just about anybody when you put on that much pressure," Huggins said. "Did I think they would shoot 34 foul shots and we would shoot 15? No.
"We, up until about a week ago, made more free throws than our opposition had shot. We were No. 1 in that in the power six conferences. (Jeff) Withey has a lot to do with that. I understand that."
West Virginia (9-11 overall, 2-5 in the Big 12) has lost four games in a row.