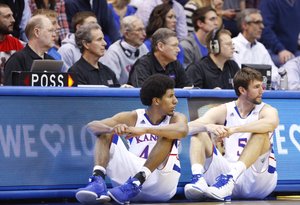 Great balls of fire
The name Robbie Vannaman might not ring a bell, but he is also known as the man who passes out Atomic Fireballs, a cinnamon-flavored hard candy, at KU basketball games.
In the 1980s, Vannaman began bringing Atomic Fireballs to games for himself and for the game crew, and word of the Fireballs grew. Vannaman said then-assistant basketball coaches Neil Dougherty and Joe Holladay would ask for them and also give them to injured players on the bench.
The tradition has continued to grow, and now Vannaman and his wife, Madi, who works as a backup scorekeeper, pass out up to 75 to 100 Atomic Fireballs per game.
"I hope Bill (Self) won't have enough time to read this, but Justin Wesley, when he was injured, started asking about them. He's been coming by and getting one. And now Landen Lucas, too."
At the last second, Kansas University red-shirt freshman Ben McLemore banked in a three. The usual 16,300 paying customers screamed. Allen Fieldhouse shook. The fans knew the game that a moment earlier had seemed like a sure loss was headed to overtime. The scoreboard told them so.
Scoreboard operator Robbie Vannaman had done his job, just as he had at 800 other games in the old barn.
Since 1986, Vannaman has operated the scoreboard for KU basketball games on a volunteer basis. He took over the same role at football games around 1988.
Superficially, his job sounds simple. He doesn't start or stop the game clock or video display. He just records the scores, the substitution listings, the number of fouls or the yards to a first down.
"It's least important to the game administration, but it's something that the fans want to see correct," he said.
When he does his job perfectly, the fans don't know he exists. But if he messes up, the crowd quickly lets him know it.
"I like to think if the crowd's dead, you might do it on purpose and get a bit of noise going," Vannaman joked.
But Vannaman, whose day job is to advise the university on tax policy, isn't the kind of person to make mistakes or to not take a job seriously.
This becomes apparent as he details for 20 minutes the deeper complexities of running a scoreboard: The scoreboard settings, the programs that sync up the game clock to the officials' whistles, the constant double-checking with official scorekeepers after every foul and made basket.
Vannaman works a methodical job. He has to be objective and has no time, in those four hours, to be a fan.
"If you lose your focus, that's when you make mistakes," he said. "Not while I've ever been there have we got to the end of a game with an error between the book and the score on the scoreboard."
When you make mistakes, you let down the team — not the basketball team, but the group of people, Vannaman is quick to point out, who work hard behind the scenes to make sure each game goes off without a hitch: the spotters, the ushers, the floor wipers and the officials. This team includes his wife, Madi, who works as an assistant scorekeeper and sits next to him at the scorers' table at center court.
"There's a camaraderie from those who work there, from the announcers down to everyone on our crew," he said. "We try to live up to the history and reputation of KU basketball because you feel a part of a special program."
Vannaman's close relationship with the basketball program — in the 25 years of score keeping he's only missed a handful of games — gives him a unique perspective.

"You get a flavor for how the coaches are trying to deal with different game changes," he said. "It's a rare opportunity to see the game from that vantage point."
He didn't name a favorite game but would say that last year's Missouri game was one of the loudest.
"When there's a full student group, they bring so much energy, and they love to have it loud," he said. "When Bill says there's a great sixth man, he knows from experience. They give the players energy from their energy."
He said one of the best moments he's ever seen would likely be Wilt Chamberlain walking through the tunnel to have his jersey retired.
He doesn't have a favorite player but cited women's basketball senior point guard Angel Goodrich as a player who deserves more credit and is a joy to watch.
Vannaman also made sure to mention his appreciation for the program's numerous walk-ons.
"I just think that they have some kids of fantastic character, and that really adds something to your team."
Fitting, considering they, like Vannaman, work jobs largely performed away from center stage.
More like this story on KUsports.com