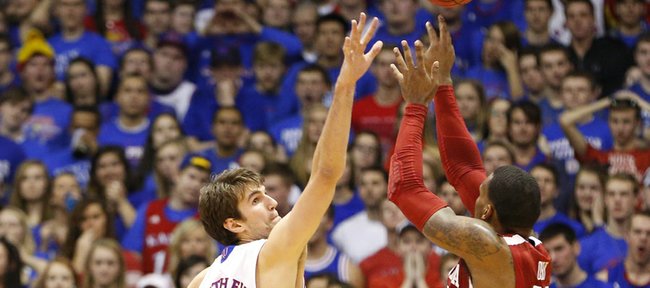 Photo Gallery
KU basketball v. Oklahoma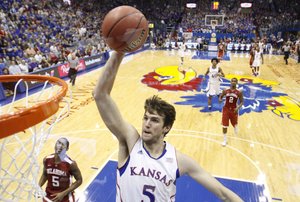 Images from Saturday's game against Oklahoma at Allen Fieldhouse.
Podcast episode
Kansas coach Bill Self talks after his team's 67-54 win over Oklahoma on Jan. 26, 2013.
Every day in practice, Oklahoma senior forward Romero Osby works on his pump-fakes.
The OU coaches stress their importance. The goal is simple: Get your defender in the air, make him make contact and get to the free-throw line.
The strategy has served Osby well so far this season. Entering Saturday, his 100 free-throw attempts were third in the Big 12 and also in the top 150 nationally.
So it was no wonder that the 6-foot-8 forward could only shake his head in frustration following Kansas' 67-54 victory over OU.
Those dekes — the ones he works on every day — had no chance against KU center Jeff Withey.
"He makes it really tough, especially going to the basket," said Osby, who attempted just four free throws against KU. "You try to get him off the floor with your pump-fakes, and he just stays down, stays down. Like I said, he has good timing. He has a knack for it."
Withey made it especially tough on Osby, who had made at least half of his shots in each of his last 10 games.
Osby didn't come close to that Saturday, posting 12 points on 4-for-16 shooting. The 16 field-goal attempts were a season-high, though even with that many shots, he wasn't near his 19.2-point-per-game output in Big 12 play.
"(Withey) always bothers people," Osby said, "but I think I kind of let it get in my head a little bit that I had missed a couple shots."
OU coach Lon Kruger described it as Withey playing "on the fringe." The KU senior would back off Osby just enough to make it seem like there was enough room to shoot.
Osby said he never was sure that he had enough space, wondering if Withey's long wingspan and quick closeout might result in another blocked shot.
"It's just the fact that he's backing up off me a little bit, using his length," Osby said of the big man getting in his head. "I wanted to shoot the jumper, but I had missed a couple in a row. That's got to just be me. I've just got to get in the gym and put up more shots and get that confidence."
Withey seemed to affect the entire OU offense. The Sooners' 54 points were their second-lowest total this season.
"They've got a lot of guys on the perimeter that guard the ball very well, and Withey changes everything on the interior and does a terrific job," Kruger said. "I thought he really set the tone early in the ballgame. We just never did get any flow offensively."
OU also posted its lowest halftime score (21 points) since the 2010-11 season.
With Withey guarding the paint, the box score showed that the Sooners finished just 6-for-14 on layups and dunks (43 percent).
"He's a unique player, not only in our league, but in college basketball in terms of ... you don't play against those types of players very often," Kruger said. "He erases any mistakes on the perimeter, plus he guards his own guy inside. He not only blocks a lot of shots but changes a lot of shots and does that to a lot of people."
More like this story on KUsports.com