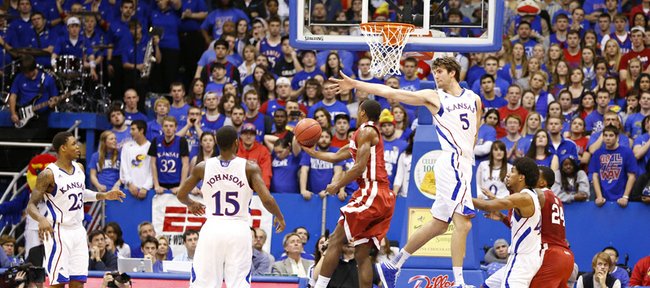 Photo Gallery
KU basketball v. Oklahoma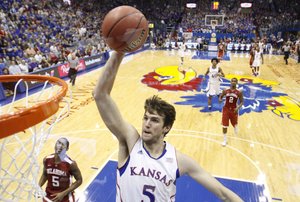 Images from Saturday's game against Oklahoma at Allen Fieldhouse.
Podcast episode
Kansas coach Bill Self talks after his team's 67-54 win over Oklahoma on Jan. 26, 2013.
"Withey Block Party" made its debut on the Allen Fieldhouse scoreboard Saturday afternoon, to the delight of 16,300 fans, including Mark Randall.
Randall, a former Kansas University power forward and first-round NBA Draft pick who works in community relations for the Denver Nuggets, peered at the big board during a second-half timeout as Jeff Withey was shown not only blocking four of Oklahoma's shots in a 67-54 Jayhawk men's basketball victory, but also dancing in disco attire.
"It's been great watching him grow over the time he's been here," the 6-foot-9 Randall said of 7-footer Withey, whose productive first half (four blocks, seven rebounds, nine points) helped set the tone as KU led, 29-21, at the break.
"One thing about Oklahoma that surprised me is, they were unbelievably athletic, and their big guys were extremely athletic. The guards were doing a good job of getting inside, but guess what? Jeff's back there cleaning everything up," Randall added of Withey, who finished with 13 points and nine rebounds to go with the four rejections.
"I'm not in personnel any more, but if you are tall and have the kind of skill level he's got, he's going to find a niche in the NBA. He's a shot-blocker. He's developing his game in the low post. The biggest thing he has to do is learn to use his butt more, so he can hold his position down there. It comes with time. He has a series of moves he's obviously learned. He's working on it."
Withey — who was coming off his only game of the season in which he failed to block a shot, Tuesday at Kansas State — will have to look for "Withey Block Party" on Youtube.com. He was too busy listening to coach Bill Self during a second-half stoppage to catch the video that had the fans' full attention.
"Some people told me about it (video). I mean, I block shots. If that's what they remember me as, that's fine with me." Withey said after moving into sole possession of third place on KU's all-time block list (247). He's six blocks away from tying Cole Aldrich for second and 11 from tying Greg Ostertag as top shot-blocker in school history.
" I thought I did pretty well. They didn't come inside too often. I think I affected him a little bit," he added of OU's Romero Osby, who scored 12 points off 4-of-16 shooting. "I think he was a little hesitant to shoot the ball. I might have blocked him in the first half pretty early, so that might have gotten in his head. I'm not sure. He's a good player, and he is definitely physical. He tried taking it right at me."
Withey's performance helped the Jayhawks improve to 18-1 overall and 6-0 in the Big 12. Oklahoma fell to 13-5, 4-2.
"Jeff played great. He made some plays that I think would rival some of the better plays that he's made this entire year," Self said.
"Defensively, we make some mistakes, and he covers up the floor behind us and rebounded the ball pretty well. Osby ... that's a tough matchup," Self added. "Their bigs play well away from the basket. I thought he did some good things, but we didn't play with a lot of energy. We didn't pressure. We didn't play the way I feel like the way we needed to play to be our best."
Withey had one assist. He stole the ball, showed dribbling skills, then passed ahead to Travis Releford (10 points, five assists, five rebounds), who scored to give KU a 46-35 lead with 9:52 left.
"I can think of better options than him leading the break, but the way we played today, he may have been as good as our guards out there leading the break," Self said. "He has done that several times. He made a bad pass to Ben (McLemore, 18 points, 5-for-10 shooting) the first half. He bounced it, and we got nothing out of it. The second half he made an air pass, but led Travis too much. Travis made an unbelievable play with one hand. Jeff is doing really well."
Withey joked about his point-guard skills.
"I don't want to dribble too much usually," he said. "After that, coach kind of told me because I never do it. He said, 'Never give a bounce pass in transition if you are leading the break.' I don't know. I kind of liked it. It might happen more often."
Perhaps his dribbling will be featured on the next Withey Block Party scoreboard show.
"That was a big game for him tonight," Randall assessed. "It's been fun to watch him develop over the years and become the inside presence for this team."
KU will meet West Virginia at 8 p.m. Monday in Morgantown, W.Va.